4 January 2010
Pubblicato il:
Monday, January 04, 2010
da
fiordizucca
-
42 commenti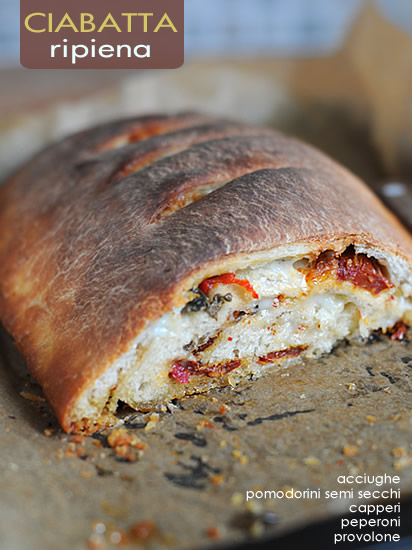 Intanto buongiorno, buonasera e buon anno!! (che l'educazione è importante). Ne sono passati di giorni dall'ultima volta che sono passata di qua. Purtroppo, senza volere portare la giustificazione della mamma, tra una cosa, l'altra ed un'altra ancora... Insomma si sa come vanno queste cose. Il mal di stomaco di certo non ha aiutato, la voglia di stare in cucina, né quella di mangiare. Le feste poi, chi le sopporta è bravo! Allora ricominciamo da qui: da una ciabatta! Gli ingredienti sono tutti made in Puglia, tranne i pomodorini che ho fatto seccare in forno a 90 gradi per 6 ore. Quelli avanzati gli ho messi in un barattolo di vetro e ricoperti di olio, per poi consumarli semplicemente con una pasta, in bianco. Ecco. Ben ritrovati.
Ingredienti per la pasta


350gr di farina bianca
1 bustina di lievito secco
2 cucchiaini di sale
2 cucchiaini di zucchero
acqua quanto basta

Ingredienti per il ripieno


una manciata di pomodorini secchi sottolio
peperoncino piccante in polvere
provolone dolce spezzettato
capperi
peperoni sottolio
acciughine piccanti sottolio

Mescolate tutti gli ingredienti per la pasta e lavorate fino ad ottenere una palla liscia ed omogenea. Mettete la pasta in una scodella, coprite con un panno umido e fate lievitare per 2 ore. Stendete quindi la pasta, riempite con ripieno a piacere ed arrotolate su se stessa. Mettete il rotolo su una teglia da forno e fate lievitare per un'altra ora. Infornate a 220 C per circa 30 minuti.

Sognando:
so
gna
re una
ciabatta
indica desiderio di libertà; sognare di
indossare ciabatte
indica inadeguatezza e fragilità; sognare di
correre in ciabatte
indica noncuranza nei confronti delle regole.

Parolando:
Dal termine ciabatta, dall'arabo "sabat" che significa calzare, prende origine l'antico nome del calzolaio, ciabattino appunto. Con il termine ciabatta vengono definiti altri oggetti di forma piatta e lunga quali un formato di pane o una presa elettrica multipla.

Archiviando:
clicca qui
per scaricare questa ricetta in formato .pdf
English please
Filled and rolled Ciabatta
Ingredients for the dough

350gr white flour
1 sachet of instant dry yeast
2 tsp salt
2 tsp sugar
water

Ingredients for the filling

semi dried cherry tomatoes
dried hot chilly
provolone cheese
capers
peppers in oil
anchiovies in oil

Mix all ingredients to form a soft and smooth dough. Put in a bowl, cover with a damp cloth and leave to rise for 2 hours. tutti gli ingredienti per la pasta e lavorate fino ad ottenere una palla liscia ed omogenea. Work the dough to a rectangular shape, fill with desired filling and roll the dough like a swiss roll. Put on a baking tray and leave to rise for another hour. Bake at 220 C for about 30 minutes or until golden on top.
Le piu' lette
Prima che qualche siciliano si metta le mani nei capelli e urli beddamatresantissima sarebbe opportuno spiegare che non ho preso un colpo ...

Uno dei miei negozietti preferiti sotto casa, è un supermercatino gestito da una famiglia di turchi che vende la frutta e la verdura più s...

Prendo la palla dal blog Troppo Buono e faccio anch'io questo test divertente e banale. Che ogni tanto non guasta. Dimmi come mangi e ...

Latitante, lo so. La settimana scorsa è stata lunga e piena di cose da fare, da pensare, da organizzare. Un viaggio intenso pieno di incon...

Ce l'abbiamo fatta, a tornare. Si vede che oggi é proprio venerdì 17! Dedico questa buonissima torta, al mio amico Frank. Buon Complea...

Ma dov'é finito il tempo? Non si sa. Non ho piú tempo neanche di grattarmi in testa. E si che ho pure tagliato i capelli e dovrebbe e...

Ingredienti : 300gr di farina, 200 gr di zucchero, 6 cucchiai di cacao in polvere amaro, 2 cucchiai di lievito per dolci o una bustina di ...

Oltre a consumarlo sopra i dolci, il vino cotto si può utilizzare anche dentro i dolci. Così la zia Cenzina qualche giorno fa ha prepar...

Da un mare ad un altro, anche se poi è lo stesso mare, quello che bagna la regione del Sussex e precisamente ad Est. Mi sono imbattuta i...

Photo Tour
•
Sagres, Part 2, Portugal
•
Sagres, Part 1, Portugal
•
Lagos, Portugal
•
Portimão, Portugal
•
Crete, Greece
•
St. Patrick's Day, Dublin, Ireland
•
Bettystown, Ireland
•
Capri, Amalfi, Sorrento
•
Marrakech, Morocco
•
Puglia, Italy
•
Eastbourne, East Sussex, U.K.
•
Battersea Park, London
•
Hastings, East Sussex, U.K.
•
Isle of Wight, U.K.
•
Richmond Park, London
•
Venezia, Italy
•
Oxford, U.K.
•
Highgate Cemetery, London
•
Canary Wharf and Greenwich, London
•
Regent's Park, London
•
London Gay Pride 2008
•
The Italian Garden, London
•
Tower Bridge, London
•
Holland Park and Kyoto Gardens, London
•
Urbino, Italy

Published