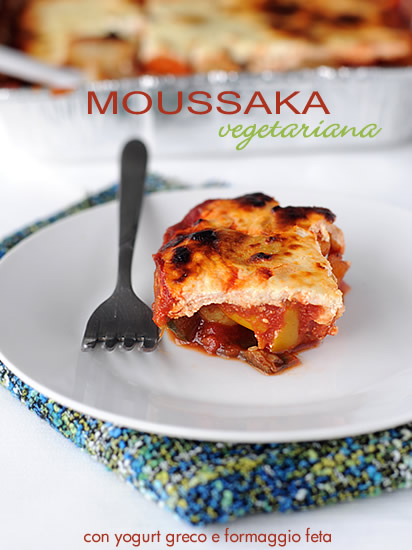 Ne ho sentito parlare più volte di questo Moussaka ma non l'avevo mai assaggiato né mai preparato. Ho rivisto la ricetta su una rivista di cucina qualche tempo fa e me la sono segnata la su un pezzetto di carta finché non è arrivato il momento giusto per provare. Il Moussaka con la carne è forse la versione più nota di questa ricetta e probabilmente anche la più apprezzata, ma per chi non ha voglia di carne, come me ormai da un bel po' di tempo a questa parte, la versione vegetariana è ugualmente ottima. Un misto tra una specie di caponata al forno e una lasagna tutta vegetariana. Ho dimenticato di aggiungere qualche fungo comunque buona, fullfilling, da servire come piatto unico.


Ingredienti


1 melanzana
1 zucchina
2 carote
100gr di patate
1 cipolla media

200gr di yogurt greco
80gr di formaggio feta
500ml di passata di pomodoro
1 uovo

origano
olio, sale


Tagliate le verdure e le patate, disponetele in una teglia da forno, irrorate con un po' di olio, un pizzico di origano e sale ed infornate a 200 C per circa 30 minuti. A parte sbriciolate la feta con una forchetta, poi aggiungete lo yogurt, l'uovo e un pizzico di sale. Amalgamate con la forchetta finché non ottenete un composto omogeneo. Quando le verdure saranno cotte, tiratele fuori dal forno ed amalgamatele con la passata di pomodoro. Versate in una terrina capiente poi coprite con lo strato di formaggio preparato precedentemente. Infornate a 200 C per circa 20 minuti o fino a quando non si sarà formata la crosticina.

Sognando:
so
gnare
una
vegetazione desertica
indica piccole complicazioni; sognare una
vegetazione tropicale
indica prudenza nelle relazioni.

Sono convinto che gli uomini arriveranno veramente a non uccidersi tra loro, quando arriveranno a non uccidere più gli animali.
(Aldo Capitini
)

Archiviando:
clicca qui
per scaricare questa ricetta in formato .pdf
English please
Vegetarian Moussaka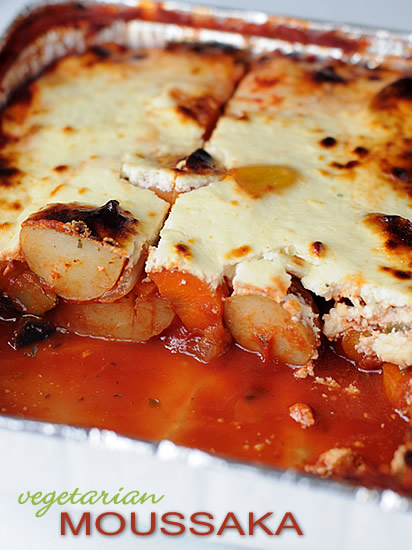 Ingredients


1 aubergine

1 courgette
2 carrots

100gr potatoes
1 medium onion

200gr Greek yoghurt

80gr feta cheese

500ml tomato sauce

1 egg

oregano
olive oil, salt


Chop the vegetables, drizzle with a bit of oil, oregano and salt and bake at 200 C for about 30 minutes. Put the feta cheese in a bowl and cut it with a fork, then add yogurt, egg and a bit of salt. Work it until you get a smooth mixture. When the vegetables are ready take them out of the oven and mix them with the tomato sauce. Put them back in a ovenproof dish, cover with the cheese mixture and bake at 200 C for about 20 minutes or until golden on top.