4 December 2009
Pubblicato il:
Friday, December 04, 2009
da
fior dizucca
-
37 commenti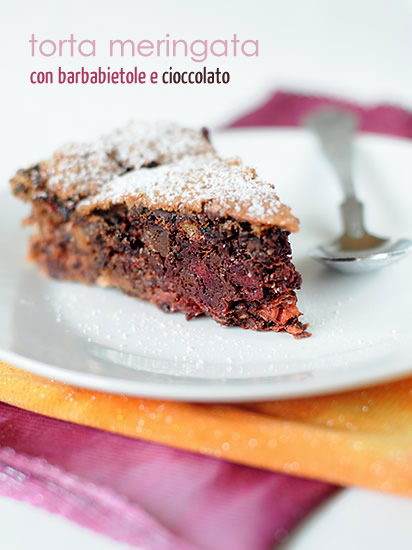 ... o anche detta "torta che non mangerò mai". Se penso che questa è una ricetta che avevo in archivio in lista d'attesa dal 2006, mi vengono i capelli dritti! Ho atteso così tanto per prepararla (e mangiarla) e invece purtroppo ho solo potuto assaggiarne una piccola fetta, il resto ahimè, ho dovuto congelarla, sperando che quando la farò risorgere abbia lo stesso sapore e bontà di una torta appena sfornata! E va beh, piccoli problemi di stomaco mi costringono a stare lontana dalla cucina per un po'. Come si dice, sto poco bene, ma in risalita, come sempre. Ecco, se state meglio di me e se le barbabietole abbinate al cioccolato non vi fanno senso, provate a prepararla voi e a dirmi che ve ne pare!
Ingredienti


8 bianchi d'uovo
200gr di zucchero
25gr di cacao amaro in polvere
60gr di cioccolato fondente
200gr di barbabietole crude
60gr di prugne secche
50gr di pane grattugiato

Sbattete i bianchi d'uovo a neve con un pizzico di sale. Aggiungete lo zucchero gradualmente continuando a sbattere. Incorporate le barbabietole grattugiate, la cioccolata spezzettata finemente, le prugne tagliate grossolanamente e il pane grattugiato. Versate il composto in una teglia a cerniera ed infornate a 120 C per 1 ora e mezza. Fate raffreddare la torta nel forno con lo sportello aperto. Servite decorando con zucchero a velo a piacere.

Sognando:
so
gna
re una
barba corta
indica conquiste effimere; sognare una
barba lunga
indica fortuna negli affari; sognare una
barba bianca
indica precisione nel lavoro.

Parolando:
In molte culture la
barba
rappresenta un vero e proprio elemento di espressione esteriore della dignità virile (come ricordano anche espressioni del tipo "l'onor del mento"). In altre la barba è indice di maturità e invecchiamento, per cui viene regolarmente tagliata. Dal sanscrito
bhar
, portare e, più precisamente, "quello che gli uomini portano sul mento". In botanica si chiamano barbe le ramificazioni terminali di una radice.

Archiviando:
clicca qui
per scaricare questa ricetta in formato .pdf
English please
Beetroot and chocolate meringue cake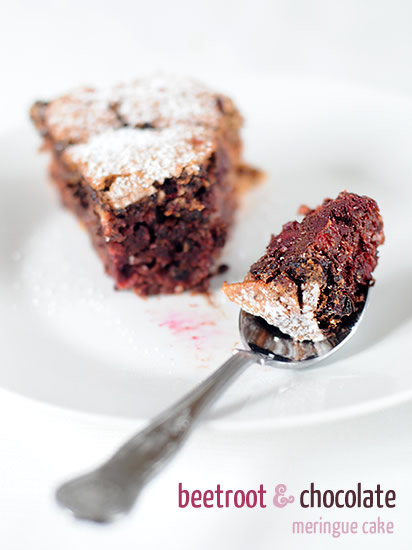 Ingredients


8 egg whites
220gr sugar
25gr cocoa powder
60gr chopped dark chocolate
200gr grated beetroot
60gr prunes
50gr breadcrumbs

In a bowl beat the egg whites with a pinch of salt, until soft peaks form. Add the sugar and keep beating until dissolved. Fold in the cocoa, chopped chocolate, grated beetroot, pruned and breadcrumbs. Spoon the mixture into a oven pan and bake at 120 C for 1 hour and 30 minutes. Cool in the oven with the door slightly opened. Decorate with icing sugar and serve.
Le piu' lette
Il Sole è tornato a splendere e fa quasi caldo. Anzi con il Sole fa sicuramente più caldo, tanto è che ieri mi sono addormentata in terra...

Oltre a consumarlo sopra i dolci, il vino cotto si può utilizzare anche dentro i dolci. Così la zia Cenzina qualche giorno fa ha prepar...

La mia mini vacanza milanese (ueeee) é trascorsa fin troppo in fretta. Si sa, le cose belle, durano poco. Cinque giorni di in...

Antipasti di Mare - Seafood appetizers Antipasti di Terra - Meat appetizers Stuzzichini - Nibbles Insalate - Salads Drink Alcolici - Alc...

Piú che una vera e propria ricetta, un pretesto per parlare di questi fagiolini che io adoro! Sono viola all'esterno e verdi all'i...

Ingredienti : 6 peperoni di vari colori, 5 acciughe sotto sale o sott'olio, una ventina di capperi sott'aceto o sotto sale, uno s...

E' (ri) nata Alice!! Si, proprio così, dopo due settimane di travaglio finalmente Alice è ri-nata (o resuscitata?), non è una grande n...

Ebbene sono tornata! Veramente da un po', ma riprende con il solito tran tran dopo essere stati in paradiso, vi assicuro che non é c...

Una ricetta tutta pugliese e con uno degli ingredienti che rappresentano la Murgia per eccellenza: i funghi cardoncelli ( pleurotus eryngi...

Photo Tour
•
Sagres, Part 2, Portugal
•
Sagres, Part 1, Portugal
•
Lagos, Portugal
•
Portimão, Portugal
•
Crete, Greece
•
St. Patrick's Day, Dublin, Ireland
•
Bettystown, Ireland
•
Capri, Amalfi, Sorrento
•
Marrakech, Morocco
•
Puglia, Italy
•
Eastbourne, East Sussex, U.K.
•
Battersea Park, London
•
Hastings, East Sussex, U.K.
•
Isle of Wight, U.K.
•
Richmond Park, London
•
Venezia, Italy
•
Oxford, U.K.
•
Highgate Cemetery, London
•
Canary Wharf and Greenwich, London
•
Regent's Park, London
•
London Gay Pride 2008
•
The Italian Garden, London
•
Tower Bridge, London
•
Holland Park and Kyoto Gardens, London
•
Urbino, Italy

Published