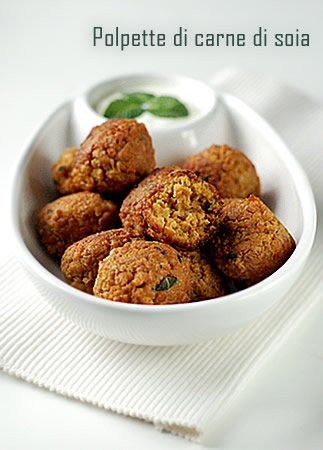 Voglia di carne? Non questa volta. La carne di soia (fatta di farina di soia, derivata dai fagioli di soia) non sarà il massimo per preparare i ragù, ma per altre cose é invece l'ideale. Allora si va di polpette, da servire accompagnate con yogurt naturale e salsa piccante.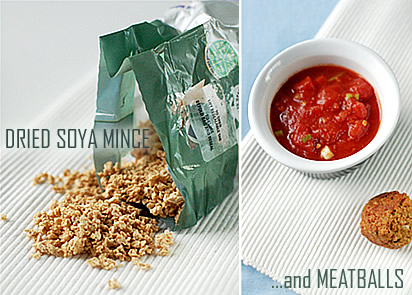 La salsa la potete comprare già pronta oppure la fate come ho fatto io semplicemente tagliuzzando una mezza cipolla e aggiungendo un po' di peperoncino piccante, olio e sale.
Ingredienti


100gr di soia secca
50gr di mollica di pane
1 cucchiaino di garam masala
1 cucchiaino di curry
1/2 cucchiaino di cumino
1/2 cucchiaino di cayenne
1 uovo
1 cucchiaio di foglie di menta fresca
sale, pepe, olio per friggere

Immergete la soia in acqua bollente per il tempo indicato sulla confezione (1 minuto). Strizzatela un po' se necessario e mettetela in una terrina insieme alla mollica di pane, le spezie, la menta fresca sminuzzata e l'uovo. Lavorate il composto ed aggiustate di sale e pepe. Formate delle piccole polpette che lascerete in frigo per una mezz'ora. Riscaldate un po' di olio in una padella e soffriggete le polpette fino a quando non saranno dorate. Servite ben calde con yogurt naturale e salsa piccante.

Sognando:
sognare polpette avvelenate indica grave pena; sognare polpette fritte indica amarezza per una delusione; sognare polpette con salsa indica invidia di amici; sognare di preparare polpette indica azioni ben dirette; sognare di mangiare polpette indica miglioramento economico.

---
English please:
Spiced soya mince meatballs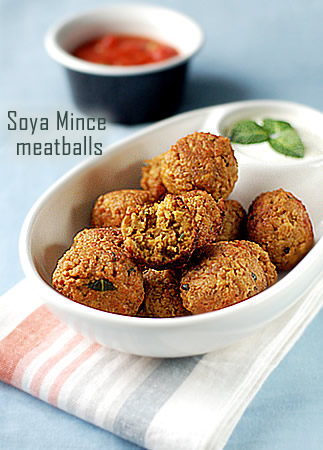 Ingredients


100gr dried soya mince
50gr breadcrumbs
1 tsp garam masala
1 tsp curry
1/2 tsp cumin powder
1/2 tsp cayenne
1 egg
1 Tsp fresh mint leaves
salt, pepper, oil to fry

Place dried soya mince in a bowl and soak in boiling water for 1 minute. Drain it and mix it with breadcrums, spices, egg, chopped mint leaves, salt and pepper. Shape into small balls and let it rest into the fridge for half of an hour. Heat up a bit of olive oil and fry them all around until goldish. Serve hot with natural yogurt and chilly sauce. You can buy the sauce or make it at home just by adding some chilly and onion to a can of chopped tomatoes.