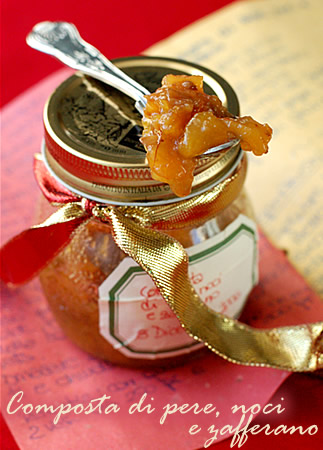 Direttamente dalla provincia di Bergamo arriva questo vasetto di Composta di pere, noci e zafferano, corredato da ricetta scritta a mano. Lo manda Ellen, per la verità lo ha mandato qualche settimana fa, ma io me lo sono tenuto caro caro fino a che non ho resistito e l'ho aperto! Un accostamento perfetto per chi ama pere, noci e soprattutto lo zafferano. Il barattolo é quasi finito a cucchiaiate e quindi ho pensato di proporvela così anche a voi questa composta, poi ognuno ci farà quel che ritiene più necessario. Con le dosi indicate, Ellen ha riempito 1 vaso da 300gr ed uno da 250gr. Il secondo, ovviamente, era il mio. Grazie!

Ingredienti


1,2Kg di pere pulite
succo di 1 limone
350gr di zucchero
1 tazza di acqua
1 cucchiaino di zafferano in stimmi
8 grani di pepe nero
100gr di gherigli di noce

Tagliate le pere a pezzettini e mettetele in una ciotola con il succo di limone. Mettete l'acqua in una pentola con lo zucchero e lo zafferano. Pestate i chicchi di pepe in un mortaio e metteteli nella pentola. Cuocete a fuoco dolce per 30 minuti a pentola coperta dopo aver aggiunto le pere sgocciolate. Mescolate spesso schiumando con l'apposita schiumarola. Aggiungete i gherigli di noce spezzettati e cuocete senza coperchio per altri 10 minuti. Invasate a caldo in vasi sterilizzati e chiudete ermeticamente.

Sognando:
sognare pere sull'albero indica comunicativa e simpatia; sognare pere acerbe indica sorpresa dolorosa; sognare pere mature indica grande gioia; sognare pere cotte indica inganni e calunnie; sognare pere guaste indica decisione irriflessiva; sognare di cogliere pere indica benessere fisico; sognare di mangiare pere indica legami felici.

Haiku:
Solo sul mare - in un guscio di noce - a pescar perle (Frank)
---
English please:
Pear, walnuts and saffron preserve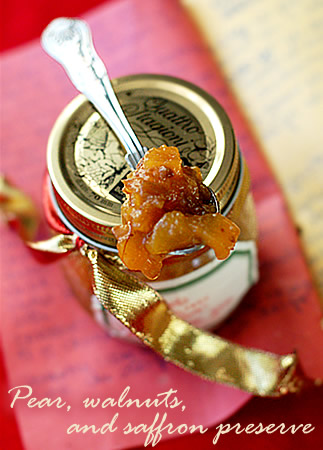 Ingredients


1,2Kg pears
juice of 1 lemon
350gr sugar
1 cup of water
1 tsp saffron threads
8 peppercorn in grain
100gr walnuts

Cut pears and put them in a bowl with the lemon juice. Put water, sugar, crushed peppercorns, and chopped pears (drained from the lemon juice) and saffron in a saucepan. Simmer for about 30 minutes with a lid on. Finally add walnuts and cook without a lid for a futher 10 minutes. Pot and seal using sterilized jar.