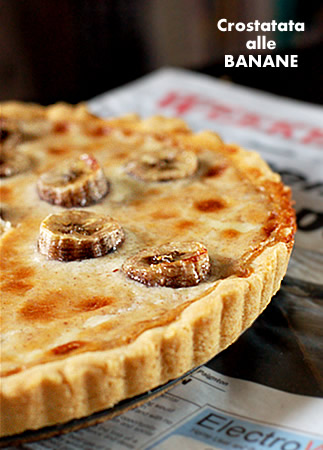 La crostata dell'ultima ora, quella proprio che hai quattro ingredienti in casa ma non sai bene che farci, qualche banana che sta lì a guardarti senza sapere che fine farà e tu che hai voglia di dolce ma non troppo e per di più ti sei scordato di comprare il latte e nel frigo hai solo una lattina di double cream che in 8 anni di Inghilterra non hai ancora ben capito che cos'è ma la usi un po' per tutto, dai dolci ai salati e ci sta bene in fondo al posto del latte per una di quelle crostate che poi ti vengono anche bene e te ne mangi la metà per colazione e poi non ne può più di sentire parlare di banane per giorni ma almeno gli hai fatto fare la fine che si meritavano.

Ingredienti per la pasta


200gr di farina
100gr di burro
1 uova
2 cucchiai di acqua fredda

Ingredienti per il ripieno


250ml di panna liquida
1 uov0
3 cucchiai di zucchero
1 pizzico di cannella
2 banane

Preparate la pasta mixando tutti gli ingredienti con un mixer, oppure a mano. Aggiungete 2 cucchiai di acqua fredda per amalgare tutti gli ingredienti, avvolgete in pellicola trasparente e mettete a riposare in frigo per circa 30 minuti. Sbattete l'uovo con lo zucchero, aggiungete la panna liquida e la cannella e mettete in un pentolino sul fuoco. Riscaldate a fuoco basso e portate ad ebollizione. Spegnete subito e lasciate raffreddare. Stendete la pasta in una tortiera di 20/22cm. Versate la panna poi tagliate le banane e disponetele a piacere. Infornate a 190 C per 30 minuti circa.

Sognando:
s
ognare
banane
indica desideri sessuali repressi; sognare di
mangiare banane
indica che i vostri sacrifici lavorativi verranno ricompensati.
---
English please:
Banana Tart
Ingredients for the dough


200gr flour
100gr butter
1 egg
cold water

Ingredients for the filling


250ml double cream
1 egg
3 Tbsp sugar
1 pinch cinnamon
2 bananas

Mix all the ingredients for the dough with an electric mixer until they all come together. Add cold water if needed. Take it out from the mixer, give it the shape of a ball, wrap it into cling film and put into the fridge to rest for about 30 minutes. Mix sugar and egg together then add the double cream and the cinnamon. Pour into a saucepan and bring it slowly to a boil. Remove immediately from the heat and let it cool. Spread the dough into a tarte tin about 22/24cm large. Pour the filling and decorate with chopped bananas. Cook at 190 C four about 30 minutes.