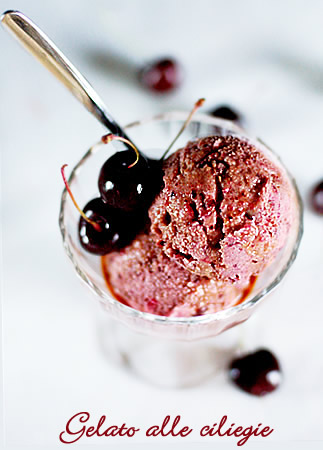 Il gelato alle ciliegie mancava proprio alla mia lista di ricette ed alla prima occasione non ho saputo resistere e l'ho provato. Semplice da realizzare e molto genuino, con pochi ingredienti che generalmente tutti abbiamo a portata di mano.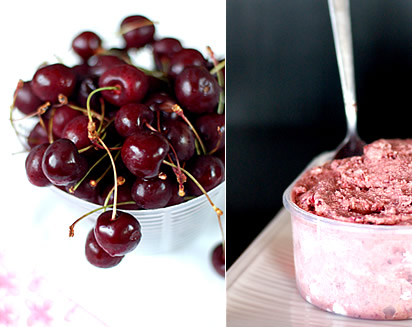 Se non avete la gelatiera come me, usate il metodo
congela e mixa
, il gelato viene ugualmente bene, basta tirarlo fuori dal freezer un po' prima di servirlo per permettergli di ammorbidirsi. Se non sapete dove farlo congelare, riciclate i contenitori in plastica del gelato commerciale e stupirete i vostri ospiti con un gelato di marca tutta casalinga.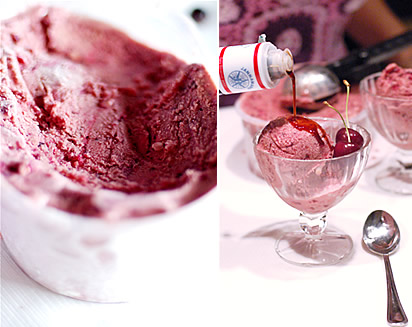 Ultimo consiglio: usate uova freschissime e leggere ed affogate il gelato nel vostro liquore preferito. Io ne ho appena scoperto uno eccellente: l'
Amaro Abruzzese
, of course. La ricetta di questo amaro é ovviamente un segreto, ma si sa che é composto da erbe di montagna, non troppo dolce né troppo amaro, ideale per affogare un buon gelato.
Buon fine settimana a tutti!
Ingredienti:

500ml di latte intero

4 rossi d'uovo
250gr di zucchero
500gr di ciliegie
1 cucchiaio raso di estratto di vaniglia

Sbattete le uova con lo zucchero fino a quando queste non saranno diventate morbide e di color giallo chiaro. Riscaldate il latte a fuoco basso senza portare ad ebollizione. Versate questo nelle uova, riportate nel pentolino sulla fiamma e girando costantemente portate ad ebollizione fino a quando la crema non sarà diventata abbastanza densa da attaccarsi al cucchiaio di legno. Lasciate raffreddare completamente.
Snocciolate le ciliegie e frullatene metà fino a ridurle in purea. Versate tutte le ciliegie nella crema, insieme ad un cucchiaio raso di estratto di vaniglia. Mescolate tutto e versate nella gelatiera. Se non avete la gelatiera, versate il composto in uno stampo da plum cake o uno di alluminio adatto per il freezer. Congelate per 4 ore circa, tirate fuori dal congelatore e passate tutto al mixer in modo che i pezzetti di ghiaccio si rompano. Rimettete in freezer fino al momento di servire.

Sognando:
so
gnare
gelato alla frutta
indica rientro di denaro; sognare
gelato al caffè
indica appoggi preziosi; sognare
gelato alla crema
indica illusione ingannevole; sognare di
mangiare un gelato
indica.

Archiviando:
clicca qui per scaricare questa ricetta in formato .pdf
---
English please:
Cherry Ice Cream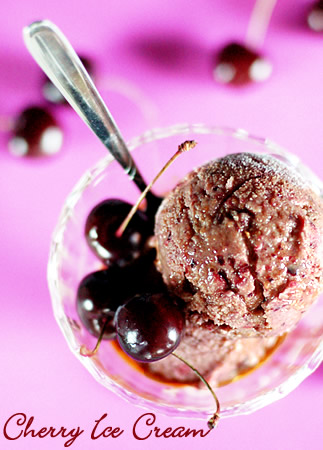 Ingredients:

500ml milk

4 egg yolks

250gr sugar
500gr cherries
1 Tbsp vanilla extract


Whisk together yolks with sugar until thickened and pale. In a saucepan bring milk to simmer, stirring often. Whisk milk into egg mixture and transfer back to the saucepan. Cook over low heat and stir constantly with a wooden spoon until mixture is thick enough to coat the back of the spoon. Let cool. Stone the cherries and reduce half of them in a purée with a food processor. Stir cherry purée, whole cherries and vanilla into milk mixture. Pour everything in a stainless steel bowl and refrigerate for about 4 hours. After 4 hours, transfer to a food processor and blend again so that the ice breaks up. Freeze completely until ready to serve.