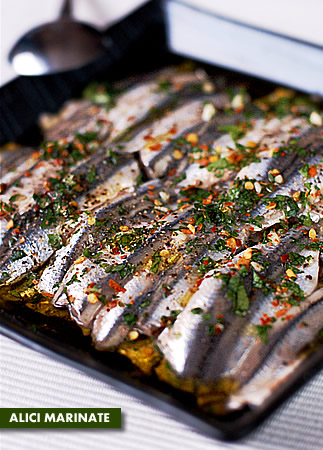 Affacciarmi in pescheria è diventato per me un piacere al quale non riesco proprio a rinunciare. Anche se ci vado spesso alle undici di mattina, piuttosto che alle 7 di mattina, le alici (o acciughe) sono uno di quei pesci che si trovano sempre, freschi ed in abbondanza. La grande fatica non sta tanto nell'andarsele a comprare, né nel trasportarsele a casa, quanto nel pulirle. Una volta che si é imparato a velocizzare questa operazione, il resto è facile.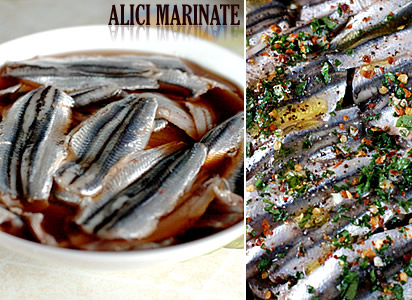 Ho notato che con le alici freschissime si fa in un attimo a pulirle e a liscarle senza neanche romperle. Mentre con quelle meno fresche la spina resta attaccata e si perde più tempo per eliminarla. In quel caso io butto tutto in padella con lo stesso trito di prezzemolo, e la lisca la tolgo una volta che sono cotte. Certo non è la stessa cosa, ma é pur sempre una bontà.
Ingredienti


500gr di alici freschissime

2 bicchieri di aceto bianco o rosso
olio quanto basta

sale e pepe quanto basta

prezzemolo tritato

1 spicchio d'aglio
peperoncino


Tagliate la testa e la coda dalle alici. Aprite completamente le alici eliminando lisca e viscere facendo attenzione a non romperle in due. Generalmente se le alici sono molto fresche questa operazione avviene con molta facilità, viceversa sarà più difficile rimuovere la lisca.
Lavatele sotto l'acqua corrente ed asciugatele con carta da cucina. Disponetele in un piatto capiente e copritele con aceto bianco o rosso. Lasciatele marinare per un minimo di tre ore e massimo tutta la notte. Preparate un trito con prezzemolo, aglio e peperoncino. Scolate bene le alici e disponetele a strati in un piatto, alternando alici, trito di prezzemolo, olio, sale e pepe. Continuate così fino all'ultimo strato. Lasciate macerare nell'olio fino al momento prima di servire. Conservate in frigo per un massimo di 3 giorni se volete consumare un prodotto ancora fresco.

Sognando:
sognare
acciughe fresche indica litigi; sognare di vedere acciughe vive indica fortuna; sognare di mangiare acciughe indica buona salute.

Archiviando:
clicca qui per scaricare questa ricetta in formato .pdf
---
English please:
Marinated Anchovies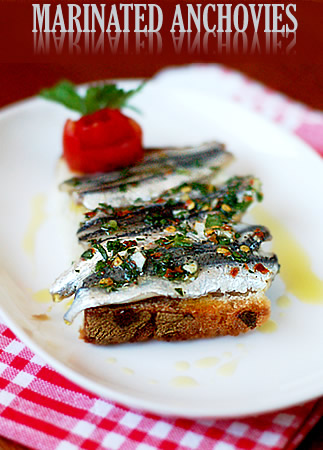 Ingredients

500gr fresh anchovies

2 glasses white or red vinegar
olive oil

salt and pepper

chopped parsley

1 garlic clove
dried chilly


Cut the head and the tail. Open the anchovies com and run your finger along the backbone, separating the flesh from the bone. Be careful when doing this so you don't cut the anchovies in half. If the anchovies are fresh, it will be very easy to remove the bone.
Wash them gently and dry pat with kitchen paper. Put them in a terrine and cover with vinegar. Leave to marinate from 3 hours to overnight. Chop parsley, garlic and chilly together. Dry the anchovies from the vinegar and start dressing them in a new serving plate, alternating anchovies with parsley mixture, olive oil, salt and pepper. Keep going until the last layer and leave to marinate some more until ready to serve. Store in the refrigerator for a maximum of 3 days.