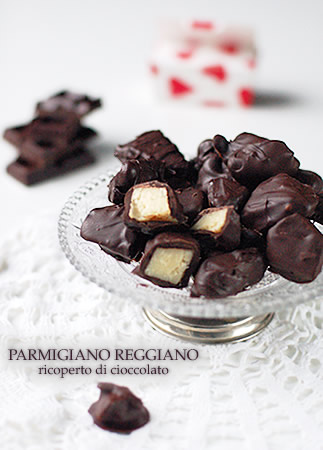 Il mese dell'amore si apre cosí, con l'ingrediente che richiama alla dolcezza per eccezione: il cioccolato.
La ricetta in questione (
leggermente riadattata
) proviene da un trafiletto di una nota rivista di cucina italiana, velocemente
lurkata
a casa di Antonella, suggerita direttamente dal
Consorzio del Formaggio Parmigiano-Reggiano
. L'idea é talmente semplice che mi sono detta "
Come ho fatto a non pensarci prima?
". In realtá il connubio puó anche non piacere ma a me é piaciuto molto perché adoro sia il formaggio che il cioccolato fondente, piú é fondente e meglio é. Per un'idea veramente romantica, ritagliate il formaggio con un piccolo stampo a forma di cuore!
Ingredienti: parmigiano reggiano, cioccolato fondente 70%


Sciogliete il cioccolato a bagno maria. Tagliate pezzetti di parmigiano della grandezza preferita e affondateli nel cioccolato. Con due cucchiaini o due forchette adagiate i pezzetti di formaggio su carta stagnola. Mettete in frigo per
mezz'ora
e ripetete l'operazione un'altra volta per ottenere un doppio strato di copertura. Conservate in frigo e stemperate almeno 15 minuti prima di servire in modo che il formaggio sia ammorbidisca abbastanza da amalgamarsi al cioccolato.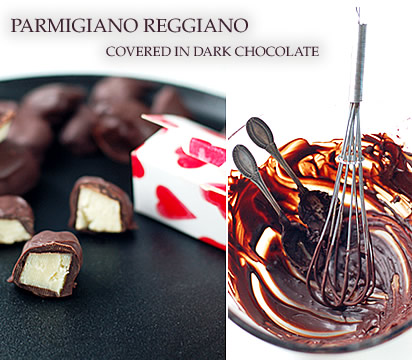 Sognando:
sognare
di
fondere oro
indica tristezza e malessere; sognare di
fondere argento
indica fortuna instabile; sognare di
fondere metalli
indica giusta rivendicazione.

Haiku:
Nell'abbracciarsi - che ardita alchimia - fusi per sempre (Frank)

---
English please:
Parmigiano Reggiano covered with dark chocolate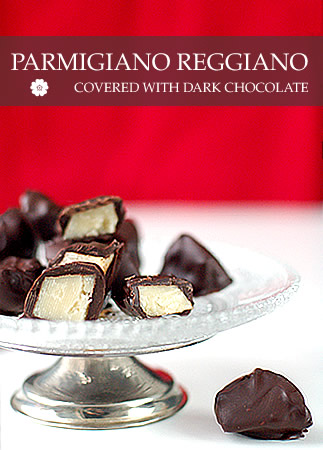 Ingredients: parmigiano reggiano, dark chocolate 70%


Melt the chocolate at bain-marie. Cut small pieces of parmigiano reggiano and with the help of two spoons or two forks, cover them with chocolate. Put the covered cheese onto a try covered with greese paper and store in fridge for
30 minutes
. Repeat the process another time so to get a thick cover. Store in the fridge and take it out at least 15 minutes before serving.