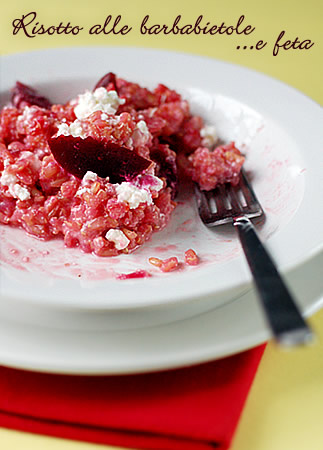 La settimana dell'amore si riveste di rosa. Quale ingrediente migliore delle barbabietole? Tantissimi i modi per utilizzarle, se piacciono ovviamente. Lo scorso anno ci siamo deliziati con un menu decisamente
pink.
Le
tagliatelle rosa con il pesto di zucchine
sono un esempio di ció che potete realizzare nei prossimi giorni per una serata romantica. Le
meringhe dell'amore
, anch'esse rosa, (senza barbabietole) se non piacciono possono essere il centro tavola ideale per la vostra cena, rigorosamente a forma di cuore. Restando in tema di barbabietole, potete tingervi di rosa con il
dip di barbabietole
, quasi come un
hummus
, ma di barbabietole. Di vera mousse invece si tratta quando si parla di
bicchieri di cioccolato ripieni di mousse di fragole e lamponi
. Se i bicchierini non sono il vostro forte optate per la sola mousse in contenitori alternativi circondati da petali di rosa profumati. Per gli amanti delle stramberie come me, la
torta di barbabietole
é un'idea per condividere una giornata con l'amica del cuore, una morbidezza cioccolatosa infinita. Provatele anche come
contorno con i pinoli tostati
e se non é abbastanza inventate voi nuovi modi di vedere, in rosa, e fatelo sapere anche a me.
Ingredienti


400gr di riso
250gr di barbabietole precotte
100gr di formaggio feta
brodo vegetale
1 cipolla
50gr di burro
parmigiano reggiano grattuggiato

Soffriggete la cipolla e metá del burro in una pentola capiente. Aggiungete il riso e tostatelo per qualche secondo. Tagliate le barbabietole a dadini ed aggiungetele al riso. Cuocete versando poco brodo vegetale alla volta fino a quando il riso non sará cotto, di solito circa 20 minuti. Spegnete e mantecate con il resto del burro ed il formaggio grattuggiato. Mettete la feta sbriciolata direttamente sul piatto di portata in modo che il risotto non perda il suo colore. Servite caldo.

Sognando:
sognare
rape nel campo
indica benessere duraturo; sognare rape al mercato indica azioni decise; sognare di comprare rape indica ottime possibilitá; sognare di tagliare rape indica aspirazioni ambiziose; sognare di cuocere rape indica malinconia passeggera; sognare di mangiare rape indica nuova attivitá.



Haiku:
Cresce senz'acqua - ma d'amore nutrita - rosa di sabbia (Frank)
---
English please:
Beetroot and feta risotto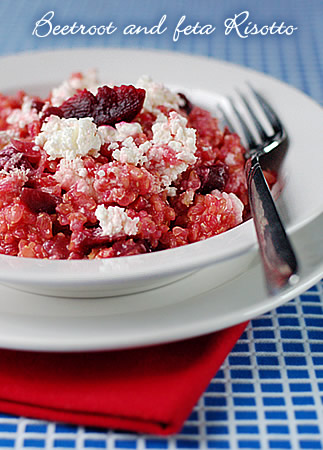 Ingredients


400gr arborio rice
250gr cooked beetroot
100gr feta cheese
vegetable stock
1 onion
50gr butter
grated parmigiano reggiano cheese

In a big saucepan, melt half of the butter and stir fry the chopped onion. Add rice and toast it for a few seconds. Cut the beetroot and add them to the rice. Pour vegetable stock a bit at the time until the rice is cooked, approximately 20 minutes. Remove from pan from the gas, add the remaining butter an grated parmigiano cheese. Stir well. Add the feta directly into the serving plate so that the risotto keeps a bright color and does not become pinkish. Serve warm.