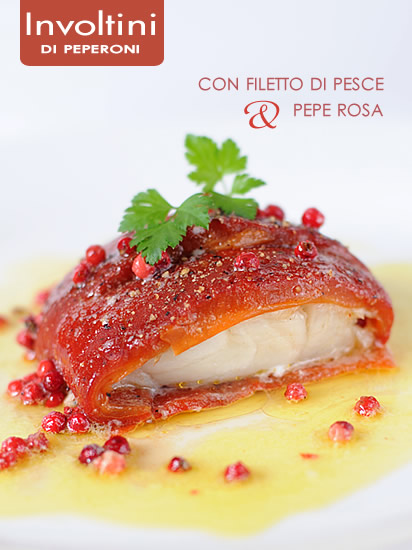 Come lo chiamo? Involtino di peperoni o involtino di pesce? Del resto involto è il pesce, si ma è il peperone che lo avvolge! E va beh, vada per involtino di peperone allora, con filetto di pesce! Mi sono arrovellata sul nome di questo piatto, che ho pure dovuto preparare due volte. La prima volta ho scattato a vuoto una ventina di fotografie per poi accorgermi, nel momento di scaricarle, che in realtà la macchina fotografica non conteneva nessuna scheda!! Una delle poche volte in cui non torno indietro a guardare le foto scattate e non mi accorgo che la scheda è mancante. Nooooooooo! Non che mi sia costata grande fatica rimangiare lo stesso piatto due volte, anche perché me lo sono gustato doppiamente. Il pepe rosa. Che scoperta! Incredibile, sembrerebbe, che dopo 4 anni di blog, continuo ancora a provare e trovare ingredienti che prima non avevo in dispensa o con i quali ancora non avevo sperimentato. Il pepe rosa è uno di questi. Incontrato nel mio market preferito di China Town un paio di settimane fa, dopo tanto cercare inutilmente in altri supermercati locali, è stato amore a prima vista. Così tanto amore, che ogni tanto vado in cucina e sgranocchio un paio di granelli, dal retrogusto di limone, una puntina piccolissima che va a braccetto con il burro fuso e il gusto dolce dei peperoni. Una accoppiata vincente, anche dal punto di vista estetico.

Ingredienti per 2

2 peperoni rossi
1 o 2 filetti di pesce bianco
burro
pepe rosa in grani
sale, pepe


Disponete i peperoni rossi su una teglia da forno e cuocete a 200 C per circa 20 minuti, girando ogni tanto i peperoni, finché la pelle non sarà ammorbidita e pronta per essere rimossa. Fateli raffreddare, poi spellateli. Dividete il filetto di pesce in due oppure utilizzate filetti di pesce non troppo grandi e abbastanza spessi. Arrotolate i peperoni intorno al pesce, spennellate con olio, salate e pepate ed infornate a 180 C per circa 10 minuti o fino a quando il pesce non sarà cotto. Sciogliete un po' di burro in un pentolino aggiungendo il pepe rosa in grani e un po' di sale. Versate la salsina sugli involtini e servite subito.


Sognando:
so
gna
re di
comprare burro
indica buona salute; sognare di
mangiare burro
indica insinuazioni maligne.

Parolando:
Il
pepe
o più anticamente pevere (che a tutt'oggi ritroviamo nel dialetto veneto, ad esempio nel nome del piatto della faraona in
salsa peverada
, cioè pepata) prende il nome dal termine sanscrito
pippali
che designava il pepe lungo tipico della regione indiana. Nella traduzione in persiano perse le 'L' poiché in tale lingua sono mancanti, per arrivare al greco
peperi
e infine al latino
piper
. Il pepe rosa (falso pepe peruviano) non è appunto un vero pepe ma una bacca proveniente dal Sud America apprezzata per il suo colore e per l'aroma fresco che ricorda il limone.

Archiviando:
clicca qui
per scaricare questa ricetta in formato .pdf
English please
Red peppers wraps with white fish fillet and pink peppercorns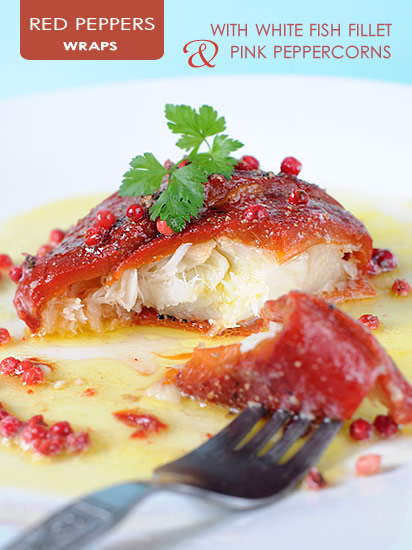 Ingredients for 2

2 red peppers
1 or 2 fillets of white fish
butter
pink peppercorns
salt, pepper


Lay the red peppers on a baking tray and baked them at 200 C for about 20 minutes. Cool them and peel off the skin. Cut the fish fillet in half or use 2 fillets not very big and quiet tick. Wrap them with the red peppers, brush with a bit of oil, sprinkle with salt and pepper and bake it a 180 C for about 10 minutes or until the fish has cooked throughout. Melt a bit of butter and the peppercorns together, adjusting with a bit of salt. Pour the sauce on the wrappings and serve immediately.