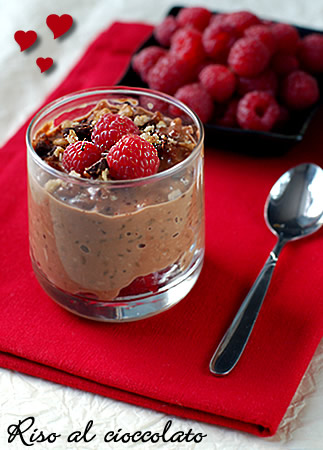 Ancora indecisi su come sorprendere la vostra metá? Sono ancora in vena di riso
tti.
Questo al cioccolato non poteva mancare nella rosa degli esperimenti e devo ammettere che ha sorpreso ogni aspettativa. Certo se non vi piacciono i pudding di riso meglio evitare, non é semplice mangiare il riso associato ad un gusto dolce. Se siete amanti del cioccolato bianco, provate anche il
pudding di riso al cioccolato bianco con le uvette
decorando con qualcosa di rosso, per l'occasione.
Questo amore cosí violento cosí fragile cosí tenero cosí disperato Questo amore bello come il giorno e cattivo come il tempo quando il tempo è cattivo Questo amore cosí vero Questo amore cosí bello cosí felice cosí gaio e cosí beffardo tremante di paura come un bambino al buio e cosi sicuro di sé come un uomo tranquillo nel cuore della notte Questo amore che impauriva gli altri che li faceva parlare che li faceva impallidire Questo amore spiato perché noi lo spiavamo, perseguitato ferito calpestato ucciso negato dimenticato perché noi l'abbiamo perseguitato ferito calpestato ucciso negato dimenticato Questo amore tutto intero ancora cosí vivo e tutto soleggiato é tuo, é mio, é stato quel che è stato Questa cosa sempre nuova e che non è mai cambiata, vera come una pianta tremante come un uccello, calda e viva come l'estate Noi possiamo tutti e due andare e ritornare Noi possiamo dimenticare e quindi riaddormentarci risvegliarci soffrire invecchiare addormentarci ancora sognare la morte svegliarci sorridere e ridere e ringiovanire, il nostro amore è là Testardo come un asino Vivo come il desiderio Crudele come la memoria Sciocco come i rimpianti Tenero come il ricordo Freddo come il marmo Bello come il giorno Fragile come un bambino ci guarda sorridendo e ci parla senza dir nulla e io tremante l'ascolto e grido grido per te, grido per me ti supplico per te per me per tutti coloro che si amano e che si sono amati si io gli grido per te per me e per tutti gli altri che non conosco Fermati là, là dove sei, là dove sei stato altre volte, fermati non muoverti non andartene Noi che ci siamo amati Noi ti abbiamo dimenticato Tu non dimenticarci non avevamo che te sulla terra Non lasciarci diventare gelidi anche se molto lontano sempre e non importa dove, dacci un segno di vita molto più tardi ai margini di un bosco, nella foresta della memoria alzati subito tendici la mano, e salvaci. (Jaques Prévert)

Ingredienti per 4: 150gr di riso arborio, 600ml di latte, 25gr di burro, 80gr di cioccolato fondente 50%, 50gr di zucchero, 1 pizzico di cannella, 50ml di panna liquida, lamponi per decorare, noci per decorare, cioccolato grattuggiato per decorare


Cuocete il riso nel latte fino a quando non sará cotto, circa 20 minuti. Abbassate la fiamma al minimo e scioglietevi dentro il burro, il cioccolato spezzettato e lo zucchero, amalgamando tutti gli ingredienti. Spegnete e aggiungete la panna liquida ed il pizzico di cannella. Servite tiepido o freddo, in un piatto o in bicchieri trasparenti, decorando con lamponi, cioccolato grattuggiato e qualche noce spezzettata.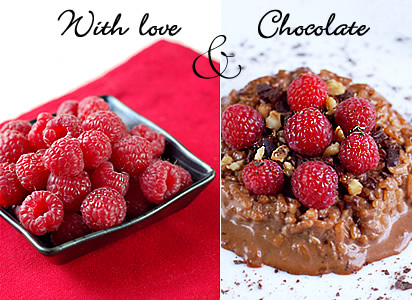 Sognando:
sognare di
vedere cioccolato
indica agiatezza e benessere; sognare di
mangiare cioccolato
indica prudenza con il denaro; sognare di
offrire cioccolato
indica gelosia in amore; sognare di
comprare cioccolato
indica complicazioni momentanee; sognare
cioccolato fondente
indica giudizi frettolosi.

Haiku:
Carta di riso - le parole di china - forse d'amore (
Frank
)
---
English please:
Chocolate rice pudding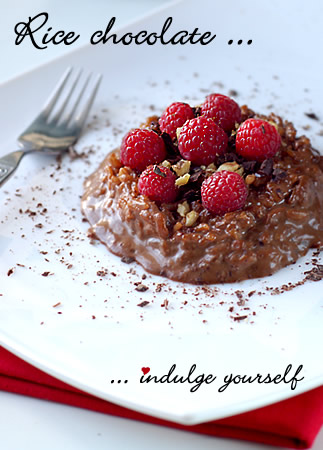 Ingredients: 150gr arborio rice, 600ml milk, 25gr butter, 80gr dark chocolate 50%, 50gr sugar, 1 pinch cinnamon, 50ml single cream, raspberries, a few walnutes and grated chocolate to garnish


Cook the rice with milk until soft, about 20 minutes. Simmer gently and melt in butter, chocolate and sugar, mixing well. Take the pan off the heat and add single cream and cinnamon. Serve warm or cold, on a plate or a cup, and garnish with raspberries, grated chocolate and a few chopped walnuts.