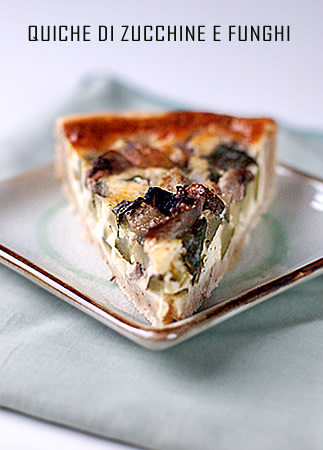 Crostata, torte salata, quiche. Pare che se ci siano panna e uova si chiami necessariamente quiche, dal dialetto francese della Lorraine, famosa per la piú comune Quiche Lorraine, appunto, fatta con panna, uova e bacon. Si pronuncia ([ki:ʃ]) e non ([quick]) come la chiamo io!

Ingredienti per la pasta: 200gr di farina, 170gr di burro, 1 cucchiaio di rosmarino tritato, 1 cucchiaino di sale, acqua quanto basta
Ingredienti per il ripieno: 2 zucchine, 250gr di funghi champignon, 1 spicchio d'aglio, 100ml di panna liquida, 2 uova, 50gr di formaggio grattuggiato, sale, pepe


Impastate farina e burro a temperatura ambiente, rosmarino, sale ed acqua fredda quanto basta per formare una pasta morbida. Mettetela a riposare in frigo per almeno 30 minuti.
Preparate il ripieno saltando le zucchine tagliate a dadini, i funghi e lo spicchio d'aglio, in una padella capiente dove avrete fatto riscaldare olio d'oliva. Fate cuocere per 5/10 minuti per far perdere l'acqua alle zucchine e ai funghi. Salate, pepate e mettete da parte.
In un piatto sbattete le uova, aggiungete formaggio grattuggiato, panna, sale e pepe.
Prendete la pasta dal frigo e stendetela in una teglia rotonda di circa 22/24cm. Versate le uova con la panna ed infine le zucchine ed i funghi.
Infornate a 180 C per circa 1 ora. A seconda del forno che avete la parte sottostante cuocerá prima o dopo. Se dopo un ora non é ancora cotta, coprite la parte superiore per non farla bruciare e continuate a cuocere. Meglio se servita calda.


Sognando:
sognare
funghi cotti
indica indecisione pericolosa; sognare
funghi secchi
indica ostacoli imprevisti; sognare
funghi velenosi
indica amore contrastato; sognare
funghi sott'olio
indica nervosismo e intolleranza; sognare
funghi sott'aceto
indica buone occasioni; sognare di
mangiare funghi
indica orgoglio esagerato; sognare di
raccogliere funghi
indica ingratitudine di un amico.

Haiku:
Baci salati - di rugiada marina - sopra la sabbia (Frank)


---
English please:
Courgettes and mushrooms quiche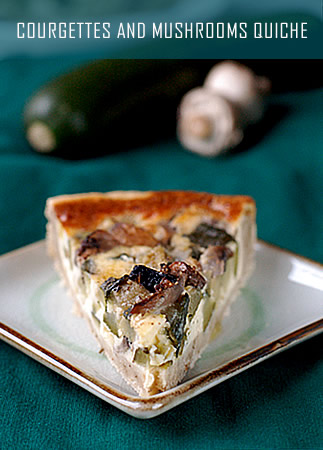 Ingredients for the dough: 200gr flour, 170gr butter, 1 Tbsp chopped rosemary, 1 tsp salt, cold water
Ingredients for the filling: 2 chopped courgettes, 250gr mushrooms, 1 clove garlic, 100ml single cream, 2 eggs, 50gr grated parmigiano reggiano cheese, salt, pepper


Mix flour and butter, chopped rosemary and cold water, as much as to get a soft dough. Put in the fridge to rest for about 30 minutes.
Prepare the filling by gently frying the chopped courgettes and mushrooms in a pan with olive oil and garlic. Cook for about 5/10 minutes so that water is lost from the vegetables. Add salt and pepper and put aside.
In a plate, beat eggs, add grated cheese and single cream, salt and pepper.
Take the dough from the frige and lay it in a 22/24cm round pan. Pour eggs mixture first then vegetables.
Bake at 180 C for about 1 hour. Depending on the oven you have, the quiche may take more than 1 hour. Cover it with aluminium foil and keep cooking until well cooked inside. Best served warm but not bad cold.