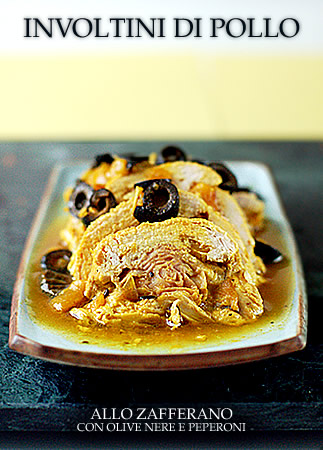 Forse il grigio invernale m'ispira ad usare il giallo per richiamare a me il sole, ben nascosto, dietro le nuvole. Mi rendo conto cosí di avere sfornato una serie di ricette in cui il giallo la fa da padrona anche in questa ricetta veloce veloce ed improvvisata. Come si dice, bisogna avere pazienza, che luglio é alle porte! Potete usare peperoni gialli o rossi per creare un contrasto di colore (anche l'occhio vuole la sua parte). Eviterei i verdi che di solito sono meno saporiti, almeno cosí si dice...
Da servire con contorno di verdure miste oppure con il solito cous cous, come faccio io sempre quando ho poco tempo, insaporito con il sugo stesso degli involtini, 5 minuti ed é bello che pronto!

Ingredienti:
500gr di petto di pollo, 2 peperoni gialli o rossi, 2 cucchiai di olive nere snocciolate, 2 bustine di zafferano, 500lt di brodo vegetale o di pollo, qualche fetta di prosciutto cotto, un pezzo di formaggio parmigiano, 1 spicchio d'aglio, olio, sale
Preparate gli involtini di pollo mettendo dei pezzetti di formaggio, una fettina di prosciutto e qualche fettina di peperone. Salate, pepate e chiudete bene fissando con gli stuzzicadenti. In una padella riscaldate olio e aglio a pezzettini e fate rosolare i petti di pollo da entrambe i lati. Aggiungete le olive tagliate a pezzetti e l'altro peperone tagliato anch'esso a pezzetti. Versate il brodo e lo zafferano. Mescolate bene e fate cuocere a fiamma moderata per circa 20/30 minuti. Il pollo dovrá rimanere morbido e non si dovrá seccare. Girate gli involtini durante la cottura in modo che il colore dello zafferano
prenda
entrambe i lati. Servite ben caldi accompagnando con il sughetto stesso.

Sognando:
sognare un pollo
nel pollaio indica ottimo successo; sognare un pollo in gabbia indica dissensi in casa; sognare un pollo cotto indica discussioni violente; sognare un pollo arrosto indica accordi vantaggiosi.

---
English please:
Chicken rollups with saffron, black olives and yellow peppers
Ingredients:
500gr chicken fillet, 2 yellow or red peppers, 2 Tbsp pitted black olives, 2 pinches saffron powder, 500ml vegetable or cicken stock, some slices of prosciutto cotto, a small piece of parmigiano reggiano cheese, 1 garlic clove, olive oil, salt
Make the involtini by filling with small pieces of cheese, a couple of prosciutto slices and a bit of chopped yellow pepper. Add salt and pepper and close the fillet with toothpicks. Repeat with the others. Heat up a bit of olive oil and genly fry a garlic clove. Fry the chicken involtini on boat sides until brownish. Add pitted olives and the other chopped pepper. Pour chicken or vegetable stock, add saffron and close the pan with a lid. Cook for 20 to 30 minutes and turn the chicken half way so that the yellow color is impressed on both sides. The chicken has to keep its softness so don't let overcook
. Serve hot with cous cous or rice if you like.