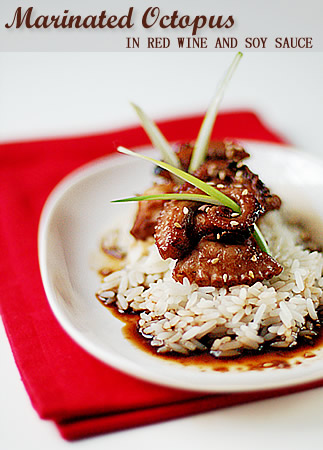 Quest'idea del vino mi é venuta guardando il vin brulé di qualche giorno fa, ma solo con il vino non mi convinceva e cosí ci ho aggiunto anche la soia. Fine di una ricetta.
Certe volte non ci vuole cosí tanto per mettere su qualcosa di diverso che sia appetibile al proprio palato. Poi l'accostamento puó essere o meno discutibile ma alla fine é il gusto che conta. Intanto io sono grata al
Signor Morrisons
per averci finalmente graziato di un banco di pesce decente al supermercato. Va beh, il pescivendolo va ancora studiato e trainato (dal voce del verbo
to train
), ma la pescheria
si puó fare
. L'ultima volta che sono andata a comprare del pesce, mi ha servito un ragazzino tutto agghindato con tanto di capppellino e camicia bianca. Avrá avuto si e no 15 anni, ma ne dimostrava anche un paio in meno. Le seppie gli facevano ribrezzo da toccare, mi ha detto che erano viscide (ma va?!) e che ne volevo troppe (500gr) e che di solito non se le compra nessuno!
Ingredienti:
500gr di polpo, 2 cucchiai di vino rosso, 2 cucchiai di salsa di soia, 1 cucchiaio di semi di sesamo, cipollotti verdi per decorare, riso per accompagnare
Cuocete il polpo in acqua bollente non salata, per circa 20 minuti. Nell'acqua io ci metto anche mezzo bicchiere d'aceto e due foglie d'alloro che insaporisce. Quando il polpo é cotto, lo lascio raffreddare nella pentola fino a quando non si é quasi completamente raffreddato. In questo modo dovrebbe restare morbido. Scolatelo quindi e tagliatelo a pezzetti. Marinatelo con il vino rosso, la soia e i semi di sesamo. Lasciatelo in frigo per almeno 2 ore. Riscaldate un po' di olio in una padella e saltate il polpo per qualche minuto, mettendo da parte la marinatura che verserete alla fine nel piatto. Servite con riso bollito.



Sognando:
sognare un polpo vivo indica temperamento avventuroso; sognare un polpo morto indica pene e rotture.

---
English please:
Stir fried octopus marinated in red wine and soy sauce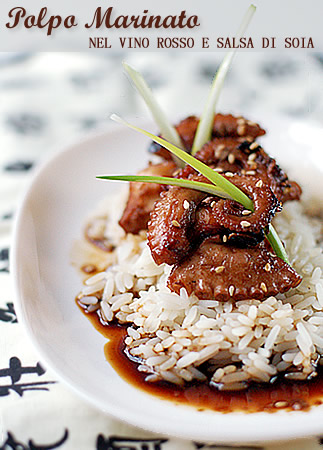 Ingredients:
500gr octopus, 2 Tbsp red wine, 2 Tbsp soy sauce, 1 Tbsp sesame seeds, green onions to garnish, rice to serve
Cook the octopus in unsalted boiling water for about 20 minutes. In the boiling water I also put half glass of white vinegar and a couple of bay leaves. When the octopus is well cooked leave it to cool in the water until completely cold. This way it is supposed to stay soft. Drain it and cut into pieces. Marinate with red wine, soy sauce and sesame seeds. Leave in the fridge for about 2 hours. Heat some olive oil in a pan and gently stir fry for a few minutes until brownish. Leave the marinated wine and soy sauce aside and use it to garnish in the end. Serve with boiled rice.