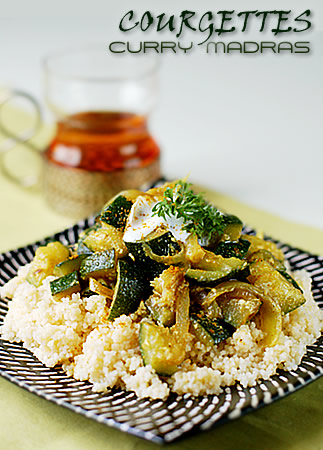 Le zucchine mi piacciono tantissimo perché non solo mi nutrono ma mi dissetano anche. Nei mesi precedenti le zucchine sono finite spesso sulla griglia:
grigliate con la feta
,
grigliate con pomodori e fagiolini
,
grigliate con salsa allo yogurt
, altre volte in un
risotto al curry
, ridotte a
pesto
per accompagnare la pasta, nel
tortino di riso giallo
e addirittura
crude
. Questa volta le ho condite solo con il curry madras e accompagnate con il cous cous e un po' di yogurt naturale. Se vi piacciono i sapori forti e le spezie, sicuramente vi piacerá questa versione speziata, per un ortaggio che di per sé non ha un gusto fortissimo.
Il curry madras é una polvere gialla profumatissima che contiene principalmente: coriandolo, curcuma, mostarda, cumino, peperoncino, pepe, trigonella, aglio, finocchio, semi di papavero, foglie di curry e sale. Si puó facilmente fare in casa oppure la potete comprare dal vostro spacciatore di fiducia.
Ingredienti


4 zucchine
4 semi cardamomo
1 pizzico di semi di cumino
1 pizzico di semi di coriandolo
2 cucchiaini curry madras
1 cipolla
sale, olio

In una padella riscaldate l'olio e versate il cardamomo, il cumino, il coriandolo, il curry madras e la cipolla. Soffriggete per un paio di minuti lasciando che i semi scoppiettino e che il tutto si insaporisca. Aggiungete le zucchine tagliate a dadini, mescolate bene e cuocete a pentola coperta per 5/10 minuti, girando di tanto in tanto, senza farle cuocere troppo in modo che restino croccanti. Aggiustate di sale e servite con il cous cous e yogurt naturale.

Sognando:
sognare
un prato verde indica invito gradito; sognare un tessuto verde indica progetti entusiasmanti; sognare un vestito verde indica trattative laboriose; sognare di essere al verde indica fantasticherie inutili.



Haiku:
Notte a Madras - respiro misteri e - spezie nell'aria (Frank)

---
English please:
Courgettes curry madras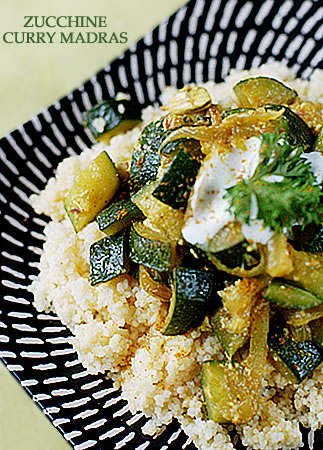 Ingredients


4 courgettes
4 cardamom seeds
1 pinch cumin seeds
1 pinch coriander seeds
2 tsp curry madras powder
1 onion
salt, olive oil

Heat the olive oil and gently stir fry all the ingredients for a couple of minutes, except the courgettes. Let the cardamom pop up by itself, then add the chopped courgettes, mix well and cook with lid on for about 5/10 minutes without overcooking them. Adjust with salt and serve with cous cous and natural yogurt.