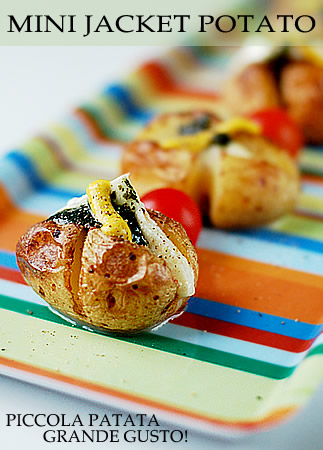 Le Jacket Potatoes (patate con la giacca) fanno parte del menù di quasi tutti i fast food ed i pub inglesi. Per fast food intendo le tavole calde inglesi dove generalmente si mangia al volo un fish and chips, un panino o appunto una patata ingiacchettata. Solitamente queste sono molto grandi, pesano quasi mezzo kilo l'una, in modo che possano contenere più ripieno possibile. Le più comuni sono al gusto di tonno e formaggio cheddar, chili con carne e formaggio cheddar. Le mie mini jacket invece si possono servire come antipasto e dato lo scarso spazio per il ripieno, restano leggere e si prestano a mille varianti. Io ho utilizzato quello che avevo in frigo. Ultimamente la mostarda e la senape sono sempre nel mio frigo quindi la scelta è ricaduta facilmente su un ripieno comodo. La salsa alla menta generalmente la si usa per condire l'agnello, (altra ricetta inglese della domenica, molto buona) ma credo di avere comprato la salsa e di non avere ancora avuto tempo, modo e voglia di sacrificare un agnello. Provate voi con altre varianti e se volete aggiungete le vostre idee nei commenti.

Ingredienti


12 patate piccole
1 mozzarella
salsa alla menta
senape o mostarda
olio, sale, pepe

Lavate le patate senza sbucciarle. Con un coltello intaccate una croce non tanto profonda ma abbastanza in modo che durante la cottura la patata si apra. Spennellate con olio d'oliva ed infornate a

200 C

per

45 minuti

. Tagliate fettine di mozzarella, infilate in mezzo alle patate quando ancora ben calde in modo che la mozzarella si sciolga. Guarnite poi con salsa alla menta e senape o mostarda. Aggiustate di sale e pepe e servite calde o fredde.

Sognando:
sognare una
giacca nuova
indica difficoltà economiche; sognare una
giacca vecchia
indica serietà d'intenti; sognare una
giacca rattoppata
indica parenti malevoli; sognare di
indossare una giacca
indica pericolo scongiurato.

Haiku:
Non un biglietto - sul parapetto grigio - solo la giacca (Frank)
---
English please:
Mini jacket potatoes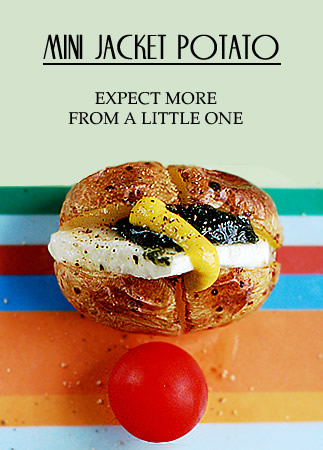 Ingredients


12 small potatoes
1 mozzarella
mint sauce
american or french mustard
olive oil
salt, pepper

Wash potatoes without peeling. With a knife cut a cross not very deep so that the potatoes open during the cooking but don't break apart. Brush with olive oil and cook for 200 C for 45 minutes. Slice the mozzarella and fill the potatoes while still hot so that the mozzarella melts. Garnish with mint sauce and mustard, adjust with salt, pepper, and more olive oil if you like. Serve hot or cold.