Da piccola mia madre mi faceva mangiare il merluzzo perché diceva che conteneva fosforo. Lo mangiavo volentieri come lo preparava lei, semplicemente al vapore e poi condito con l'olio di casa, pepe, sale e qualche goccia d'aceto. Proprio perché il merluzzo é un pesce poco saporito, credo si presti molto al palato di un bambino, il quale generalmente non ama i gusti molto forti.
Poi é arrivata l'Inghilterra. O meglio, io sono giunta fino a qui. Ho visto tonnellate di merluzzi fritti accompagnati da patate, naturalmente fritte. Il merluzzo é diventato il simbolo del pesce puzzolente e fritto ad ogni angolo di paese. Si lo so, un buon pesce fritto é pur sempre una delizia, ma qui nei paraggi ogni fish and chips shop, porta l'insegna del "migliore fish and chips shop" della zona, dell'anno, del mese, dell'universo. Anche noi abbiamo abboccato, pure piú di una volta, ma ora chi ci crede piú?
Eppure questo merluzzo si presta a farsi mangiare in mille altri piú gustosi e sicuramente salutari modi, proprio perché necessita di accompagnamento, non di una coperta spessa un dito e zuppa d'olio, ma di uno delicato che non sovrasti il suo stesso delicato sapore. Questa é forse una delle poche volte che compro il merluzzo da queste parti, ma dopo i risultati soddisfacenti di questa zuppa, ho deciso che proveró a sfatare questa ossessione di friggerlo e basta, proponendo ricette alternative, prima che il merluzzo vada ad estinguersi definitivamente nell'olio bollente.
Grazie a tutti coloro che quotidianamente mi scrivono. Sono in ritardo nelle risposte di almeno due settimane causa superlavoro. Leggo ogni email che mi arriva ma in questo periodo proprio non ho il tempo per rispondere a tutti personalmente. Grazie per i complimenti, le belle parole, le richieste, i suggerimenti e per l'affetto di sempre.


Ingredienti

300gr di filetto di merluzzo
300gr di patate
2 bustine di zafferano
400gr di pomodori pelati
1lt di brodo di pesce o vegetale
mezzo bicchiere di vino bianco
prezzemolo per guarnire
1 cipolla
2 spicchi d'aglio
sale, pepe

Tagliate le patate a dadini. Togliete la pelle dal merluzzo e tagliato a pezzi. Soffriggete la cipolla e l'aglio con un po' d'olio. Aggiungete le patate, fate rosolare, poi il vino. Sfumate per qualche secondo. Aggiungete i pomodori pelati e il brodo di pesce o vegetale. Cuocete le patate per 10/15 minuti fino a che non saranno tenere ma non scotte. Aggiungete ora lo zafferano ed il pesce e cuocete per 3/4 minuti. Il merluzzo cuoce in brevissimo tempo e se volete che resti morbido non fatelo cuocere a lungo. Salate e pepate quanto basta e servite con fette di pane e prezzemolo tritato.

Sognando:
sognare di friggere pesce indica
fortuna al gioco; sognare di friggere nel burro indica scarsa intesa con il coniuge; sognare di friggere nell'olio indica intrighi scoperti.



Haiku:
Brillan la notte - di color zafferano - occhi di gatto (Frank)
---
English please:
Cod soup with saffron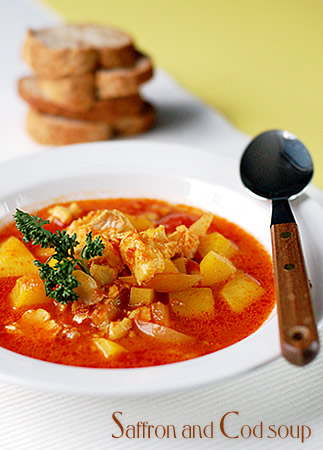 Ingredients


300gr cod fillet
300gr potatoes
3gr saffron
400gr canned chopped tomatoes
1lt fish or vegetable stock
half glass of white wine
parsley to garnish
1 onion
2 garlic cloves
salt, pepper

Chop potatoes. Skin the cod and cut into pieces. Chop onion and garlic and stir fry with a couple of Tbsp of olive oil. Add chopped potatoes, stir fry for a couple of minutes then pour the white wine and let evaporate. Add canned tomatoes and fish (or vegetable) stock. Cook for about 10/15 minutes until tender. Add saffron and cod and cook for a further 3/4 minutes. Don't overcook so the fish stays soft. Adjust with salt and pepper, garnish with chopped parsley and serve with slices of bread.