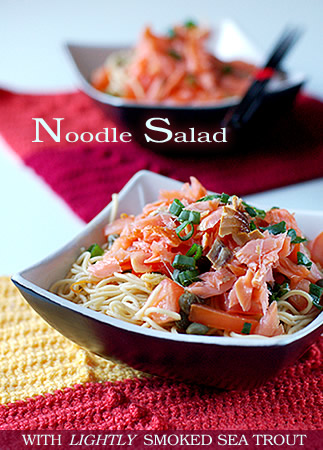 Sono quasi due settimane che qui nel Devon piove e tira vento, anche se la temperatura é tutto sommato molto più alta della media: 12 C. Fatto sta che il vento criminale degli ultimi giorni, toglie di dosso il buonumore cercato di accumulare durante i giorni di vacanza.

Forse non è la stagione delle insalate, ma un po' di colore ci vuole tra tutto questo grigiume. E poi, chi l'ha detto che le insalate devono essere per forza fredde? Nel caso specifico dei noodles, solitamente si passano sotto l'acqua fredda per far si che restino al dente. Per ovviare l'effetto colla, basta scolare i noodles qualche secondo prima per poterli servire così almeno tiepidi, visto che per condirli ho usato un condimento freddo. La trota salmonata leggermente affumicata é stata per me una scoperta degli ultimi tempi. Delicata e molto più digeribile di quella che invece é del tutto affumicata. Usate abbondante olio d'oliva per non far attaccare i noodles e servite subito.

Ingredienti


150gr di noodles
2 pomodori maturi
2 cucchiaini di capperi
2 cucchiai d'olio d'oliva
2 cucchiai cipollotti tritati
il succo e la scorza di 1 arancia
150gr di trota salmonata leggermente affumicata

Tagliate i pomodori a dadini e metteteli in una scodella. Aggiungete i capperi, i cipollotti tritati, l'olio d'oliva, il succo e la scorza d'arancia, sale e pepe. Mescolate bene e lasciate marinare per

1 ora

. Cuocete i noodles attenendovi alle indicazioni indicate sulla confezione. Solitamente cuociono in 4/5 minuti. Scaldate una padella con un po' di olio e grigliate leggermente la trota salmonata se non è affumicata del tutto come la mia. Se invece la trota salmonata che avete scelto è completamente affumicata, allora questa operazione non sarà necessaria. Scolate i noodles senza passarli sotto l'acqua fredda e mescolateli ai pomodori. Servite aggiungendo la trota salmonata spezzettata direttamente sul piatto. Se preferite un'insalata fredda allora sciacquate i noodles sotto l'acqua fredda prima di mescolarli ai pomodori.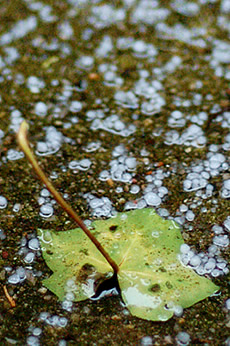 Come si evince dalla foto qui a sinistra, nel Devon ha persino grandinato nei giorni scorsi.
A dire il vero è una delle prime volte che la grandine si presenta da queste parti, che io ricordi.
La cosa buffa è che gli inglesi sono abituati alla pioggia ma spesso non alla grandine. Solo che per loro non fa molta differenza: primavera, estate, autunno o inverno, si vestono sempre uguale.
Ho visto una signora fuori dalla finestra, passeggiare sotto la grandine con un passeggino, comodamente vestita con canottiera e pantaloni alla pescatora. Tempi moderni!

Sognando:
sognare di
vedere una trota
in acqua indica grande gioia; sognare di
prendere una trota
indica fortuna con il denaro; sognare di
cuocere una trota
indica incertezza; sognare di
mangiare una trota
indica notizie allarmanti.

Haiku:
Suoni nel vento - di parole perdute - l'eco ritorna
(Frank)
---
English please:
Noodle Salad with lightly smoked trout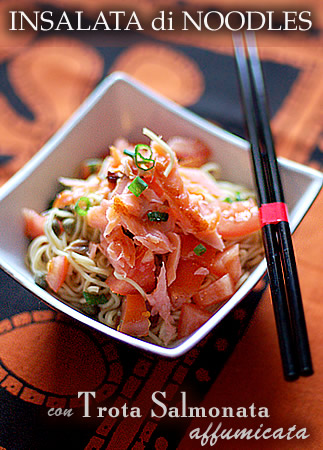 Ingredients
150gr noodles
2 ripe tomatoes
2 tsp capers
2 Tbsp olive oil
2 Tbsp chopped green onions
rind and juice of 1 orange
150gr lightly smoked sea trout
Chop the tomatoes and put them in a bowl. Add capers, rind and juice of an orange, chopped green onions, olive oil, salt and pepper. Mix well and set aside for 1 hour. Cook the noodles accordingly to the instructions on the packet. Usually they cook in 4/5 minutes. Heat a pan and lightly grill the smoked trout. If your trout is completely smoked, skip this step. Drain the noodles without rinsing them underl cold water so they keep warm. Mix them with the tomatoes and serve with flaked smoked trout on top. If you'd like a cold salad, then rinse the noodles under cold water.