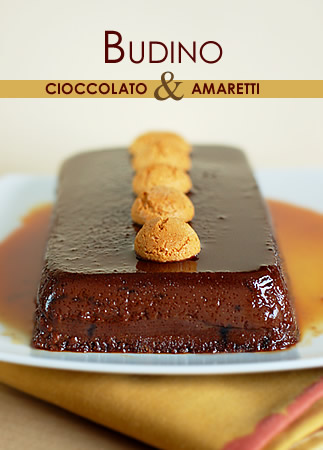 Mentre io non ci pensavo quasi più a preparare dolci questa settimana, mia madre, che è venuta a farmi visita per aiutarmi ad impacchettare, ha voluto assolutamente prepararne uno, la cui ricetta le è stata data da una delle sue tante cugine, mi pare sarda. Nonostante i pochi attrezzi da cucina rimasti fuori dai pacchetti (mia madre mi ha smontato persino il letto, sono costretta a dormire su una brandina e manca 1 settimana alla partenza!!) siamo riusciti a recuperare tutto quello che serviva, tranne i piatti fashion che sono già sepolti chissà dove. Ahhhhh!
- Come si chiama questo dolce?
- Mousse al cioccolato - dice mio padre.
- Ma che mousse, papà! La mousse è un'altra roba, non si cuoce in forno!
- Soufflé di cioccolato allora!
- Ma perché, si gonfia?

- Budino! - dice mia madre.
- Budino o creme caramel?
- Beh scrivi quello che vuoi, tanto è uguale.

Mica tanto uguale, poi tutti mi chiederanno che accidenti è questa roba e sicuramente avrà un nome specifico ed io farò la figura dell'ignorante. Allora mi sono messa a cercare in rete: "budino al cioccolato e amaretti" ed è venuto fuori che in realtà è un dolce tipico piemontese (incredibile io non l'ho mai incrociato né assaggiato in 7 anni di vita torinese ne, ma dove vivevo, nelle caverne?!) e che si chiama
Bunèt
.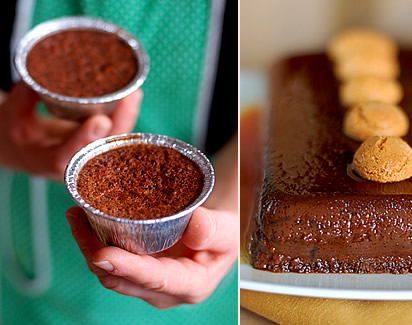 Che sia o meno questa la ricetta fedele all'originale non mi è dato saperlo, ho visto che ci sono più versioni in giro, ma quello che so per certo è che le dosi di mia madre sono per un battaglione di 12+ persone e noi siamo solo in 3, ma tanto...
"E' così buono che te ne mangi almeno due coppette a testa"
, ha detto lei. E in effetti ci siamo spazzolati una coppetta a testa più un bis. Dodici sono le formine che abbiamo usato, più uno stampo da plum cake, che è anche molto bello da vedersi e da decorare. Mia mamma è stata contenta di poter finalmente contribuire con un dolce e di vederne la foto in
copertina
, anche perché di solito a lei vengono meglio i salati mentre la zia Cenzina, sua sorella, ha sempre avuto il primato per i dolci. Ma questa volta, è stato un vero successo, da leccarsi i baffi!
Ingredienti per 12 formine + 1 stampo per plum cake


1 litro di latte intero tipiedo

200gr di amaretti + qualcuno per decorare

75gr di cacao amaro in polvere
5 uova intere
4 cucchiai di caffè
2 cucchiai di liquore marsala, rum o maraschino
250gr di zucchero per il caramello

Mettete le uova in una terrina capiente e sbattetele leggermente con una frusta, senza montarle. Aggiungete il cacao, il caffè, il liquore ed il latte che avrete intiepidito. Tritate gli amaretti grossolanamente, con le mani ed aggiungeteli a questo composto, mescolate e mettete da parte. Preparate il caramello facendo sciogliere lo zucchero in un pentolino fino a che non si sarà sciolto completamente ed avrete ottenuto un liquido dorato. Versate un po' di caramello in ogni stampo che userete, lasciate raffreddare qualche minuto poi riempite gli stampini. Infornate a bagno maria a 170 C per circa 45 minuti. Rimuovete dal forno, fate raffreddare completamente per un ora poi mettete a riposare in frigo per una notte intera. Rovesciate nel piatto di portata, aiutandovi con un coltello con il quale farete uscire un po' di aria dai bordi. Decorate con dei piccoli amaretti.

Sognando:
so
gnare di
vedere la propria madre indica buoni auspici; sognare di parlarle indica sicurezza e protezione; sognare di vederla piangere indica preoccupazioni.

Archiviando:
clicca qui per scaricare questa ricetta in formato .pdf
---
English please:
Chocolate and amaretti pudding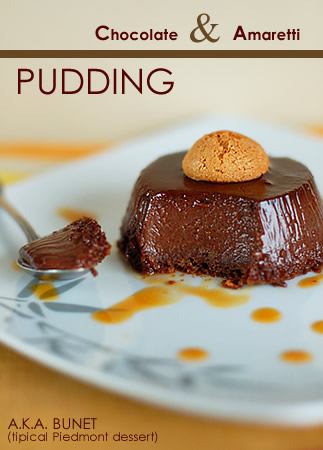 Ingredients for 12 ramekins + 1 plum cake pan


1lt warm milk

200gr ground amaretti biscuits + some to decorate

75gr cocoa powder (sugar free)

5 eggs
4 Tbsp coffee
2 Tbsp liqueur marsala, rum or maraschino
250gr sugar for the caramel


Gently whisk eggs, then add cocoa powder, coffee, liqueur and warm milk. Chop the biscuits with your hands and add them to the mixture. Prepare the caramel by heating the sugar into a pan and keep mixing with a spoon. Cook until golden then put 1 Tbsp onto each ramekins or any other pan you are using and set aside. Do this very quickly as the caramel tends to solidify fast. Fill each with the mixture prepared ahead and bake at 170 C for about 45 minutes. Remove from the oven and let it cool completely for about 1 hour, then store overnight in the fridge. To serve, run a knife around the edges of the ramekins and turn upside down quickly on the serving plate. Decorate with amaretti biscuits and serve.