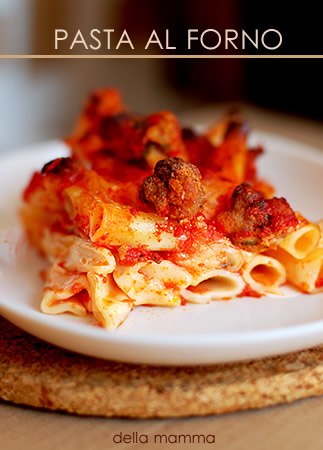 Ci sono cose che
come le fa la mamma non le fa nessuno
. Una di queste è proprio la pasta al forno, uno di quei piatti che io ho preparato raramente, proprio perché ineguagliabile al suo. Il sapore della passata fatta in casa, il basilico, le mini polpette, la scamorza al posto della mozzarella (che fa meno acqua e come fila appena sfornata!), il prosciutto cotto saporito o la mortadella da leccarsi i baffi. Entrando nella mia ultima settimana italiana, non potevo non farmi mancare il sapore di un piatto che a casa mia per tradizione è sempre stato domenicale: il piatto della festa, anche quando festa non è. Le dosi sono sempre per un battaglione di tot persone, ma questa volta sono giustificate dal fatto che il giorno dopo la pasta al forno è sempre migliore del giorno prima e si mangia ancora più volentieri. Quindi che siate in due, tre o quattro, vi assicuro che non avanzerà. Provare per credere.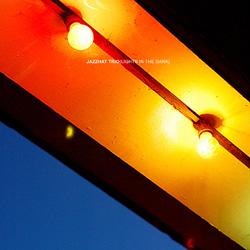 Non so se jazz e pasta al forno hanno un nesso, ma sicuro è che entrambe possono essere leggeri e pesanti a seconda di chi li
prepara
.
E' uscito la scorsa settimana
"Lights in the dark"
dei
Jazzhat Trio
(Antonio Fresa, Giacomo Pedicini, Nicola de Luca) prodotto da
Microcosmodischi
. L'album contiene 5 brani inediti e 6 (da Cole Porter a Larry Morey) riarrangiati in maniera splendida. Sono molto lieta di esserne partecipe con la foto di copertina, "
Tutta la luce che ho
" che ne fa da cornice.
Ascoltate un estratto di queste 11 perle qui
e giudicate voi.
Ingredienti per 4/6 persone

300gr di carne macinata di manzo
1 uovo
3 cucchiai di formaggio
3 cucchiai di pane grattato
prezzemolo
pepe e sale q.b.
1 cipolla piccola
1.5lt di passata di pomodoro
100gr di prosciutto cotto (o mortadella)
1 scamorza

500gr di pasta tipo rigatoni, ziti, mezzi ziti


Preparate le polpettine impastando la carne con l'uovo, il formaggio, il pane grattato, il prezzemolo, pepe e sale quanto basta. Formatene di piccole e soffriggetele appena in una padella dove avrete fatto rosolare un po' di olio e cipolla. Le polpette non devono friggere, ma appena soffritte. Versate quindi la passata di pomodoro e fate cuocere il sugo per circa mezz'ora. Cuocete la pasta in acqua salata e scolatela molto al dente. Conditela tutta insieme al sugo, il prosciutto cotto e la scamorza tagliata a fettine. Infine versate l'ultimo strato di sugo ed una manciata di formaggio grattugiato. Infornate a 150 C per 30/45 minuti fino a quando la parte superiore non si sarà rosolata e il sugo rappreso.




Sognando:
so
gnare
un forno acceso indica serena agiatezza; sognare un forno chiuso indica qualche aspro litigio; sognare di aprire un forno indica attività intensa.



La statistica è quella scienza che dice che se hai la testa nel congelatore e i piedi nel forno, mediamente stai bene.
(
Charles Bukowski)

Archiviando:
clicca qui per scaricare questa ricetta in formato .pdf
---
English please:
Pasta al forno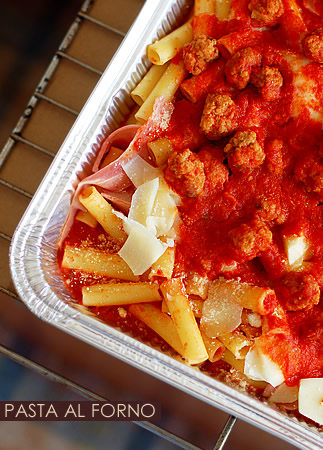 Ingredients for 4/6

300gr mince meat
1 egg
3 Tbsp grated cheese
3 Tbsp fine bread crumbs
parsley
pepper and salt
1 small onion

1.5lt tomato sauce

100gr prosciutto cotto (or mortadella)
1 scamorza

500gr pasta (rigatoni, ziti, mezzi ziti)


Prepare the mini meat balls by mixing meat, egg, grated cheese, bread crumb, parsley, pepper and salt. Shape small meat balls and lightly fry them into a pan with a bit of olive oil and a chopped onion. Meat balls have to be fry very lightly, not deeply. Pour the tomato sauce and cook for about 30 minutes. Meantime cook the pasta in salty water and drain it at al dente. Mix all together with the sauce, prosciutto cotto and sliced scamorza. Arrange it into a oven tin and cover with the remainin sauce and grated cheese. Bake at 150 C for about 30/45 minuti or until golden on top.