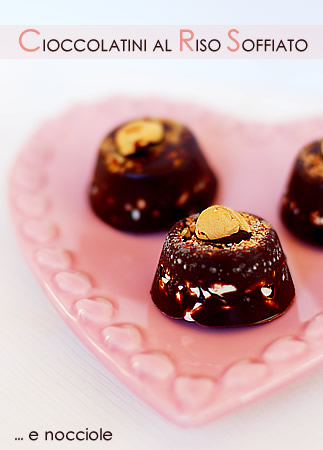 Lo so cosa state pensando:
"Dopo la sagra del cocco, inizia quella dei riso soffiato"
. E in un certo senso è anche vero, soprattutto se poi mi ostino a realizzare ricette in cui il riso soffiato non è l'ingrediente principale. Nel caso specifico ne è servito giusto qualche cucchiaio, non sufficiente per fare fuori tutto quello che mi è ancora rimasto: mezza busta ancora!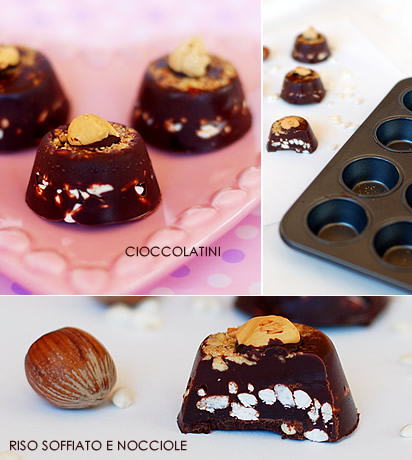 L'idea primordiale era quella di realizzare normali barrette di riso soffiato, ma il cioccolato che avevo non era abbastanza per ricoprire strato sottostante e soprastante e l'idea in sé non era un granché originale, così ho pensato a qualcosa di più piccolo e anche di più grazioso. Mi è capitato sottomano lo stampo per muffin mini e non ho potuto, né voluto resistere alla tentazione. Tenete a mente questa ricetta dopo le festività pasquali in cui il cioccolato impazza, con quello che avanza si possono realizzare dolcetti di questo tipo, che poi riposti in freezer non necessitano di essere consumati nell'immediato. Semplici da realizzare e davvero gustosi, ottimo il croccante del riso soffiato e l'accostamento delle nocciole con il cioccolato fondente vince sempre.
Ingredienti per 12 cioccolatini


200gr di cioccolato fondente 70%
40gr di burro
12 nocciole per guarnire
12 nocciole tritate

12 cucchiaini rasi di riso soffiato


Sciogliete il cioccolato a bagnomaria amalgamandolo con il burro. Tenetene un paio di quadretti da parte per la decorazione finale. Imburrate leggermente lo stampo e riempite il fondo con un sottile strato di nocciole tritate. Versate un po' di cioccolato dentro ogni stampino, lasciate raffreddare qualche minuto poi distribuite un po' di riso soffiato in ognuno schiacciando un po' con un cucchiaino. Coprite con il restante cioccolato fuso, smuovete un po' lo stampo per fare uscire l'aria in eccesso e riponete in freezer per circa 1 ora. Quando i cioccolatini saranno ben freddi, capovolgete lo stampo e con un colpo secco estraeteli. Sciogliete il restante cioccolato ed aiutandovi con un cucchiaino bagnate la nocciola e posatela su ogni cioccolatino. Riponete in freezer estraendoli qualche minuto prima di servire.

Sognando:
so
gnare
di mangiare cioccolato indica prudenza con il denaro; sognare di offrire cioccolato indica gelosia in amore; sognare di comprare cioccolato indica complicazioni momentanee; sognare cioccolato al liquore indica soddisfazioni e gioie passeggere; sognare cioccolato fondente indica giudizi frettolosi.



Pagate alla gente noccioline e avrete scimmie a lavorare
. (Bette Davis
)

Archiviando:
clicca qui per scaricare questa ricetta in formato .pdf
---
English please:
Rice bubble and hazelnuts chocolates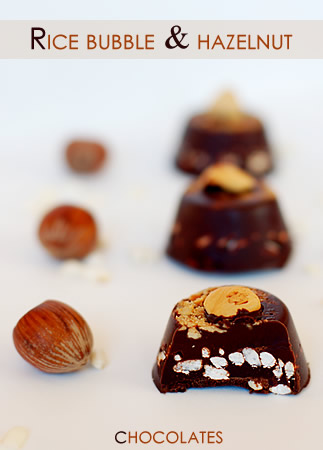 Ingredients for 12 chocolates


200gr dark chocolate 70%
40gr butter
12 hazelnut to garnish
12 ground hazelnut

12 tsp rice bubbles


Melt the chocolate and butter at baine marie. Keep a couple of squares aside which you will use for the decoration. Lightly butter the mould you will use and fill each one with a thin layer of ground hazelnut. Put 1 tsp of melted chocolate in each one, let it set for a few minutes then fill with rice bubbles, pressing a little with a teaspoon. Cover each one with the remaining chocolate, give it a shake to remove the air in excess and put in the freezer for about 1 hour. When the chocolates are almost frozen, remove from the freezer and with a firm hit remove them from the mold. Melt the remaining chocolate and with the help of a teaspoon dip the hazelnut and decorate each chocolate. Put them back in the freezer and take out a few minutes before serving.