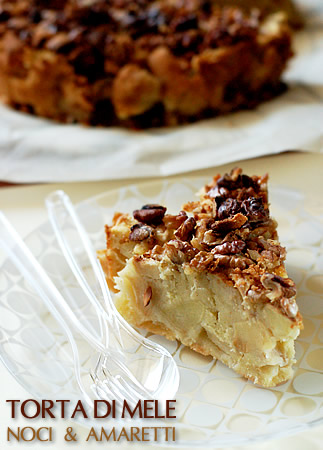 Anche quest'anno il 18 è arrivato. Different place, same day. Le candeline le evito accuratamente così nessuno si mette a contare e nessuno deve soffiare. Poi a me piacciono talmente tanto che se le mettessi per il mio compleanno sicuramente sarebbero il doppio. Comunque
a una certa età
è meglio evitare.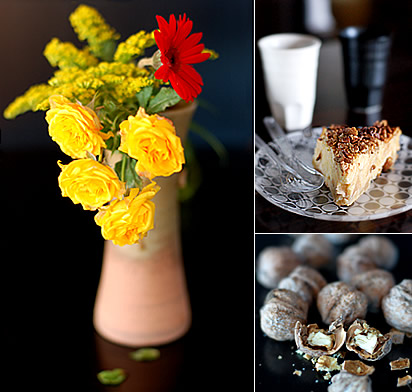 La ricetta proviene niente poco di meno che da Treviso, per gentile concessione della mamma di Frank! Grazie a tutti e due. Io l'ho mangiata al naturale, ma ci sta bene anche con una pallina di gelato o con una crema pasticcera leggera leggera.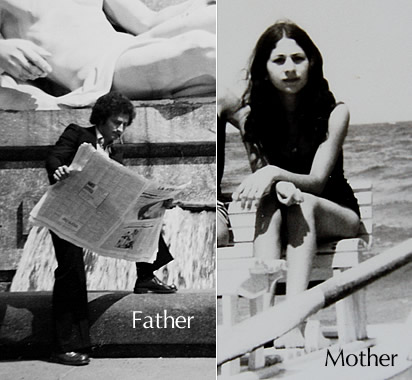 Mio padre
fotogenic
di qualche anno fa e mia madre in tutto il suo splendore. Peccato che non ci somigli per niente!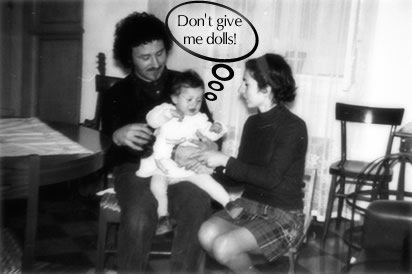 Mia madre aveva 23 anni quando mi ha partorito ed 11 mesi prima aveva dato alla luce mio fratello. Non so come abbia fatto a mantenere una linea invidiabile e a sopportare due pesti per casa, ma tant'è. Qui eravamo ancora nella casa di Torino ed il mio primo trasloco risale al mio primo anno di vita. Si vede che era nei geni quello di fare la nomade. Dalla foto si evince il mio disgusto per le bambole, infatti ne ho sempre avute pochissime e certo non perché le volessi io ma piuttosto perché c'era chi me le regalava. Per conto mio, preferivo i trenini elettrici, le piste con le macchinine, sempre elettriche, il Mazinga Zeta più alto di me e le costruzioni. (ah si, a quell'età pensavo già in inglese!)


Ingredienti


250gr di farina
2 uova
150gr di zucchero
100gr di burro
800gr di mele
100gr di amaretti
200gr di noci


Mescolate farina, uova, zucchero e burro ammorbidito fino ad ottenere un composto morbido. Aggiungete le mele sbucciate ed affettate e metà delle noci a pezzetti. Imburrate una teglia da forno e versatevi il composto pareggiandolo con cura. Aggiungete sopra il resto delle noci e gli amaretti sbriciolati. Mettete in forno caldo a 160 C per circa 40 minuti. Servite con una spolverata di cannella in polvere. Aumentando la quantità delle mele ad 1kg otterrete una torta meno asciutta e più morbida.


Sognando: sognare un anniversario di fidanzamento indica acutezza di giudizio; sognare un anniversario di matrimonio indica fortuna inaspettata; sognare un anniversario di nascita indica eccessivo dinamismo.

Il segreto per rimanere giovani sta nell'avere una sregolata passione per il piacere. (
Oscar Wilde
)

Archiviando:
clicca qui per scaricare questa ricetta in formato .pdf
---
English please:
Apple cake, walnuts and amaretti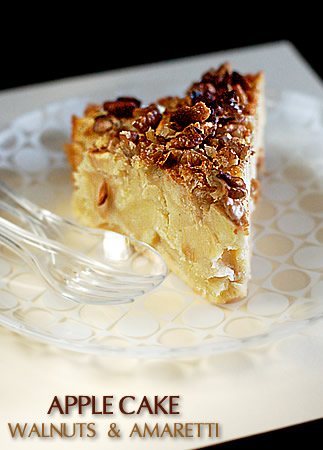 Ingredients


250gr flour
2 eggs

150gr sugar

100gr butter
800gr apples

100gr amaretti biscuits

200gr walnuts


Mix together flour, eggs, sugar and butter until you get a soft mixture. Add chopped apples previously peeled and half of the walnuts. Lightly butter a cake tin and pour the mixture spreading it heavenly with a spoon. Sprinkle with the remaining walnuts and the chopped amaretti. Bake at 160 C for about 40 minutes and serve sprinkling with cinnamon powder if you like. If you want a softer cake, adjust the quantity of the apples until 1kg. Also serve with a light custard cream or vanilla ice cream.