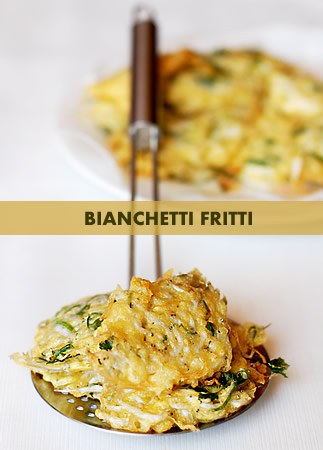 Ancora mi devo riprende dallo scorso sabato e mi accorgo che è quasi sabato di nuovo. La temperatura qui è ancora estiva, per come sono abituata io. Cammino ancora a maniche corte e mi pare di stare ancora in vacanza, anzi spesso mi domando, ma quand'è che vado in vacanza io!?
A parte questo, continuo a godere delle prelibatezze locali. Lo so che da quando sono tornata i piatti etnici sono un ricordo, ma ho 8 anni di vita all'estero da recuperare, e quelli prima o poi torneranno.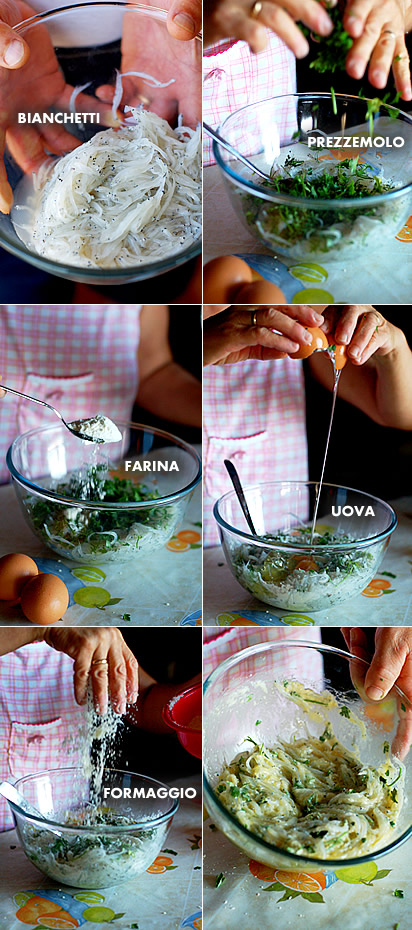 I bianchetti sono uno di quei pescetti che se li guardo mi fanno impressione, perché in fondo si mangia tutto di loro,
da capo a piedi
. Difficili da trovare e quindi quando si trovano sono anche piuttosto cari, ma se li cercate assicuratevi che siano freschissimi, quelli surgelati non sono proprio la stessa cosa. Ci sono svariati modi per mangiarseli ma fritti sono come mia madre ha deciso di farli questa volta ed io mi sono solo presa
la briga
di fotografarla, ogni tanto almeno guardo, imparo e mangio solamente.
Ingredienti

bianchetti
farina
uova

prezzemolo
formaggio grattugiato

sale, pepe
olio per friggere


Mettete tutti gli ingredienti insieme ad i bianchetti e mescolate con un cucchiaio. Fate riscaldare un po' di olio in una padella e con un cucchiaio formate delle frittelle che andrete ad adagiare nell'olio bollente. Dorate da entrambe i lati e posate su un piatto coperto da carta assorbente. Servite caldi.



Sognando: sognare un vestito bianco indica circostanze di fortuna; sognare un muro bianco indica cambiamenti improvvisi; sognare carta bianca indica esperienze da cui trarre profitto.

Diceva un foglio bianco come la neve: "Sono stato creato puro, e voglio rimanere così per sempre. Preferirei essere bruciato e finire in cenere che essere preda delle tenebre e venir toccato da ciò che è impuro". Una boccetta di inchiostro sentì ciò che il foglio diceva, e rise nel suo cuore scuro, ma non osò mai avvicinarsi. Sentirono le matite multicolori, ma anch'esse non gli si accostarono mai. E il foglio bianco come la neve rimase puro e casto per sempre - puro e casto - ma vuoto. (Kahlil Gibran)


Archiviando: clicca qui per scaricare questa ricetta in formato .pdf


---
English please:
Fried Bianchetti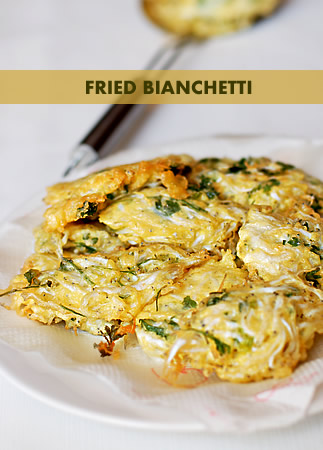 I have no idea how these are called in english. Anyone?
Ingredients

bianchetti
white flour

eggs

parsley
grated cheese

salt and pepper
oil to fry


Put all the ingredients in a bow and mix well. Heat some oil to fry in a pan and fry the bianchetti using a spoon to mold the shape. Fry both sides until golden and put on a plate covered with kitchen paper. Serve immediately.