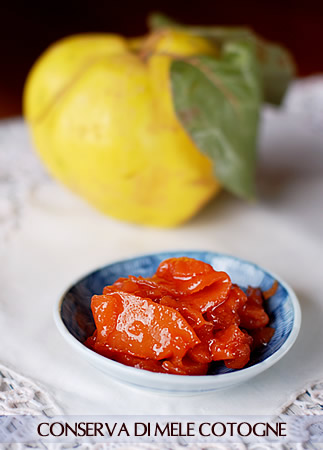 Ancora conserve, anche se ormai ho già conservato tutto il possibile per quest'anno, adesso non mi resta che mangiare! Adoro le mele cotogne sin da piccola, perché hanno un profumo splendido che mi ricorda l'infanzia appunto, quando mi piaceva mangiarle
crude
per il loro gusto particolarmente aspro e tannico.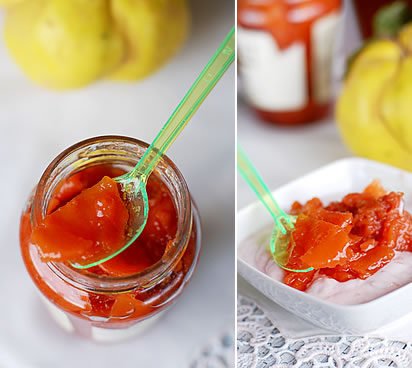 Questa conserva a me piace mangiarla con lo yogurt naturale, ma si presta per essere usata in tanti modi e se proprio non se ne trovano, anche a cucchiaiate va benissimo.
Ingredienti


3kg di mele cotogne sbucciate

1kg di zucchero

Tagliate le mele cotogne a fettine piccole e fatele cuocere a fuoco lento insieme allo zucchero, in una padella antiaderente mescolando ogni tanto finché non saranno cotte. Invasate e conservate in un luogo fresco ed asciutto.

Sognando:
so
gnare
mele cotte
indica colloquio gradito.

Come la mela dolce rosseggia sull'alto del ramo, alta sul ramo più alto: la scordarono i coglitori. No, certo non la scordarono: non poterono raggiungerla. (
Saffo
)

Archiviando:
clicca qui per scaricare questa ricetta in formato .pdf
---
English please:
Quince Apples preserve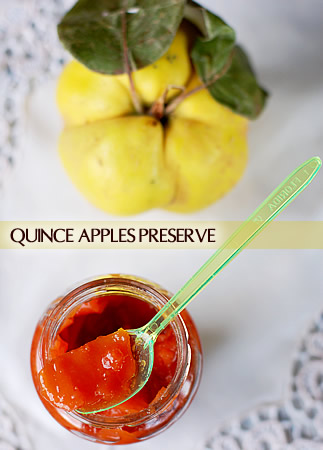 Ingredients


3kg quince apples

1kg sugar


Cut the quince apples into small slices and cook with sugar in a big saucepan until they are cooked, stirring now and then. Pour into sterilized jars and store into a dry and cool place. Use in a number of ways, on tarts, with yoghurt, with cheese or meat or whenever you feel like.