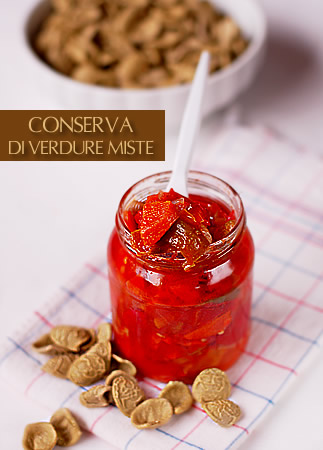 Fa freddo? Noooooo. Molto di più. Si gela! Hai voluto la pioggia e ora arrangiati! Su questo, proprio non ci piove. E infatti io sto benissimo a guardare il mare che cambia colore ogni momento e che da grigio diventa azzurro e poi di un verde tempestoso che ti viene voglia di guardarlo per ore, magari avvolta da qualcosa o da qualcuno che ti tenga stretto e al caldo.
Per un paio di giorni sono congelata perché non sapevo come accendere il riscaldamento. Poi finalmente l'omino del gas si è affacciato alla mia porta ed in un minuto mi ha spiegato tutto quello che c'era da sapere (girare due valvole).
La composta, si. L'ha fatta la mamma, onore al merito. Io mi sono limitata a mangiarmela anche questa volta. E' una ricetta semplice e ripetibile in diversi periodi dell'anno visto che gli ingredienti sono reperibili quasi sempre. Si lascia mangiare da sola, sul pane, sulle buonissime friselle pugliesi, oppure per condirci la pasta. Certo ci va un po' a tagliuzzare il tutto ma poi si conserva in barattoli di vetro e si usa all'occorrenza quando si è un po' pigri o non si hanno certi ingredienti a disposizione. Last but not least, si può persino usare come base per un piatto di carne o di pesce. Le combinazioni sono svariate.

Ingredienti

5kg di pomodori rossi san marzano

2kg di peperoni gialli e rossi
2 teste di sedano
1kg e mezzo di carote
1kg di cipolle
1lt di olio
peperoncini freschi piccanti a piacere


Tagliare tutti gli ingredienti a pezzetti e metteteli in una pentola capiente insieme all'olio, cuocete finché l'acqua non sarà evaporata e la composta non avrà raggiunto la giusta densità. Riempite i vasetti precedentemente sterilizzati e passate a bagno maria per un quarto d'ora. Se pensate di usare la composta entro un mese, allora potete anche evitare il bagno maria e far raffreddare la composta nei vasetti ricoperti da una coperta.


Sognando:
so
gnare di
comprare verdura
indica giudizi da evitare; sognare di
lavare verdura
indica problema pratico da risolvere; sognare di
mangiare verdura
indica situazione economica soddisfacente; sognare di
cuocere verdura
indica buona salute; sognare una
minestra di verdura
indica incontro piacevole.

Sempre camminerò per queste spiagge tra la sabbia e la schiuma dell'onda. L'alta marea cancellerà l'impronta e il vento svanirà la schiuma. Ma sempre spiaggia e mare rimarranno. (
Gibran Khalil
)

Archiviando:
clicca qui per scaricare questa ricetta in formato .pdf
---
English please:
Mixed vegetables preserve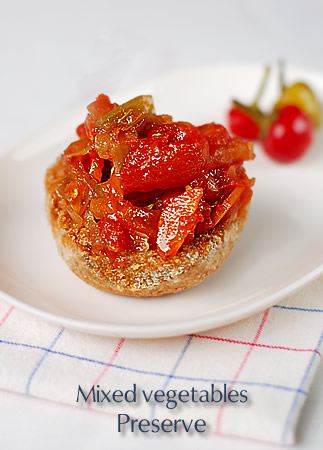 Ingredients

5kg red tomatoes

2kg red and yellow peppers
2 stalk celery
1Kg and 500gr carrots

1kg white onions

1lt olive oil

fresh chilly peppers


Cut all the ingredients and put them in a big saucepan. Cook the sauce until it reaches a thick point and the water in excess has evaporated. Fill the sterilized glass jar and cook at bain-marie for about 15 minutes. If you intend to use the preserve within a month, you can avoid the bain-marie and let the preserve cool completely putting the jars underneath a blanket so to allow them to cool slowly and create the vacuum.