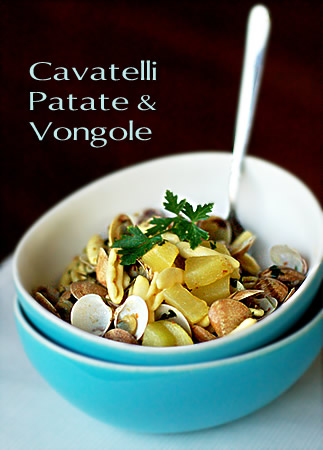 Piove da qualche giorno, l'atmosfera è decisamente
migliorata
, nel senso che è tornata ad essere quella inglese che paradossalmente mi piace tanto. Il cielo è grigio e l'aria fredda. Dalla mia finestra riesco a scorgere il mare appena, offuscato dalla pioggia e dalla nebbiolina. Le foglie degli alberi hanno iniziato ad ingiallirsi ed alcune sono diventate rosse. Ottobre è proprio il mio mese. Pieno di malinconia, nostalgia e anche un po' di tristezza. Oggi va così.
Piovono voci di donne come se fossero morte anche nel ricordo
Anche voi piovete meravigliosi incontri della mia vita o goccioline
E quelle nuvole impennate cominciano a nitrire un intero universo di città auricolari
Senti se piove mentre il rimpianto e lo sdegno piangono una musica antica
Ascolta cadere i legami che li tengono in alto e in basso.
(Piove - Apollinaire)
Ingredienti

cavatelli
patate
vongole
peperoncino
aglio, olio, pepe

prezzemolo

Saltate le vongole con olio aglio, olio, peperoncino e un pizzico di pepe. Tagliate le patate a tocchetti e sbollentatele in acqua non salata. Cuocete la pasta e prima di scolarla versate le patate. Scolate tenendo da parte un po' di acqua di cottura, versate nella padella con le vongole e saltate aggiungendo un po' di acqua di cottura se necessario. Infine aggiungete il prezzemolo tritato e servite.





Sognando: sognare di pescare vongole indica aiuto concreto e imprevisto; sognare di comprare vongole indica progetti realizzabili; sognare di mangiare vongole indica miglioramento di posizione; sognare una zuppa di vongole indica malintesi da chiarire; sognare pasta con le vongole indica umore incostante.

Un alunno mostra al maestro di haiku una poesia che recita così:
"Una farfalla - le strappo le ali - e guarda, un peperoncino!"
La risposta del maestro non si fece attendere: "No, no, non è così, permettimi che corregga la tua poesia:
Un peperoncino - gli metto le ali - e guarda, una farfalla!"
L'atto poetico deve sempre essere positivo, cercare la costruzione, non la distruzione.
(
Alejandro Jodorowsky
)

Archiviando: clicca qui per scaricare questa ricetta in formato .pdf


---
English please:
Cavatelli, potatoes and clams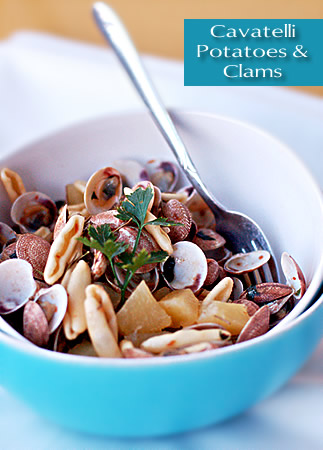 Ingredients

cavatelli
potatoes
clams

dry chilly pepper
garlic, olive oil, pepper

parsley

Put the clams in a pan with garlic, oil, dry chilly and a pinch of pepper. Chop the potatoes and boil them until soft, but don't overcook them. Cook the pasta and before draining it, add the potatoes. Drain everything all together, then add it to the clams and mix all together sprinkling with chopped parsley and using a bit of cooking water if necessary. Drizzle with some more olive oil and serve immediately.