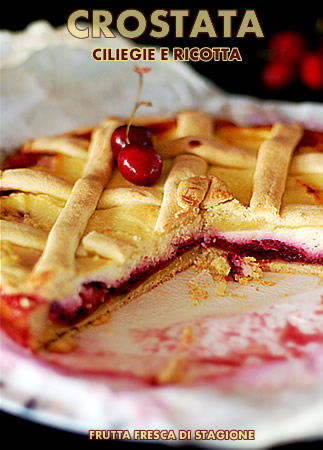 Visto che le
bruschette con le ciliegie
sono piaciute cosí tanto, ecco a voi una fetta di crostata di ciliegie e ricotta. Una specie di cheesecake (il cheesecake Nelly, non
la
cheesecake!) all'italiana, decisamente di stagione. L'idea mi é parsa dinanzi sfogliando una famosa rivista di cucina italiana (eh si finalmente mi posso comprare anche le riviste di cucina italiana, oltre a quelle inglesi).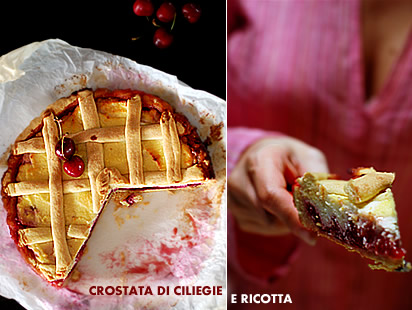 Ho modificato un po' le dosi di zucchero e ciliegie ed ho preso la base per la crostata da una delle tante ricette postate in passato. Il gioco di colori e l'effetto dell'interno a sorpresa sono in effetti molto piacevoli. Il gusto é delicato, ma come per i cheesecake l'importante é non esagerare. Una fetta é abbastanza per soddisfare i palati piú ghiotti. Un dolce importante, molto domenicale.
Ingredienti per la pasta:

400gr di farina bianca

200gr di burro a temperatura ambiente

2 uova
2 cucchiai di acqua fredda

Ingredienti per il ripieno:

400gr di ricotta romana
300gr di ciliegie
150gr di zucchero
1 uovo

la scorza grattugiata di 1/2 limone
1 pizzico di canella

Preparate la pasta della crostata mescolando tutti gli ingredienti con un mixer elettrico. Mixate fino a quando non si sará formata una palla compatta, aggiungete 2 cucchiai di acqua fredda se necessario. Avvolgete la pasta nella pellicola trasparente e lasciate in frigo per 30 minuti.
Snocciolate le ciliegie e mettetele in un pentolino con 100gr di zucchero e la cannella. Cuocete per circa 10 minuti e lasciate raffreddare.
A parte lavorate la ricotta con l'uovo, la scorza di limone e i restanti 50gr di zucchero, fino a che non avrete ottenuto una crema omogenea.
Riprendete la pasta dal frigo e stendetene 3/4 in una teglia rotonda di circa 23cm imburrata o foderata. Versate il composto di ciliegie e livellate con una spatola. Coprite con la crema di ricotta ed infine coprite con le striscioline che avrete formato con l'ultimo quarto di pasta.
Infornate a 180 C per circa 40/45 minuti. Fate raffreddare completamente prima di servire e conservate in frigo.

Sognando:
so
gnare
ricotta fresca
indica speculazioni sbagliate; sognare
ricotta salata
indica sosta forzata negli affari; sognare
ricotta acida
indica curiositá soddisfatta; sognare di
mangiare ricotta
indica volubilitá; sognare di
comprare ricotta
indica gelosia e turbamento.

Haiku:
Fior di ciliegio - le ornano il volto - e mi sorride
(
Frank
)

Archiviando:
clicca qui per scaricare questa ricetta in formato .pdf
---
English please:
Cherries and Ricotta Tart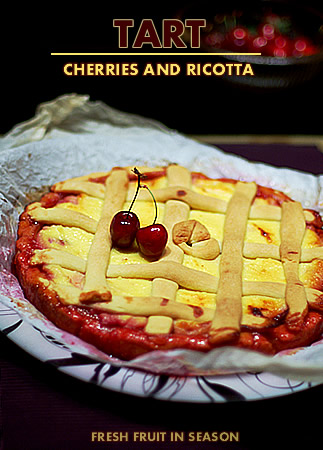 Ingredients for the dough:

400gr white flour

200gr soft butter

2 eggs

2 Tbsp cold water

Ingredients for the filling:

400gr ricotta romana
300gr cherries
150gr sugar
1 egg

rinds of 1/2 lemon

1 pinch cinnamon


Mix all the ingredients for the dough with an electric mixer until they all come together. Add cold water if needed. Take it out from the mixer, give it the shape of a ball, wrap it into cling film and put into the fridge to rest for about 30 minutes.
Stone the cherries and put them in a suacepan with 100gr sugar and cinnamon. Cook for about 10 minutes then leave to cool.
Work together ricotta, egg and lemon rinds, with the remaining 50gr sugar, until you get a creamy mixture.
Spread the dough in a 23cm round tart pan saving some if you want to decorate it with the strips on top. Cover the pan with oven paper or lightly butter it. Pur the cherries and spread nicely with a spatula. Cover with the creamy ricotta mixture and finally decorate with strips of dough. Cook at 180 C for about 40/45 minutes or until goldish on top. Cool completely before serving. Store in the refrigerator.