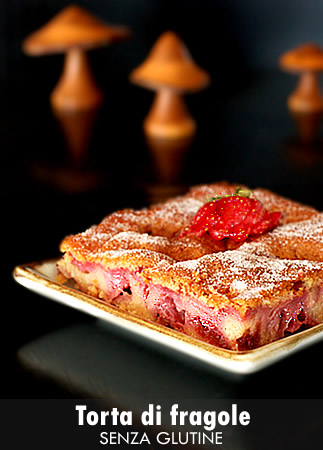 Sotto casa c'é un signore che ogni fine settimana vende una cassetta di fragole a 5 Euro, fanno circa 2.5kg di fragole, ma non le ho pesate, quindi forse anche di piú. In Inghilterra non ricordo mai di averle pagate cosí poco e soprattutto la maggior parte delle volte sapevano di piselli, cioé di quasi niente.
La scelta del
gluten free
é stata molto casuale perché non avevo piú farina bianca in casa, ma se usate la farina senza glutine sapete giá che con questa i dolci vengono straordinariamente morbidi e molto leggeri.
Se vi piacciono le fragole ed avete la fortuna di averle ad un prezzo decente, potete deliziarvi con un
tiramisú alla fragole e cioccolato bianco
, con dei
ghiaccioli alla fragola
(nonostante il tempo piovigginoso degli ultimi giorni), o con un
cocktail di fragole e vodka
.
Ingredienti: 150gr di farina senza glutine, 120ml di latte, 120gr di burro fuso, 1 uovo, 2 cucchiaini di lievito per dolci vanigliato, 100gr di zucchero, 400gr di fragole, 1 pizzico di cannella

Sbattete l'uovo con lo zucchero ed aggiungete il latte e il burro fuso. Sempre mescolando, versate la farina, il lievito e la cannella fino ad ottenere un composto omogeneo e senza grumi. Incorporate le fragole tagliate a pezzetti e versate il tutto in una terrina a scelta. Io ho usato una quadrata di circa 23cm di lato. Infornate a
200 C
per circa
30 minuti
o fino a quando la torta non si sará arrossata in superficie. Lasciate raffreddare nel forno spento e semi aperto.

Sognando:
sognare
fragole di bosco
indica difficoltá nel lavoro; sognare
fragole sulla pianta
indica fortuna inaspettata; sognare
fragole nei cestini
indica protezioni equivoche; sognare
fragole mature
indica buone relazioni; sognare
fragole acerbe
indica complicazioni inattese; sognare
fragole con panna
indica mancanza di obiettivitá; sognare di
mangiare fragole
indica sorpresa da parenti.

Haiku:
Le calde sere - tra fragole e baci - a primavera (Frank)
---
English please:
Gluten free Strawberries cake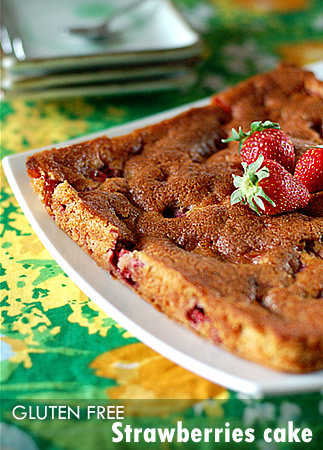 Ingredients: 150gr gluten free flour, 120ml milk, 120gr melted butter, 1 egg, 2 tsp baking powder, 100gr sugar, 400gr strawberries, 1 pinch cinnamon

Beat egg with sugar and add milk and melted butter. Keep mixing and add flour, baking powder, cinnamon until you get a mixture without lumps. Cut the strawberries into small pieces and incorporate them into the mixture. Pour it all into a oven pan. I have used a 23cm on the side squared one. Cook at
200 C
for about
30 minutes
or until it gets goldish on top. Let it cool into the oven with the door slightly open.