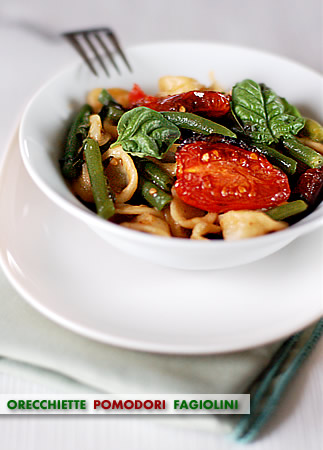 Non che ne abbia bisogno, ma quando mi voglio davvero rilassare faccio la pasta fatta in casa. Le orecchiette in particolare mi fanno quest'effetto perché non essendo velocissima come mia madre o come lo era mia nonna, mi ci va almeno un'ora buona per farne mezzo kilo, durante la quale sto lí a pensare a niente. Ecco, un'altra cosa che in Inghilterra mi mancava erano i pomodori saporiti, che quando li annusi profumano di pomodoro e non di piselli freschi, cioé di niente.
Ora che ci penso, sono poche le cose che mi mancano dell'Inghilterra a livello culinario. Tant'é che prima di tornare pensavo che avrei avuto grande nostalgia di curry, spezie, cucina indiana e quant'altro, invece mi sto comodamente adattatando alla cucina mediterranea che é una bellezza. Almeno per ora, e per un bel po', credo che questa sará la mia linea d'onda.

Ingredienti


orecchiette
pomodorini pachino o miami
fagiolini
olio
sale
basilico fresco

Lavate i pomodori e tagliateli a metá. Adagiateli su una teglia da forno, salate la superficie, irrorate con olio d'oliva ed infornate a 200 C per circa 20 minuti o fino a quando non si sará formata una crosticina. Pulite e lavate i fagiolini, tagliateli a metá e cuoceteli in acqua bollente salata. A metá cottura versate le orecchiette ed ultimate. Riportate tutto in padella, versate i pomodori, un filo d'olio e basilico fresco.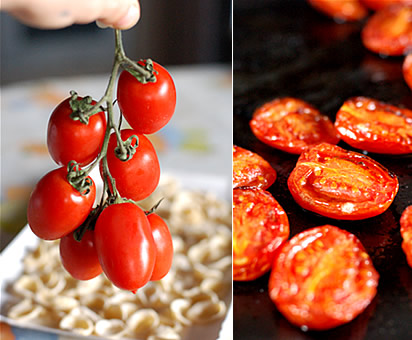 Secondo il bellissimo sito di
Pomodori Italiani
, questa specie di pomodori si chiamerebbe Miami.
"Miami ricorda la classica varietà Roma, particolarmente conosciuta al Centro-Sud fino agli anni Sessanta. Di consistenza farinosa, è molto versatile in cucina, trova impiego sia a crudo che a cotto. Ideale per le classiche salse da conservare in bottiglia."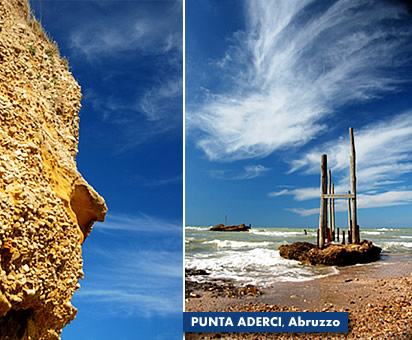 Forse cara Sandrina mi chiedevi se ero stata a Punta Aderci, oltre che a Punta Penna? Entrambe sono molto belle, ma questa é la mia spiaggia preferita, per ora.

Sognando:
so
gnare
orecchie lunghe
indica slealtá di un amico.
---
English please:
Orecchiette with tomatoes and french beans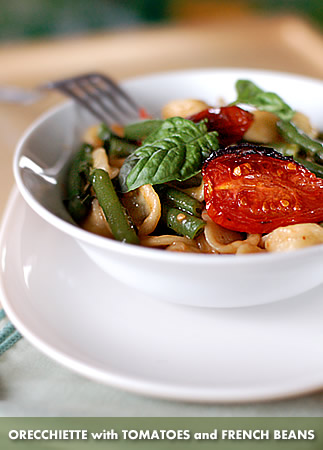 Ingredients


orecchiette
small red tomatoes
french beans
olive oil
salt
basil leaves


Wash the tomatoes and cut them in half. Put them on a oven tray, sprinkle with salt and olive oil and cook for 200 C for about 20 minutes or until golden brown at the top (not burned). Wash the french beans and cut them in half. Cook them in salted boling water for a few minutes, considering that you will have to cook the pasta together, so calculate the amount of time accordingly. Pour the pasta and keep cooking until this is ready. Drain well, put everything back into the pan and add the tomatoes. Drizzle with olive oil and garnish with fresh basil leaves.