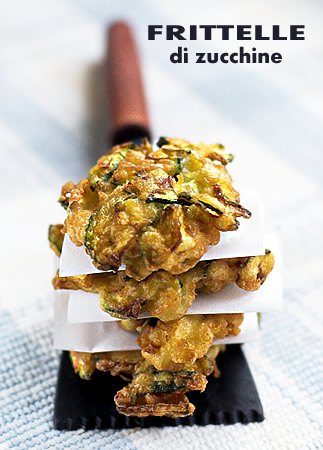 Si, lo so, neanche questo è un dolce, ma che ci posso fare se non ho voglia di dolci in questo periodo?! Per la verità proprio ieri ho mangiato un pezzo di cioccolato fondente come non mi capitava da qualche settimana, sarà il caldo? Sicuramente è così.
E' tempo di zucchine e vanno fatte fuori. La ricetta è di nuovo della mamma (sono stata di nuovo in Puglia, si vede?) e non c'è che dire, come le fa lei sono sicuramente diverse da come le faccio io. Il motivo ovviamente non sta tanto negli ingredienti, ma nella quantità di questi! Per esempio io non metterei mai 3 (o 4) uova nell'impasto, ne metterei al massimo 2 ed infatti questo piccolo particolare contribuisce notevolemente al sapore diverso e più sostanzioso delle frittelle, se poi queste sono quelle dell'orto di campagna, non c'è bisogno di dire altro.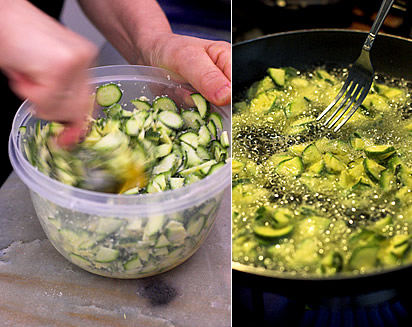 A parte questo, la mamma le taglia grossolanamente, non a pezzetti piccoli, quindi restano belle consistenti e corpose. Se avete dei fiori di zucca aggiungete anche quelli.
Buon fine settimana a tutti e buon mese di agosto.
Ingredienti


500gr di zucchine tagliate grossolanamente
3/4 uova intere
50gr di formaggio grattugiato

2 cucchiai di farina
sale, pepe
olio di semi per friggere

Tagliate le zucchine a pezzetti non tanto piccoli ed amalgamatele con il resto degli ingredienti. In una padella capiente riscaldate un po' di olio di semi e con un cucchiaio formate delle frittelle adagiandole delicatamente nell'olio bollente. Friggete da entrambe i lati fino a che non saranno dorate e posate su fogli di carta assorbente per eliminare l'olio in eccesso. Servite calde.

Sognando:
so
gnare
frittelle di baccalà
indica aiuti insperati; sognare
frittelle di riso
indica accordi favorevoli; sognare
frittelle di farina
indica chiarificazioni.

Archiviando:
clicca qui per scaricare questa ricetta in formato .pdf
---
English please:
Courgettes frittelle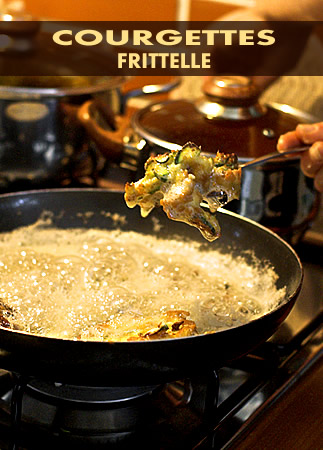 Ingredients


500gr courgettes

3/4 eggs
50gr grated cheese

2 Tbsp white flour
salt, pepper
sunflower oil to fry


Cut the courgettes into thick chunks and put them together the other ingredients. Heat a pan with some oil and with a spoon make up the frittelle spooning them into the hot oil. Fry them both sides until golden and lay on kitchen paper to remove the oil in excess. Serve hot.