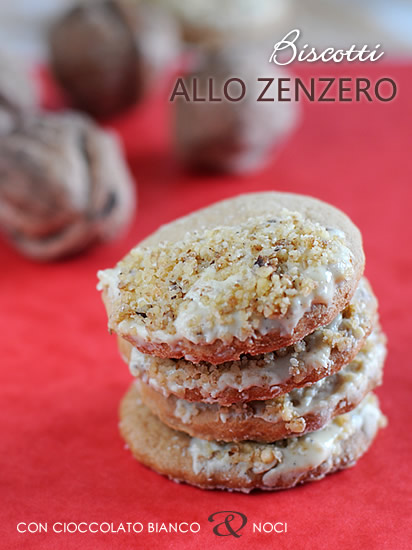 Premesso che lo zenzero lo uso tutto l'anno, i biscotti allo zenzero invece, mi viene voglia di farli solo in questo periodo. Finalmente siamo all'ultima settimana prima delle sospirate vacanze di Natale, nonché spero anche l'ultima settimana in cui la finiscono di passare alla radio canzoni come "
Last Christmas
", "
All I want for Christmas
", "
Step into Christmas
", "
This Christmas
" ed ora ci mancava anche l'Hallelujah di
Alexandra Burke
, l'ultima sfornata dell'X Factor inglese. Francamente, ne ho veramente abbastanza di questi tormentoni!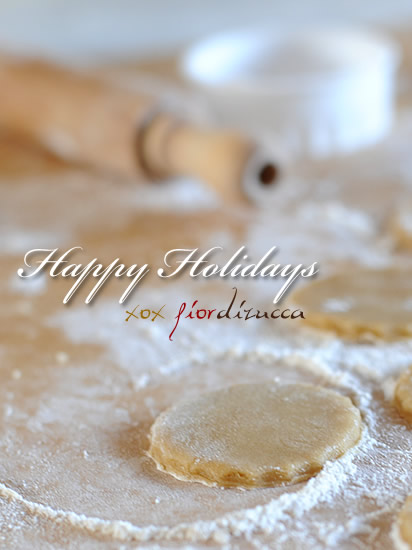 Lo scorso anno in questi giorni partivo proprio per una vacanza a Londra. Quest'anno a Londra ci vivo ed ho anche comprato una casa. Mi sembra incredibile e mi stupisco ogni volta che la vita mi dà le risposte alle quali è difficile persino formulare le domande stesse. E' stato un anno incredibile, pieno di impegni, faticoso ed anche stressante per alcuni versi. Sono contenta di essere arrivata fino qui, mi auguro che il prossimo anno sia altrettanto positivo e che lo sia anche per tutti voi. Non so se riuscirò a postare qualcosa prima del prossimo anno, ma in ogni caso già da ora il mio per voi è un augurio per una vita serena, giorni felici trascorsi con le persone a voi più care, tanta salute e, perché no, anche tanta felicità.
Ingredienti per circa 30 biscotti


175gr di farina autolievitante
1/2 cucchiaino di bicarbonato di sodio
1 cucchiaino di zenzero
75gr di burro
100gr di zucchero di canna super fine
1 uovo
1 cucchiaio di acqua fredda
100gr di cioccolato bianco
50gr di noci tritate


Mettete tutti gli ingredienti secchi nel mixer e mescolate per qualche secondo. Aggiungete il burro tagliato a tocchetti ed a temperatura ambiente ed infine l'uovo. Aggiungete 1 cucchiaio di acqua fredda e mixate fino a quando la pasta non si sarà amalgamata e non avrà formato una palla omogenea. Toglietela dal mixer, avvolgetela nella pellicola trasparente e mettetela in frigo per 15 minuti. Stendete la pasta e ricavatene tanti biscotti che poi andrete ad infornare a 190 C per 8/10 minuti. Fate raffreddare i biscotti, poi sciogliete il cioccolato bianco a bagnomaria. Versate un paio di cucchiaini di granella nel cioccolato bianco stesso. Aiutandovi con un cucchiaino, spalmate metà di ogni biscotto con il cioccolato bianco ed infine versate un po' di granella di noci su ognuno effettuando una leggera pressione con i polpastrelli affinché la granella non si incolli al cioccolato. Fate raffreddare completamente prima di sovrapporli uno all'altro.

Sognando:
so
gnare
di
andare in vacanza
indica giorni sereni; sognare
vacanze natalizie
indica periodo favorevole.

A volte penso che pretendiamo troppo dal giorno di Natale. Cerchiamo di farci stare il troppo arretrato di gentilezza e umanità di tutto l'anno. A me piace prendere il Natale un po' alla volta, per tutto l'anno. E perciò mi lascio trasportare fino ad arrivare alle vacanze - lascio che mi colgano di sorpresa - svegliandomi un bel giorno e dicendo improvvisamente a me stesso: "Caspita, questo è il giorno di Natale!".
(
Ray Stannard Baker
)

Archiviando:
clicca qui
per scaricare questa ricetta in formato .pdf
English please
Ginger biscuits with white chocolate and ground walnuts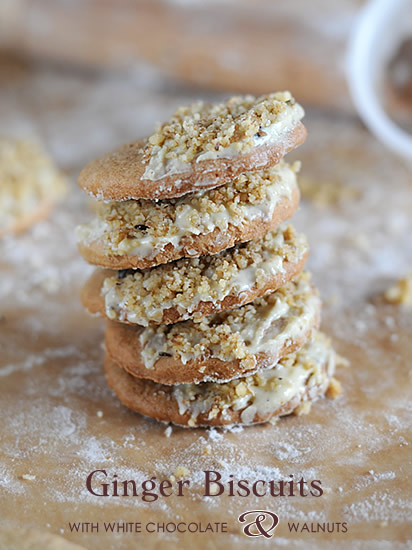 Ingredients for about 30 biscuits


175gr self raising flour

1/2 tsp sodium bicarbonate
1 tsp ginger powder
75gr butter
100gr super fine raw cane sugar

1 egg
1 Tbsp cold water
100gr white chocolate

50gr ground walnuts


Put all dry ingredients in a mixer and blend together. Add diced butter and egg and finally a 1 Tbsp of cold water mixing until you get a smooth ball. Remove from the mixer, wrap it in cling film and refrigerate for about 15 minuties. Roll the dough and cut out the biscuits. Bake them at 190 C for about 8/10 minutes. Cool them. Meantime melt the white chocoalte at baigne-marie, add 2 tsp of ground walnuts and mix well. With the help of a teaspoon cover each half of the biscuits and top with a bit of ground walnuts, pushing lightly with your fingers to glue them together. Cool completely before putting them one on top of the other.