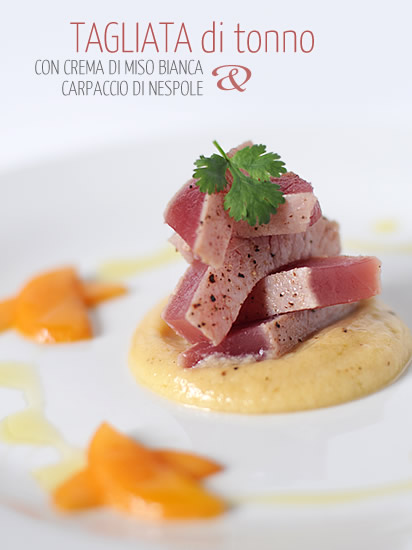 Forse è uno dei titoli più lunghi della storia delle mie ricette. Si fa prima a mangiarlo, questo piatto, che a pronunciarlo. Sabato mattina. La mia sveglia biologica, decisamente sballata, mi allerta che sono le 6 in punto. L'ora giusta per andare al mercato del pesce. E invece no. Mi rigiro dall'altra parte e continuo a dormire sognando ricci di mare, cozze, vongole e gamberi alla brace. Niente. Non ce l'ho fatta ad alzarmi, però la voglia di pesce non se ne è andata e così, sempre ancora di buon ora, mi sono avviata verso il mio
fishmonger
di fiducia, nella zona di Stoke Newington. Una fetta di tonno dal colore splendido era lì che mi aspettava. Non ho resistito.
"Sarai mia!"
. Ho pensato. Il fatto è che una fetta va giù come niente, specialmente quando il tonno è fresco. Crudo o appena saltato da una parte e dall'altra, è come lo preferisco io. Al pepe, con i semini di sesamo o con la soia. In questo caso ho aggiunto una cremina di miso bianca che ci va a braccetto perfettamente, ed infine il tocco estremo con delle fettine di nespole tagliate fine fine. Conferiscono colore al piatto e si alternano alla dolcezza del tonno e della crema di miso.
De gustibus...
Ingredienti


1 fetta di tonno fresca
2 cucchiai di pasta di miso bianca
3 cucchiai di acqua
olio
sale, pepe
nespole a piacere

Salate e pepate la fetta di tonno da ambo i lati. In una padella antiaderente cuocete il tonno 30 secondi da una parte e 30 dall'altra. Regolatevi a seconda dello spessore. Preparate la crema sciogliendo 2 cucchiai di miso bianca in 2 cucchiai di acqua. Versate in una padella con un po' di olio e cuocete a fuoco medio per qualche istante finché non si sarà rappresa un pochino. Tagliate il tonno e servite con la crema di miso e le nespole affettate finemente. Infine irrorate con un filo d'olio.


Sognando:
so
gna
re un
tonno fresco
indica orgoglio e impulsività; sognare un
tonno cotto
indica gelosia e diffidenza; sognare un
tonno sott'olio
indica intuizione rapida; sognare di
pescare un tonno
indica nuovi legami sentimentali; sognare di
mangiare tonno
indica scatti di collera.

Parolando:
Il termine
nespola
deriva dal latino mespilum (mes = mezzo e pila = palla) e significa letteralmente
"mezza palla"
per la sua caratteristica forma semisferica.

Archiviando:
clicca qui
per scaricare questa ricetta in formato .pdf
English please
Seared Tuna with cream of white miso and nespole carpaccio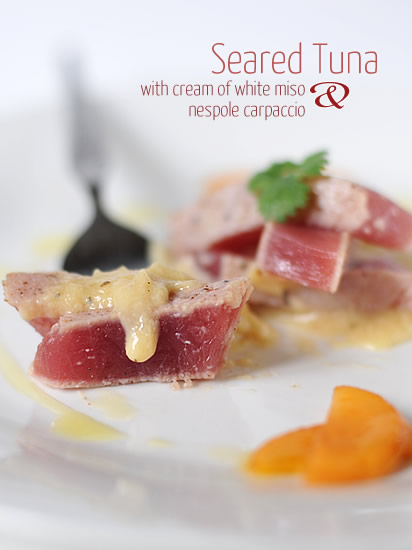 Ingredients


1 tuna steak

2 Tbsp white mise paste
3 Tbsp water
olive oil
salt, pepper
nespole


Coat the tuna steak with a bit of salt and pepper. Heat a nonstick pan and cook the steak 30 seconds each side or more accordingly to the tickness of your steak and your taste. Prepare the cream by melting the miso in a bit of water. Give it a stir then cook it at medium heat in a pan with a bit of olive oil. Stir and let it ticken. Slice the tuna and serve it with the miso cream and the sliced nespole.