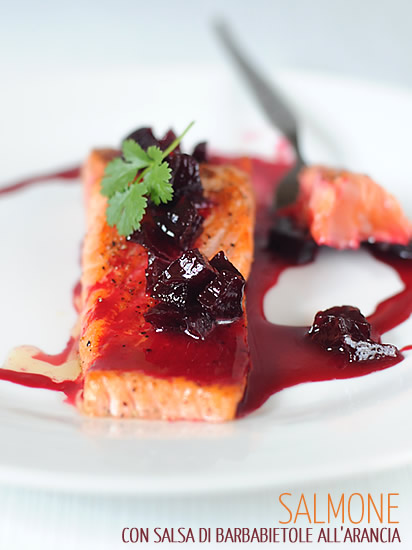 Un weekend fantastico dal punto di vista metereologico. Di camminare non mi stancherei (quasi) mai, di stare all'aperto a prendere il sole nel parco neanche. Non sembra vero, ma qui con 22 gradi centigradi è festa grande. La gente si riversa su ogni centimetro quadrato di terra verde a disposizione e persino io sono passata da un bianco mozzarella a un rosa salmonato. La macchina fotografica l'ho mollata a casa, una volta tanto e ne ho approfittato per andare a vedere due mostre di fotografia interessanti. La prima di Diane Arbus (fino al 27 giugno alla
Timothy Taylor Art Gallery
) e la seconda, subito alla porta accanto, di Helmut Newton (fino al 19 giugno alla
Hamiltons Gallery
). Se siete nei paraggi di Mayfair e siete degli amanti del genere, fateci un salto perchè ne vale la pena. Entrambe le mostre sono gratuite.
Piccola nota sulla salsina di barbabietole all'arancia: siccome è avanzata un bel po', ho filtrato il liquido, eliminando i pezzetti di barbabietola e ci ho condito un po' di gelato alla vaniglia.
Delicious!
Penso ci possa stare bene anche con lo yogurt naturale o simili. Se siete in vena di stravaganze provate e fatemi sapere. Buon mese di giugno a tutti!
Ingredienti

1 barbabietola piccola
250ml di succo d'arancia
50gr di zucchero
due pezzi di filetti di salmone
olio
sale, pepe
coriandolo per decorare


In un pentolino versate il succo d'arancia, lo zucchero, la barbabietola tagliata a dadini. Mescolate e portate ad ebollizione. Riducete la fiamma e sobbollite finchè il liquido non si dimezza e la salsa assume una consistenza corposa. Salate e pepate il salmone da ambo i lati e cuocetelo in una padella con un filo d'olio. Servite il salmone con la salsina di barbabietole all'arancia e decorate con foglie di coriandolo fresco o altro a piacere.


Sognando:
so
gna
re una
salsa esotica
indica atteggiamenti da frenare; sognare di
servire una salsa
indica malintesi penosi.

Archiviando:
clicca qui
per scaricare questa ricetta in formato .pdf
English please
Salmon with beetroot and orange sauce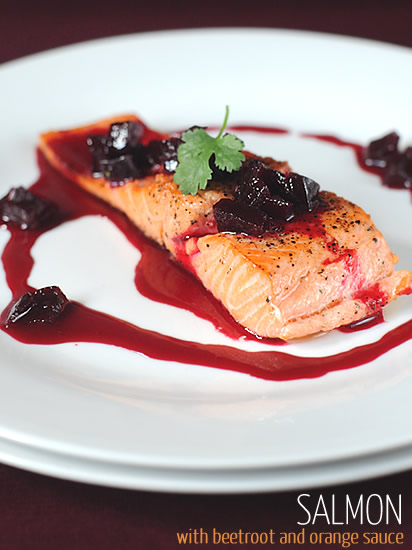 Ingredients

1 small beetroot
250ml orange juice
50gr sugar
2 pieces of salmon fillet

olive oil

salt, pepper
coriander to garnish


Dice the beetroot quite small, put them into a saucepan along with the sugar and orange juice. Bring to a boil then simmer until the juice has tickened and beetroot cooked thorugh. This will take about 20 minutes. Season the salmon with salt and pepper on both sides. Heat a nonstick pan and cook the it accordingly to yout taste. Serve the salmon with the beetroot and orange juice and decorate with fresh coriander leaves. If some sauce is left, try adding it on top of some vanilla ice cream or natural yogurt.