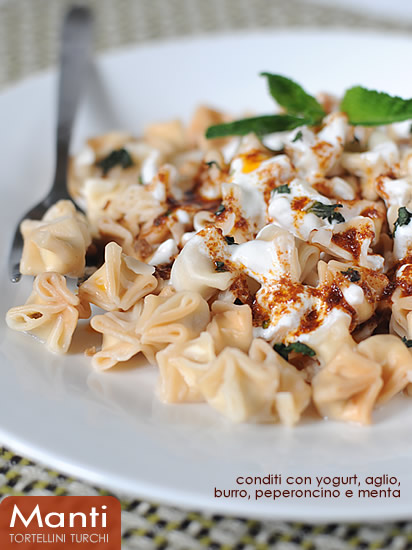 Li ho trovati che giacevano sul banco frigorifero del negozietto turco sotto casa e non ho saputo resistere. Turkish tortellini, c'era scritto sulla confezione. Secchi i miei, ma si trovano in commercio anche freschi ed ovviamente quelli fatti a mano devono essere ancora più saporiti. Si chiamano manti e solitamente sono ripieni di carne come i nostri tortellini ma si condiscono in un modo molto più bizzarro. La ricetta, confermata poi dalle varie sparse per la rete, me l'ha data direttamente la cassiera dello shopping turco. Inizialmente il miscuglio di yogurt, burro e peperoncino mi suonava piuttosto estremo, invece poi il tutto risulta molto più saporito di quel che sembra. L'aggiunta dell'aglio è facoltativo, specialmente se avete appuntamenti galanti, menbtre lo yogurt aiuta a smorzare il piccante del peperoncino. I miei manti erano vegetariani ed alla soia, con un riepieno misto di pane grattuggiato, cipolla, peperone rosso e menta. Si gustano benissimo sia tiepidi che freddi.

Ingredienti


manti (tortellini turchi)
yogurt naturale
mezzo spicchio d'aglio
2 cucchiai di burro
peperoncino piccante in polvere
menta secca o fresca

Cuocete i manti come una normale pasta attendendovi alle istruzioni riportate sulla confezione, siano essi freschi o secchi. Schiacciate o tritate finemente lo spicchio d'aglio e mescolatelo allo yogurt naturale. In un pentolino sciogliete il burro e aggiungete il peperoncino in polvere, friggendo per qualche istante. Condite i manti prima con lo yogurt, poi cospargete con il burro sciolto e il peperoncino ed infine decorate con menta fresca o secca.

Sognando:
so
gna
re un
mantello scuro
indica idee confuse; sognare un
mantello troppo grande
indica sospetti ingiustificati; sognare di
indossare un mantello
indica senso di colpa.

Parolando:
La parola
tortellino
, deriva dal latino
torta
, pasticcio basso e tondo ripieno di carne o pesce che a sua volta deriva dal participio passato di
torquere
,
tortus
,
torto
e cioè girato in tondo proprio come l'operazione finale di arrotolamento nella preparazione dei tortellini.

Archiviando:
clicca qui
per scaricare questa ricetta in formato .pdf
English please
Manti (Turkish dumpling)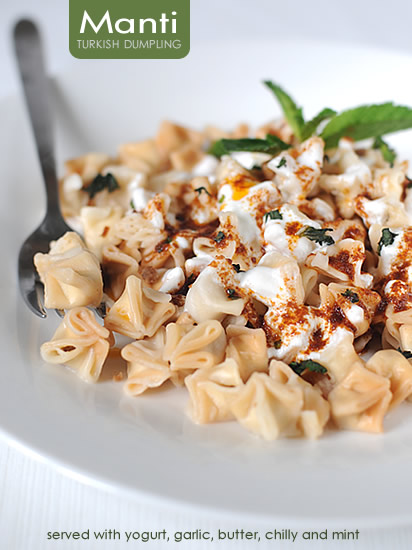 Ingredients


dried or fresh manti (turkish dumpling)
natural yogurt

half garlic clove
2 Tbsp butter
hot chilly powder
fresh or dried mint

Cook the manti accordingly to the package instructions, whether they are fresh or dry. Finely chop or mince the garlic clove and mix it to the natural yogurt. Gently fry butter and add the hot chilly powder. Drain the manti and guarnish with the garlic yogurt then the spicy butter and finally decorate with fresh or dry mint.