Ridendo e scherzando
è passato quasi un anno
sono passati otto mesi dall'ultima volta che sono stata in
terra madre
. Prima la ricerca della casa, poi il trasloco, poi questo e quest'altro, finalmente trovo una settimana di tempo per andare a ricaricare un po' le batterie, a fare scorta di cose buone e soprattutto di sole. Mia madre ha iniziato ad elencarmi tutte le cose che mangerò e quelle che ha messo da parte per il mio arrivo. In agenda ho già prevista una scampagnata a base di pesce alla griglia, una puntatina al mare a mangiare altro pesce ed ovviamente tanto svacco tra una e l'altra.
La valigia dell'ultimo minuto prevede solo l'essenziale per qualche giorno. Mentre decido se portare la macchina fotografica oppure no, il biglietto dell'aereo mi indica che non sono ammessi più di 10 Kili di bagaglio a mano. Erano belli i tempi in cui si poteva trasportare di tutto in aereo. Fare scorte di grappa, piuttosto che di olio. La valigia già mi pesa quei 2 o 3 kili da sola, giusto lo spazio per lo spazzolino e si fa presto a dire 10 Kili! Mi sa che la macchiana fotografica resta a casa (ci riuscirò?). Vi lascio con questa insalatina fresca fresca, da servire anche come antipasto, dal gusto vagamente esotico.
A presto!
Ingredienti

gamberi freschi già sgusciati
1 papaia
foglie di insalata a piacere

qualche foglia di menta fresca
il succo di 1 limone
olio
sale, pepe

In una scodella mettete i gamberi con il succo di un limone, un po' d'olio, un po' di menta tritata, sale e pepe. Lasciate marinare per almeno un'ora poi grigliate su una griglia o in padella. Tagliate la papaia a cubetti e mescolate ai gamberi unendo insalata verde a piacere.


Sognando:
so
gna
re una
gamba fasciata
indica gelosia morbosa; sognare una
gamba di legno
indica mutamento di condizione; sognare la
gamba di una donna
indica speranze impossibili; sognare la
gamba di un uomo
indica rimpianto tardivo; sognare
gambe storte
indica nuovi incarichi.

Parolando:
Il termine
gambero
, viene dal francese
camboisser
, curvare, a sua volta derivato dal greco
kammaros
la cui radice,
kam
, significa essere curvo, definendo così il nome dalla sua forma arcuata.

Archiviando:
clicca qui
per scaricare questa ricetta in formato .pdf
English please
Prawns and Papaya salad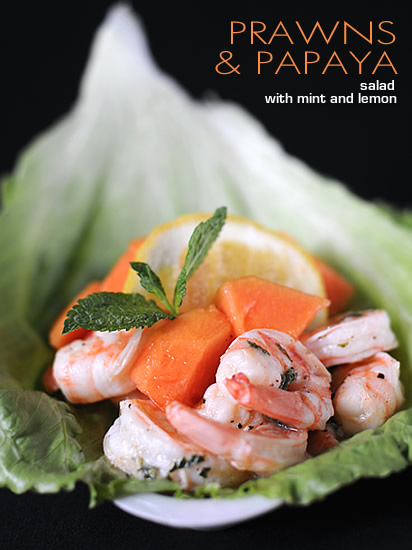 Ingredients

fresh peeled prawns
1 papaya
lattuce to serve

a few mint leaves
1 lemon juice

olive oil

salt, pepper

Put the prawns in a bowl and cover with the lemon juice, a drizzle of olive oil, chopped mint, salt and pepper. Leave in the fridge to marinate for about one hour then grill them or cook them in a non-stick pan. Add the chopped papaya and serve with chopped leaves of lettuce.