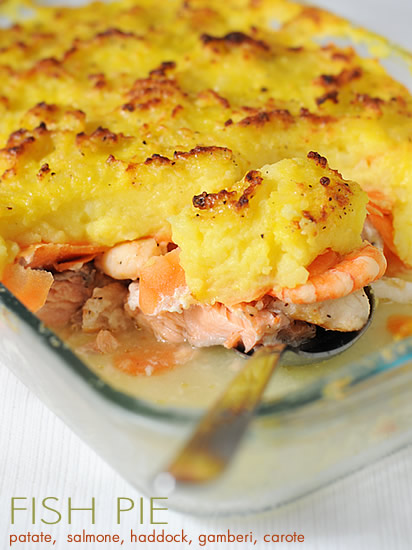 Il Fish Pie è un piatto tipico inglese che in 10 anni non mi sono mai sognata né di cucinare né di provare. Chissà perché a me tutta quella panna e quel non so che ci sta dentro, non mi hanno mai ispirato. Invece ieri, mentre ciondolavo nei dintorni per la spesa del sabato, mi sono imbattuta in un libro di ricette tipiche inglesi e, sarà stata la fame o la voglia di pesce, mi è venuta la curiosità di provarlo. C'è da dire che l'ingrediente principale di questo piatto è sicuramente il pesce, ma a seconda della zona gli ingredienti variano. C'è chi ci mette solo l'haddock, c'è chi lo mette bianco, c'è chi affumicato, c'è chi lo fa con panna, chi con le uova sode, chi ci mette gli spinaci, pomodori o i piselli, chi anche le cozze e le capesante, chi persino i funghi. La mia è una versione molto sobria, ho condito il pesce con limone e olio ed ho aggiunto solo delle carote tritate. Ho usato l'haddock affumicato che dà sicuramente un sapore più forte al piatto e devo dire che ne è valsa la pena. La fatica sta nel preparare il puree di patate, per il resto il piatto si fa veramente da sè. Consigliato anche ai più scettici, purché amanti del pesce, of course.

Ingredienti

300gr di salmone
300gr di haddock affumicato
una decina di gamberi sgusciati

2 carote
400gr di patate
1 limone
1 cucchiaio di formaggio parmigiano grattugiato

una noce di burro
1 bustina di zafferano
latte
sale, pepe

Cuocete le patate in acqua non salata lavoratele fino ad ottenere un puree. Aggiungete un po' di latte, una noce di burro e a piacere una bustina di zafferano, sale e pepe. Mettete da parte. In una terrina riunite il pesce tagliato a pezzi, i gamberi sgusciati e condite con succo di limone, un filo d'olio, sale e pepe. Adagiate il pesce tagliato a pezzi sul fondo della teglia con il succo di limone stesso, poi formate uno strato di carote ed infine coprite con il puree di patate. Spolverizzate con formaggio grattugiato ed infornate a 220 C per 30 minuti o finché non si sarà dorato in superficie. Servite ben caldo.


Sognando:
so
gna
re
gamberi vivi
indica noie giudiziarie; sognare
gamberi cotti
indica tristi disinganni; sognare
gamberi rossi
indica crisi sentimentale; sognare di
mangiare gamberi
indica passione di breve durata.

Parolando:
La parola
pesce
sembra derivi dalla composizione della radice indo-europea
fi
, bere – da qui l'inglese
fish
ed il tedesco
fisk
- con l'aggiunta di un suffisso frequentativo, nel caso inglese
sh
, quasi a definire il pesce come "animale che beve di continuo".
Salmone
deriverebbe dalla radice latina del verbo salire o saltare,
sar
, per l'abitudine di questo pesce a risalire i fiumi per deporre le uova.

Archiviando:
clicca qui
per scaricare questa ricetta in formato .pdf
English please
Fish Pie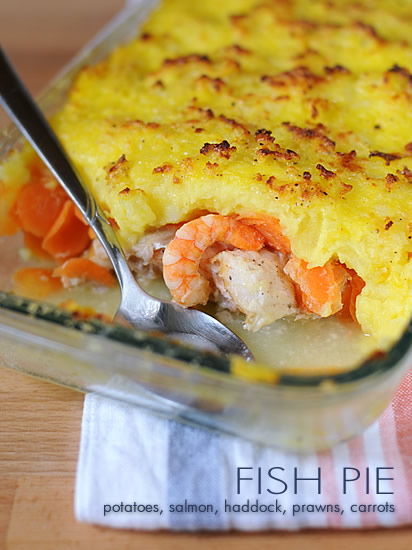 Ingredients


300gr salmon

300gr smoked haddock

about 10 peeled prawns

2 carrots
400gr potatoes
juice of 1 lemon
1 Tbsp grated parmesan cheese

butter
1 pinch of saffron powder

milk
salt, pepper

Cook the potatoes in unsalted water, then mash tem until you get a smooth puree. Add milk, a knob of butter, saffron, salt and pepper. In another bowl mix the fish cut into chunks and the peeled prawns with the lemon juice, salt and pepper and a drizzle of olive oil. Put the fish at the bottom of your oven proof dish along with the lemon juice, cover with the sliced carrots and finally with the potato mash. Sprinkle with grated parmesan cheese and bake at 220 C for about 30 minutes or until golden on top. Serve warm.