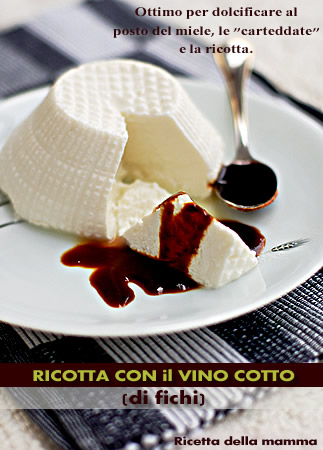 Prendete una piccola ricotta freschissima e lasciatevi indulgiare con un cucchiaio (o più) di vino cotto, di fichi. Come dice mio padre, indulgiando indulgiando potreste mangiarvene almeno un kilo così. Il vino cotto in famiglia lo abbiamo sempre fatto, lo faceva la nonna già ai tempi ed era un modo semplice e naturale per conservare un concentrato di fichi che poi serviva per
condire
le
carteddate
(dolce tipico pugliese) durante le feste di natale.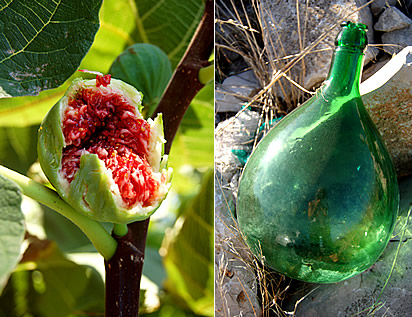 Il vino cotto si fa anche con l'uva in altre regioni, infatti è bene specificare che questo è di fichi e non di mosto. Il procedimento è alquanto differente ed il suo gusto anche.
Il vino cotto di fichi sa di fichi, è dolceamaro, molto denso e molto saporito. Un gusto talmente unico che è difficile da descrivere.
Noi lo usiamo per
condire
la ricotta perché si sposa bene con il gusto delicato di questo formaggio fresco, ma si può utilizzare anche come dolcificante al posto del miele o per la preparazione di altri dolci. La preparazione è lunga e laboriosa e sono necessari tanti kili di fichi per ottenere pochi litri di vino, quindi adatto a chi possiede tanti alberi di fichi e non vuole fare indigestione ma vuole conservare qualcosa per l'inverno.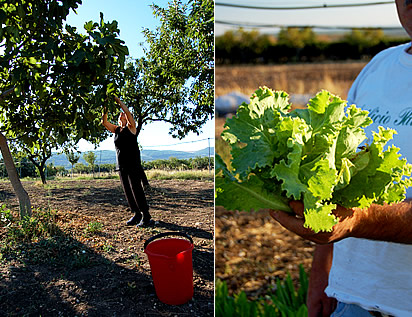 La mamma che raccoglie i
fichi
dall'albero (e quanti se ne mangia) e papà che
very proudly
fa vedere la
sua
insalata
.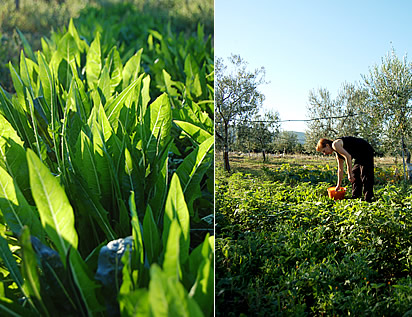 La cicoria dell'orto di papà e la mamma che raccoglie qualche altra erbetta.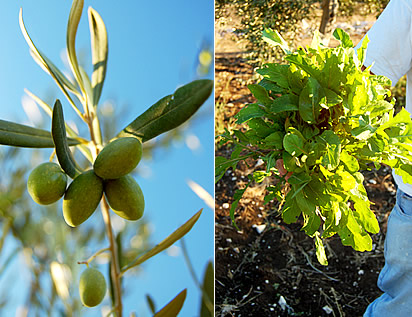 Le olive quasi mature e la ruchetta di papà! (Si si, lo scrivo: My father, biologic!) Mio padre si è fissato con questa frase, solo lui sa dove l'ha imparata, ma l'ha ripetuta talmente tante volte che è diventata uno slogan. Scrivi scrivi su internet: questo tutto my father, biologic!

Ingredienti


10kg di fichi misti (piccoli, grandi, amari, dolci)

acqua


Mettete i fichi in un recipiente capiente, copriteli con acqua fredda e lasciateli macerare per una notte.
La mattina dopo togliete i fichi dall'acqua, metteteli in una pentola capiente, copriteli con altra acqua e fateli cuocere a fuoco medio per circa 1 ora, tenendo l'acqua che avete rimosso prima, da parte.
Una volta cotti prendere un telo abbastanza largo, mettete dentro i fichi e fate colare il liquido in un recipiente, conservando anche questa volta l'acqua di cottura.
Riunite tutto il liquido fino ad ora messo da parte, compreso quello di colatura e filtratelo attraverso un panno sottile o uno scolapasta a maglie fittissime in modo che i semini restino fuori dalla colatura.
Cuocete tutto il succo ottenuto fino a che non avrà raggiunto una certa densità. Per capire se è denso abbastanza prendete un cucchiaio di legno, versate un po' di vino cotto in un piattino e fatelo raffreddare. Smuovete il liquido con un dito, se il liquido si espande senza ritirarsi allora la densità è stata raggiunta, altrimenti va lasciato cuocere ancora.
Fate raffreddare completamente prima di invasare. Conservate in un luogo fresco ed asciutto. Da 10Kg di fichi si ottengono quasi o meno di 1 litro di vino cotto, dipende da quanto lo si fa rapprendere e dall'acqua contenuta nei fichi stessi.


Sognando:
so
gnare
vino rosso
indica grande allegria, sognare
vino bianco
indica amicizie valide; sognare
vino dolce
indica dispiaceri d'amore; sognare
vino nella botte
indica affari in aumento; sognare
vino nel bicchiere
indica intesa in famiglia; sognare di
bere vino
indica ottima salute; sognare di
versare vino
indica dispiacere improvviso; sognare di
comprare vino
indica diversivo piacevole.

Lega un fico nel modo in cui dovrebbe crescere, e quando sarai vecchio potrai sederti alla sua ombra.
(Charles Dickens)

Archiviando:
clicca qui per scaricare questa ricetta in formato .pdf
---
English please:
Fig Vino Cotto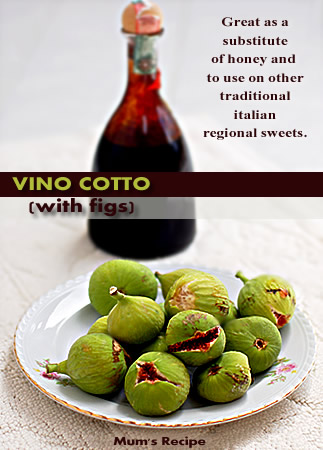 Ingredients
10kg mixed figs (small, big, sweet or sour)

water

Put the figs in a big pan, cover with water and leave to rest for an entire night.
The morning after, remove the figs from the water, put them in another pan with some new fresh water and let them cook for about 1 hour. Do not throw the previous water away.
Once cooked, take a big white clean dry cloth, put the figs inside and let the liquid overflow in a new bowl. Also this time, keep the water you cooked the figs in.
Mix all the liquid you obtained so far, including the water you used to cook the figs in. Pour it through a cloth so that the small seeds remain outside the liquid.
Cook the juice obtained until it reaches the density you want. Usually it has to be very thick so you try using a wooden spoon and pour a small amount on a clean plate. Then use your finger and separate the liquid. If this doesnt come together, then the right density is reached.
Let it cool completely before storing it into sterilized jars. Store in a dry and cool place and use on a number of ways in place of honey, with fruit, over pannacotta or over ricotta cheese... 10Kg of figs makes about or less than 1lt of juice.