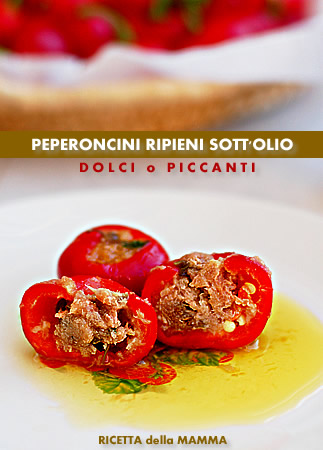 Prima o poi tutto finisce (mi sembra di averla già detta questa frase, dev'essere una costante) e anche le mie vacanze sono giunte al termine. Mi pare che ora non ci sia davvero più nessuno in ferie. O no?
Un periodo così lungo di meritato riposo non lo prendevo da tempo, ma torno decisamente ricaricata, con la voglia di fare (speriamo che duri!) ed anche con una nuova piccola novità della quale parlerò a breve.

Ho cercato in lungo ed in largo tra alcune delle mie mete favorite: Giappone, India, Indonesia, Thailandia, Provenza, Inghilterra, Scozia, New York, Parigi, Istanbul, Grecia, Sardegna e chi più ne ha più ne metta.

Ho viaggiato tra decine di siti, di last minute e last second, tra accompagnatori di viaggio più o meno affidabili e alla fine ho scelto di restare nei paraggi. Di casa mia.
Comunque proprio niente non ho fatto. Mi sono goduta un bellissimo weekend da infarto a Mirabilandia con i miei amici Anto e Gab e con
colui che guarda parenti nude
. Durante questo weekend credo di aver perso un rene e un pezzo di cuore e ho imprecato in arabo affinché il giro sul famoso
Katun
finisse prima del minuto e mezzo stabilito. E invece no. Non solo ci siamo andati una volta a lavarci il cervello, ma due! La seconda volta ho perso anche la milza.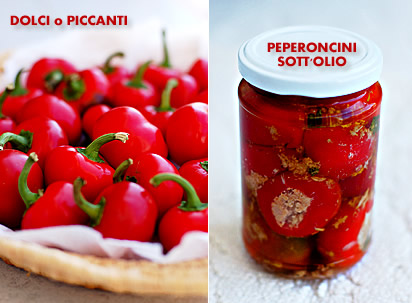 Una tappa sempre piacevole è stata quella dai miei genitori in Puglia, dove ritrovo come sempre me stessa, tra campi, affetti e profumi che riconosco senza bisogno di guardare.
La mamma ha preparato un sacco di cose buone per l'inverno e questa è una di quelle. I peperoncini si trovano sia dolci che piccanti, potete usare entrambe dividendoli poi nei vasetti.
Nella speranza che questo sia solo l'inizio di un nuovo periodo, piccante, in tutti i sensi, colorato, pieno di vita e di buone nuove, per tutti. Ben ritrovati.


Ingredienti:


1kg di peperoncini dolci o piccanti

3 scatolette di tonno da 80gr scolate dell'olio
50gr di capperi sott'aceto
4 cucchiai circa di aceto bianco

1 vasetto di acciughe sfilettate
prezzemolo tritato
3 cucchiai di pan grattato


Svuotate i peperoncini, togliete i semini, metteteli in un recipiente e spolverate con una manciatina di sale fino e 4 cucchiai di aceto bianco. Mescolate bene per farli insaporire e fateli scolare in uno scolapasta tutta la notte.


La mattina dopo impastate il tonno con le acciughe tagliate a pezzettini, il prezzemolo, il pan grattato e i capperi. Impastate bene e riempite i peperoncini. Invasate e ricoprite con olio extra vergine di oliva. Si conservano in luogo fresco ed asciutto e si servono come antipasto o come contorno.


Sognando:
so
gnare
peperoni verdi
indica provvedimenti utili; sognare
peperoni rossi
indica socievolezza e simpatia; sognare
peperoni freschi
indica propositi oscillanti; sognare
peperoni conservati
indica operosità premiata; sognare
peperoni piccoli
indica incontri noiosi; sognare
peperoni cotti
indica sicurezza in se stessi; sognare di
mangiare peperoni
indica fastidi di breve durata; sognare di
comprare peperoni
indica ricompensa.

Archiviando:
clicca qui per scaricare questa ricetta in formato .pdf
---
English please:
Filled round red peppers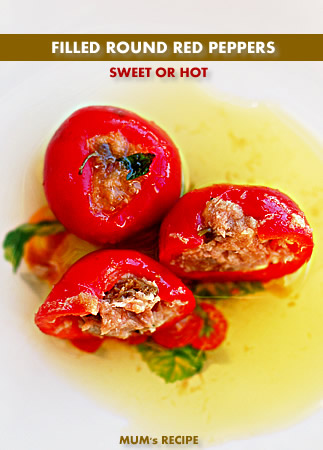 Ingredients


1kg round red peppers, sweet or hot

3 tuna cans, 80gr each, oil discarded

50gr capers in vinegar

4 Tbsp white vinegar

1 can of anchovies

chopped parsley
3 Tbsp bread crumbs
extra virgin olive oil


Empty the red peppers, remove the seeds and put them in a bowl together with a bit of salt and white vinegar. Mix well and put in a colander to drain the water in excess, all night long. The morning after, mix the tuna with the anchovies cut into pieces, parsley, bread crumbs and capers. Mix well and fill the peppers. Put them into sterilized glass jar and cover with extra virgin olive oil. Store in a cool and dry place and serve as appetizer or as a side dish.