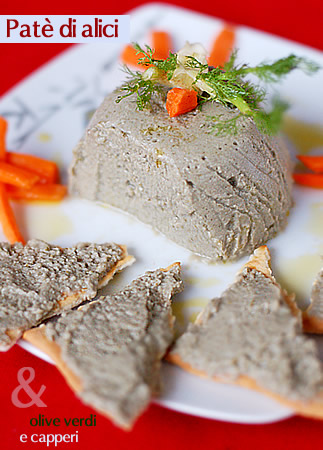 Non ci si crede: è già dicembre. Sembra che io me ne sia accorta solo ora, in realtà un po' si. Evito di farmi bombardare dalla televisione che mi ricorderebbe incessantemente che siamo arrivati anche a Natale e quindi anche alla fine di quest'altro anno.
Il 2007 è stato un anno in cui tutto quello che si poteva rompere si è rotto: prima il frigorifero (mi è caduta la portiera del frigo quasi sui piedi), poi la lavatrice (si è allagata mezza camera), qualche settimana fa la caldaia (zero riscaldamento) ed ora anche la lavastoviglie (va beh questa era rotta da un bel po' di tempo ma io mi ostinavo a fare allagare la cucina ogni volta pur di farla riparare). Per non parlare delle avventure vissute nella mia ultima casa inglese: infiltrazione di acqua dal camino causata da una piccola tempesta, del quasi avvelenamento da monossido di carbonio (grazie al mio angelo custode!), dell'invasione dei topi che hanno allegramente vissuto nella mia cucina (sempre quella inglese) per un bel po' prima che io me ne accorgessi. Poi mi chiedono perché non sono andata a vedere Ratatouille! Meno male che per l'oroscopo cinese, l'anno del Cane si sarebbe concluso nel febbraio 2007! Tanto per dire, di rotture ne ho avute abbastanza in questo anno del Maiale! Il prossimo anno sarà quello del Topo (ma anche con i topi avrei già dato), nonché quello della patata! Se aggiungiamo che sarà anche un anno bisestile, sono proprio curiosa di sapere che altro mi può accadere.
A parte questa premessa senza capo né coda, sabato scorso mi sono data allo shopping sfrenato. Ho infatti acquistato l'elettrodomestico che ancora mancava all'appello nella mia cucina (ma ce n'era veramente bisogno?), ovvero il frullatore ad immersione. Ebbene si, pare che fossi ancora l'unica a non averlo in casa. In realtà il mio primo minipimer l'ho acquistato nel 1993, me lo ricordo ancora come se fosse ieri. Poi devo averlo perso durante uno dei miei primi traslochi e da lì il trauma, mai più ricomprato.
Mi sono recata in un negozio di elettrodomestici e mi si è presentato davanti un mondo tutto nuovo. Almeno 10 minipimer diversi: per marca, per grandezza, per design, per colore, per potenza, per accessori annessi e concessi. Li ho guardati a lungo (e pure smontati), uno per uno, ovviamente. Credo di aver trascorso davanti a quello scaffale almeno 40 minuti, mentre alla TV dall'altro reparto trasmettevano a raffica video della Pausini, prima di avvicinarmi alla cassiera e domandarle: "
Scusi, ma 300W e 600W, cosa vuol dire? Vuol dire che questo a 600W va molto molto più veloce di questo a 300W?"
(il molto molto non è ripetuto, ho detto proprio molto molto).
La signora deve aver pensato che persino suo nipote di 6 anni avrebbe fatto una domanda meno idiota. Tant'è che poi si è gentilmente prestata ad inscatolarmelo per bene, il minipimer, pensando che se non ero capace di contare, non ero sicuramente capace di inscatolare un oggetto.
Poi sono tornata a casa (tra una deviazione e l'altra) con un minipimer e 2 etti di acciughe. Totale dello shopping sfrenato: Euro 29.90.
Ho capito cosa significava "potenza 600W" quando ho visto ridursi in poltiglia le alici dopo 4 secondi che frullavo.
"Ah! Ma allora è vero che 600W è molto molto più veloce di 300W!"


Per riprendermi da questa figuraccia, me ne volo per qualche giorno verso la mia seconda casa.
Hometown
di
Charles Rennie Mackintosh
(no, non quello della Apple!), dello splendido
Kelvingrove Art Museum
, dei
Simple Minds
, di
Travis
, dei
Primal Scream
, dei
Wet Wet Wet
, di
Mark Knoplfer
e tanti altri.
P.s. posso affermare, però, che con 200gr di alici si ha un antipasto per almeno 4 persone, se questo viene distribuito su un numero imprecisato di crackers o tartine. See you then!
Ingredienti

200gr di alici
50gr di olive verdi snocciolate

1 cucchiaio di capperi
1/2 spicchio d'aglio

aceto bianco
olio extra vergine di oliva
sale, pepe

Tagliate la testa e la coda dalle alici. Apritele completamente eliminando lisca e viscere. Lavatele sotto l'acqua corrente ed asciugatele con carta da cucina. Disponetele in un piatto capiente e copritele con aceto bianco. Lasciatele marinare per un minimo di tre ore e massimo una notte. Scolatele quindi dall'aceto e frullatele insieme alle olive verdi, i capperi, aglio, sale, pepe ed olio quanto basta per ottenere una crema omogenea. Foderate uno stampino con la pellicola trasparente, versate il paté livellando con cura. Mettetelo in frigo per un'oretta per dargli il tempo di rapprendersi. Capovolgetele sul piatto da portata e servite con verdure a piacere o spalmato sui crackers.

Sognando:
sognare
acciughe fresche indica litigi; sognare di vedere acciughe vive indica fortuna; sognare di mangiare acciughe indica buona salute.



Il grande beneficio degli scozzesi è che sono gli unici europei civilizzati identificabili come la razza che non ha avuto la sfortuna di avere un governo. (Nicholas Fairbairn
)

Archiviando:
clicca qui per scaricare questa ricetta in formato .pdf
---
English please:
Anchovies Patè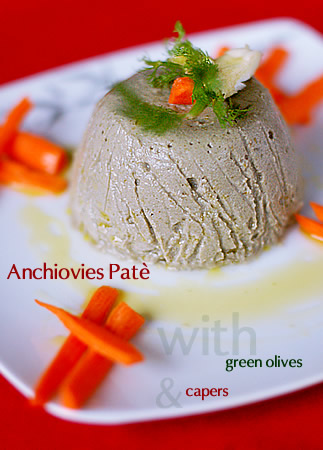 Ingredients

200gr anchovies
50gr pitted green olives

1 Tbsp capers
1/2 garlic clove

white vinegar
extra virgin olive oil
salt, pepper

Cut the head and the tail from the anchiovies. Open the anchovies and run your finger along the backbone, separating the flesh from the bone. Wash them gently and dry pat with kitchen paper. Put them in a terrine and cover with vinegar. Leave to marinate from 3 hours to overnight. Remove the vinegar and mix the anchiovies together with the rest of the ingredients. Add enough olive oil in order to get a creamy mixture. Take a small mold and lay a bit of cling film inside. Fill with the patè and put in the fridge for about 1 hour. Turn upside-donw on the serving plate and serve with raw vegetables or spread on crackers.