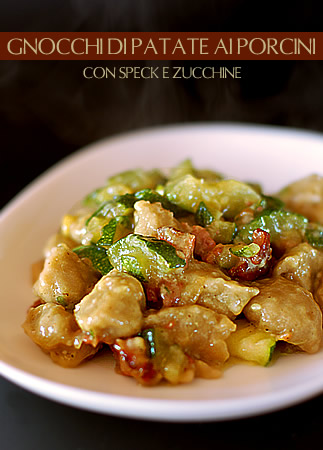 La scorsa settimana di passaggio a Milano, ho approfittato per andare insieme a Nelly, alla
Fiera dell'Artigianato
inaugurata proprio il 1 dicembre! L'Artigiano in fiera si svolge ogni anno durante la prima settimana di dicembre alla Fieramilanocity, con ingresso gratuito, ed è allestita con 4 grandi aree con l'artigianato di tutto il mondo: 35 ristoranti tipici, 5 continenti, 100 paesi e 2500 espositori in 115.000 mq. Insomma, i numeri parlano da soli. La sezione della quale abbiamo più goduto però è quella dedicata al cibo! Ovviamente. Prodotti locali di tutta Italia, olio, vino, dolci, salumi, formaggio e chi più ne ha più ne metta. Abbiamo fatto pranzo soltanto assaggiando di qua e di là: porcini, creme di porcini, creme di tartufo, bianco, nero, liquori, creme di gianduia, olio extra vergine da ogni parte d'Italia, pasta, Toscana, Liguria, Umbria, Abruzzo, Salento etc etc. Una vera goduria in tutti i sensi e per tutti i sensi. Insomma, alla fine sono tornata a casa con una voglia di porcini indescrivibile e siccome avevo mangiato anche dei semplici gnocchi con scampi e zucchine, in un ristorante di Milano, ho pensato di unire le due voglie e fare degli gnocchi con i funghi porcini e condirli con una cosa semplice come può essere un condimento di speck e zucchine.
Le dosi usate per gli gnocchi sono almeno per 4/6 persone, dipende dalla fame. A me ovviamente è avanzato il composto, quindi l'ho messo in frigo per utilizzarlo il giorno dopo e magari condirlo con un sugo diverso.
Ingredienti per gli gnocchi

300gr di patate lesse
20gr di burro
250gr di farina
20gr di porcini secchi
1 uovo

Ingredienti per il condimento

1 piccola cipolla
1 pezzetto di speck tagliato finemente
1 zucchina
burro
formaggio grattugiato

sale, pepe

Mettete i funghi porcini in una ciotolina con un po' di acqua bollente fino a coprirli completamente e lasciateli a mollo per circa una mezz'ora, poi frullateli per qualche minuto fino a che non avrete ottenuto una cremina omogenea. Lessate le patate poi schiacciatele fino a ridurle in purea. Aggiungete il burro, l'uovo e i funghi. Mescolate bene poi iniziate ad aggiungere la farina poco alla volta, mescolando sempre con un mestolo di legno. Otterrete così un composto compatto ma colloso, che non sarà facile lavorare con le mani insomma.
Preparate il condimento soffriggendo la cipolla con un po' di burro. Aggiungete lo speck tagliato a fettine sottili, poi le zucchine tagliate a dadini. Cuocete a fuoco basso e pentola coperta in modo che il composto non si secchi.
Fate bollire un po' di acqua salata, prendete due cucchiaini e formate dei piccoli gnocchi che andrete a buttare nella pentola di acqua bollente uno ad uno. Continuate a poco alla volta fino a quando non avrete ottenuto la quantità di gnocchi desiderata e scolateli gli gnocchi man mano che vengono a galla. Versate gli gnocchi nella pentola con le zucchine, aggiungete il formaggio grattugiato, una spolverata di pepe nero e mescolate a fuoco medio per qualche secondo finché il formaggio non si sarà sciolto. Servite subito.

Sognando:
so
gnare funghi crudi indica carriera difficile; sognare funghi secchi indica ostacoli imprevisti; sognare funghi velenosi indica amore contrastato.



Tutti i funghi sono commestibili, solo che alcuni lo sono una volta soltanto. (Proverbio cinese)

Archiviando:
clicca qui per scaricare questa ricetta in formato .pdf
---
English please:
Porcini gnocchi with speck and courgettes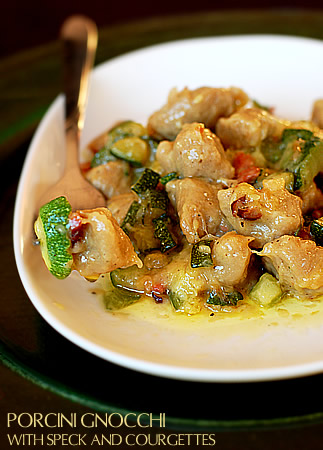 Ingredients for the gnocchi

300gr peeled potatoes

20gr butter
250gr flour
20gr dried porcini mushrooms

1 whole egg

Ingredients for the sauce

1 small onion

1 small piece of speck (variety of cured ham)
1 courgette
butter
grated cheese

salt, pepper

Put the dried mushrooms in a bowl and cover with hot boiling water. Leave for 30 minutes then mix or blend them until you get a fine creamy mixture. Peel the potatoes, cook them and mash them. Put everything in a big bowl, then add butter, egg and the mushroom cream. Mix well then add the flour stiring with a wooden spoon until no lumps are made. You will get a thick mixture but you wont be able to work the dough with your hands.
For the sauce, gently fry a small chopped onion in a bit of butter, add the sliced or chopped speck, then the chopped courgettes. Cover with a lid and cook until the courgettes are cooked through but do not let the sauce dry off.
Boil some water, add a bit of salt, then take 2 small teaspoon and start making the gnocchi by taking a small bit at the time and cooking them into boiling water until they come to the surface. Keep going until you get the amount of gnocchi you need and drain them as soon as they come on the surface. Put the gnocchi into the pan with the sauce, add a handful of grated cheese, mix well until it's melted and serve immediately adding a bit of grated pepper.