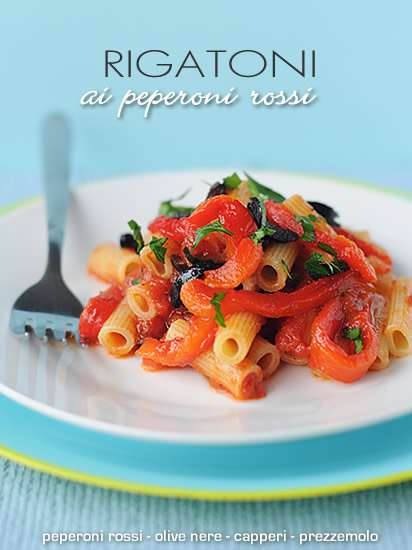 Approfitto di una domenica leggera e spensierata per preparare una ricetta che ispira calore e solarità, proprio quello che oggi qui manca totalmente. Mia madre dice che in Puglia c'è ancora un caldo come se fosse ferragosto, mentre io le dico che qui neanche a ferragosto abbiamo avuto quel caldo. Da parte mia neanche mi lamento del tempo anche perché a me la pioggerellina ed il cielo grigio piacciono persino, ma solo se devo stare in casa, sotto le coperte a fare niente o se me ne sto comodamente seduta su una poltrona al cinema a guardare un film, come quello che ho visto ieri in
Camden Town
. "
RocknRolla
", l'ultimo film di
Guy Ritchie
. Molto divertente, per quello che può essere divertente un film di gangster, con una fotografia accattivante, bellissime le soundtracks ed in particolare "Rock & Roll Queen" dei
The Subways
e "I'm a man" dei
Black Strobe
.
Ingredienti per 4

rigatoni o altra pasta corta
400gr di pomodori pelati
2 peperoni rossi
2 spicchi d'aglio schiacciati
una decina di olive nere denocciolate e tagliate a pezzetti
una decina di capperi sotto sale
4 filetti d'acciuga
1 pizzico di origano
pepe (o peperoncino)
prezzemolo
olio d'oliva


In un tegame largo soffriggete l'aglio schiacciato con un po' di olio. Eliminate l'aglio ed aggiungete i filetti di acciuga ed i pomodori. Cuocete a fuoco basso e nel frattempo cuocete i peperoni al forno a 250 C fino a quando non si saranno anneriti in modo da rimuoverne facilmente la pelle. Toglieteli dal forno e mettetli in un piatto, copriteli con un altro piatto per circa 5 minuti in modo che la pelle si ammorbidisca. Puliteli eliminando i semi interni e tagliateli a striscioline. Uniteli al sugo insieme alle olive tritate ed i capperi. Aggiustate di sale e pepe e aggiungete l'origano. Continuate la cottura fino a quando la salsa si sarà ristretta al punto giusto. Cuocete i rigatoni al dente, conditeli con la salsa e spolverizzate con il prezzemolo tritato.

Sognando:
so
gnare
un
freddo pungente
indica litigi con fratelli; sognare di avere
freddo alle gambe
indica depressione nervosa; sognare di avere
freddo alle mani
indica discreta fortuna; sognare di
mostrarsi freddo
indica ambizione orgogliosa; sognare di
ripararsi dal freddo
indica disavventura di viaggio.

Il giorno in cui voi non brucerete più d'amore, molti altri moriranno di freddo.
(François Mauriac
)

Archiviando:
clicca qui
per scaricare questa ricetta in formato .pdf
English please
Rigatoni with red peppers sauce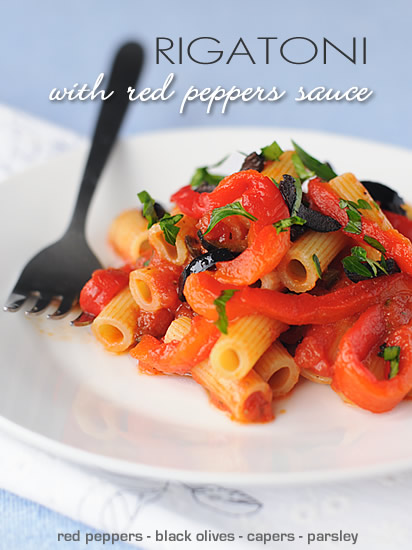 Ingredients for 4


rigatoni or other small pasta shape
400gr canned chopped tomatoes

2 red peppers

2 garlic cloves

about 10 black pitted and chopped olives

about 10 capers
4 anchovies fillets

1 pinch oregano

pepper (or dried chilly)
parsley
olive oil


Genlty fry the garlic in a bit of oil. Remove them from the pan, add the acnchovies fillets, then add the chopped tomatoes and cook for a few minutes. Grill the peppers at 250 C for about 30 minutes or until the skin becomes brown. Remove them from the oven, put them in a plate and cover with another one for about five minutes so that the skin soften and it's easier to peel. Remove the skin from the peppers, cut them into thin strips, add them to the sauce with chopped olives, capers, oregano, salt and pepper. Cook for about 10 minutes or until the sauce has tickened a little. Cook the pasta al dente and mix it with the sauce. Garnish with chopped parsley and serve.