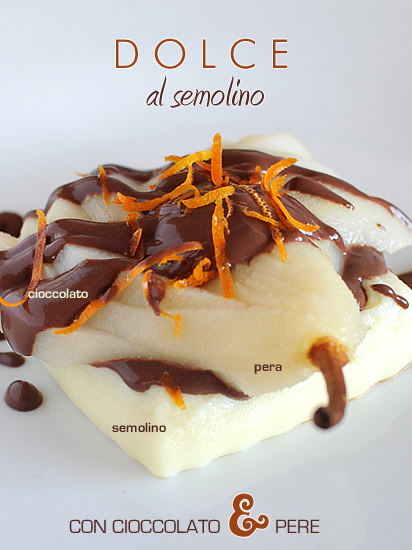 Quando mia sorella è nata io avevo già 10 anni. Ricordo come se fosse oggi il giorno in cui è nata ed ho raggiunto mia madre all'ospedale insieme a tutti gli altri. Neanche mio padre lo sapeva che sarebbe nata prematuramente quel giorno di febbraio e soprattutto nessuno si aspettava che sarebbe stata una femmina, soprattutto dopo che il medico di mia madre con i potenti mezzi degli anni ottanta, ci aveva preannunciato la nascita di un bel maschietto. Evviva! Il corredino tutto azzurro fu così utilizzato ugualmente anche se rimpiazzato in tutta fretta da un po' di rosa qua e là. Che non si dicesse in giro che questa creatura tutta vestita d'azzurro fosse un maschio, bisognava rimediare!
Ricordo bene quando mia madre mi chiedeva di andare in cucina per prepararle la pappetta. Io ci andavo più che volentieri perché era un intruglio di latte condensato in scaglie che a me piaceva persino da sciogliere in bocca. Mia madre mi chiamava dall'altra stanza perché io impiegavo il mio tempo per fare tutto ciò e tornavo con il piattino con la pappetta che poi finivo comunque per divorare quando alla pupetta non le andava giù.
Così improvvisamente mi è tornato in mente lo stesso odore delle pappette preparate più avanti con il semolino e che invece oggi ho utilizzato per preparare questo dolce tutt'altro che da poppante. Però ha un no so che di confortevole, fa tanto "stai a casa a coccolarti che tanto fuori è un mondo freddo". Il cioccolato poi è sempre una garanzia. Le mie dosi per 1 persona le ho calcolate ad occhio quindi regolatevi di conseguenza nel caso aveste necessità di preparare il dolce per 2 persone. Utilizzate pere ben consistenti e fresche per evitare che si spappolino durante la cottura.

Ingredienti per 4

Per il semolino:


250ml di latte
75gr di zucchero
50gr di semola
una noce di burro

1 pizzico di sale


Per le pere sciroppate:


2 pere williams o decana
75gr di zucchero
la scorza di un'arancia
1 pezzo di cannella in corteccia
½ baccello di vaniglia


Per la crema:


100gr di cioccolato fondente 70%
60ml di latte
40ml di panna da montare
1 cucchiaino di miele
½ baccello di vaniglia

Sbucciate le pere, dividetele a metà ed eliminate i torsoli. Mettetele in una padella e coprite con acqua, poi aggiungete lo zucchero, la scorza d'arancia, la cannella e la vaniglia. Coprite, portate ad ebollizione e cuocete per 10 minuti. Togliete dal fuoco e lasciate raffreddare le pere nello sciroppo stesso.
Nel frattempo preparate il semolino scaldando il latte con un pizzico di sale e lo zucchero. Versate la semola e sempre mescolando portate a cottura fino a quando non si sarà addensata ma non troppo. Togliete dal fuoco e mantecate con una noce di burro. Prima che si raffreddi distribuitelo nei piatti da portata dandogli la forma che preferite a seconda della decorazione che sceglierete. Più si raffredda e più è difficile da lavorare quindi effettuate questa operazione abbastanza velocemente.
Preparate la crema portando ad ebollizione il latte con la panna, il miele e la vaniglia. Aggiungete il cioccolato ed amalgamante fino a quando non si sarà sciolto. Decorate quindi il semolino con il cioccolato ed infine con le pere tagliate per il lungo disponendole a ventaglio o della decorazione che preferite.

Sognando:
so
gnare
di
comprare semolino
indica scarso spirito di iniziativa; sognare di
cuocere il semolino
indica pensieri tristi; sognare di
mangiare semolino
indica confidenza prematura.

Archiviando:
clicca qui
per scaricare questa ricetta in formato .pdf
English please
Pear and chocolate semolina dessert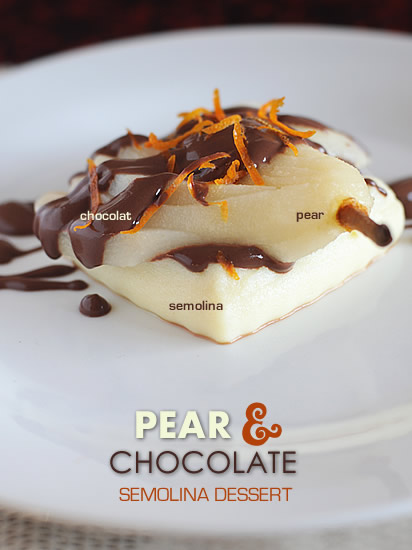 Ingredients for 4 people

For the semolina:


250ml milk
75gr sugar
50gr semolina flour

knob of butter

1 pinch salt


For the pears:


2 pears williams or decana
75gr sugar
rids of 1 orange

1 cinnamon stick
½ vanilla bean


For the chocolate cream:


100gr dark chocolate 70%

60ml milk
40ml single cream

1 tsp honey

½ vanilla bean

Peel the pears, cut them in half and remove the seeds. Put them in a saucepan and cover with water. Add sugar, orange rinds, cinnamon and vanilla bean. Cover, bring to a boil and cook for 10 minutes. Remove from the heat and let it cool in the pan.
For the semolina, heat milk with a pinch of salt and sugar. Add the semolina flour and keep stirring until it thickens. Remove from the heat and add a knob of butter. Lay on the serving dish using the decoration you prefer but do this rather quickly as the semolina tends to thickens more as it gets colder and colder.
Prepare the cream by boiling milk and single cream, with honey and vanilla. Add chopped dark chocolate and stir until it melts. Decorate the semolina with a layer of chocolate and sliced pears using the decoration you prefer the most.