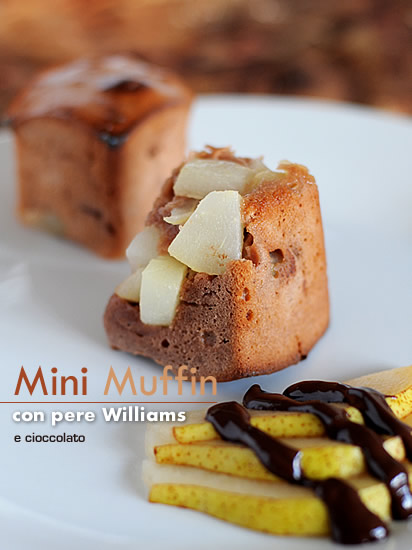 "C'è da fare, c'è sempre qualcosa da fare..."
I preparativi per la casa procedono, a rilento, ma procedono. Il lavoro incombe, il tempo libero lo trascorro visitando centri commerciali alla ricerca di spunti ed idee per la nuova casa. Per non parlare dell'autunno, che m'ispira una letargia pazzesca, le giornate corte più che mai e la luce che va via alle 4 del pomeriggio. Ora come ora se potessi mi addormenterei per risvegliarmi a cose fatte, verso la fine di gennaio. Ma a cosa fatte, che gusto ci sarebbe?
A parte questo, mi sono stufata di vedere queste capesante e quindi in una domenica senza pretese mi sono concessa una colazione disimpegnata. Niente di particolare ma semplice da realizzare, poco impegnativa e veloce anche per chi ha voglia di alzarsi dal letto a mezzogiorno. Proprio come me, oggi.
Ingredienti per 4 muffin


70gr di zucchero
70gr di farina auto lievitante

1 cucchiaio di cacao amaro in polvere
2 cucchiai di yogurt naturale
1 uovo
1 pera Williams

1 noce di burro per imburrare

cioccolato amaro fondente per decorare a piacere

Mescolate farina, cacao, zucchero, aggiungete lo yogurt e l'uovo e lavorate con una frusta fino ad ottenere un composto omogeneo. Imburrate gli stampi per muffin, spolverizzate il fondo con un po' di zucchero e riempiti con 2 terzi con la pera tagliata a pezzettini. Coprite con l'impasto preparato precedentemente ed infornate a 180 C per 20 minuti o fino a quando non saranno cotti bene all'interno. Servite con cioccolato fuso a piacere.


Sognando:
so
gnare
pere sull'albero
indica comunicativa e simpatia; sognare
pere acerbe
indica sorpresa dolorosa; sognare
pere mature
indica grande gioia; sognare
pere cotte
indica inganni e calunnie; sognare di
coglierle pere
indica benessere fisico; sognare di
mangiare pere
indica legami felici.

In bocca chiusa non cade pera.
(Proverbio siciliano
)

Archiviando:
clicca qui
per scaricare questa ricetta in formato .pdf
English please
Mini Pear Muffins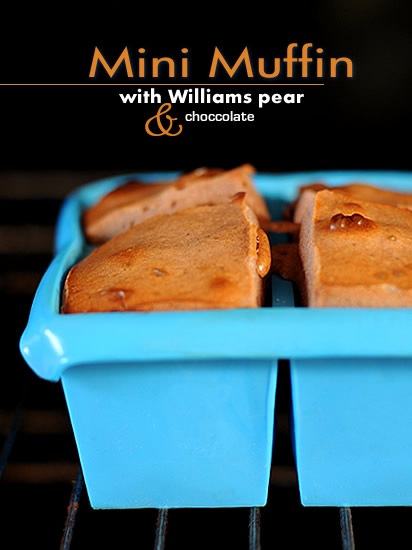 Ingredients for 4 muffins


70gr sugar
70gr self raising flour
1 Tbsp cocoa powder
2 Tbsp natural yogurt
1 egg

1 Williams pear

butter to grease

dark chocolate to decorate

Mix flour, cocoa, sugar together, add yogurt and the egg whisk until you get a smooth mixture. Lightly grease the muffin pan and sprinkle the buttom with a little sugar. Fill 2 third of each stamp with chopped pear then cover with the choco mixture. Baket at 180 C for about 20 minutes or until coocked through. Serve with melted chocolate to taste.