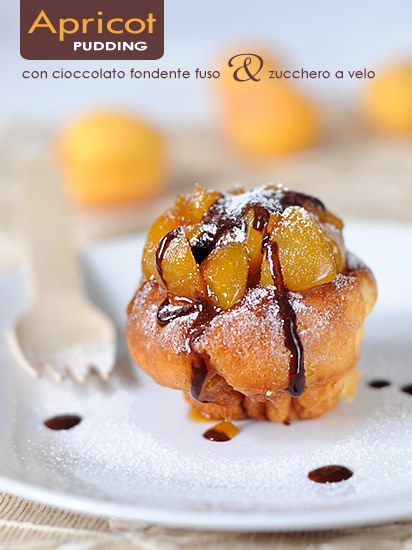 Questa é una di quelle ricette che volevano essere una roba e si sono trasformate in un'altra. Il risultato é una specie di Yorkshire pudding dolce. Tutto sommato, nonostante il risultato non voluto, ne é venuto fuori un dessert gustoso e leggero. Inizialmente volevo fare dei pancake, poi mi sono accorta di non avere l'attrezzatura giusta, ma a quel punto era già troppo tardi, le uova erano già rotte e di frittata non avevo voglia. No. Albicocche dev'essere! Sicché mi sono buttata sulla forma a fungo del muffin anche se gli ingredienti sono gli stessi dei pancake nonché dello Yorkshire pudding, che invece solitamente si serve con la carne e rimane più vuoto al centro, mentre io, avendo riempito per bene gli stampi, ho ottenuto un muffino più pieno. Insomma. Quello che é, come dir si voglia, più é caldo e meglio é. Preparate le albicocche prima e versatele tiepide non appena avete sfornato i mini muffin. Servite subito a piacere con un po' di gelato alla vaniglia che non guasta mai.

Ingredienti per 4 mini pudding

2 uova
2 cucchiai di burro
3 cucchiai di latte
3 cucchiai di farina
1 pizzico di sale
6 albicocche
1 cucchiaio di zucchero di canna
1 pizzico di cannella

cioccolato fondente e zucchero a velo a piacere per guarnire


Riscaldate il forno a 220 C. Con una forchetta sbattete le uova in un piatto fondo. Aggiungete il pizzico di sale, poi 1 cucchiaio di burro sciolto, il latte ed infine la farina. Amalgamate fino a quando non avrete formato una pastella senza grumi. Imburrate degli stampini per muffin e versate il composto. Infornate per circa 25 minuti fino a quando non vedrete i pudding dorarsi e staccarsi dallo stampo. In un pentolino a parte sciogliete un altro cucchiaio di burro, lo zucchero di canna e le albicocche tagliate a pezzettini. Caramellate per qualche istante, aggiungete il pizzico di cannella ed infine versate sui pudding ancora caldi. Servite con un po' di cioccolato fondente sciolto e zucchero a velo a piacere.

Sognando:
so
gna
re di
mangiare albicocche
indica inganno da donne; sognare
albicocche secche
indica noie; sognare
albicocche guaste
indica avversità da superare; sognare di
raccogliere albicocche
indica matrimonio felice; sognare di
comprare albicocche
indica cambiamento di posizione.

Parolando:
Il termine
albicocca
parte dal latino
praecocum
,
praecoqua
– precoce – ad indicare la precoce maturazione di questo frutto conosciuto anche come "prugna dell'Armenia", rispetto alla più nota e tardiva pesca (
coqua
). Passa in seguito all'arabo dove viene prefissato dall'articolo per diventare
al-berquq
e ritorna infine alle lingue romane con l'attuale nomenclatura.

Archiviando:
clicca qui
per scaricare questa ricetta in formato .pdf
English please
Apricot mini Pudding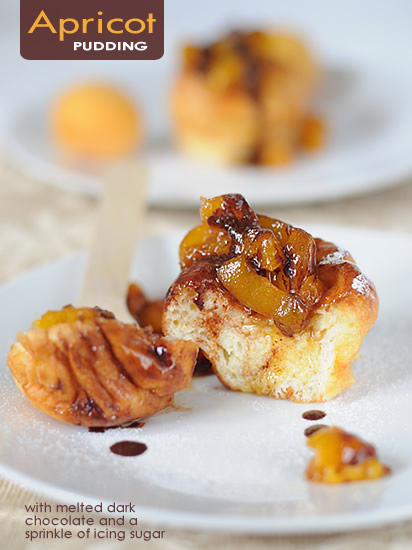 Ingredients for 4 mini pudding

2 eggs

2 Tbsp butter
3 Tbsp milk
3 Tbsp white flour
1 pinch salt
6 apricots
1 Tbsp brown sugar
1 pinch cinnamon

dark chocolate and icing sugar to decorate


Pre heat the oven at 220 C. With a fork, beat the eggs, add the salt, milk, melted butter and sifted flour. Beat well until nor lumps are formed. Butter some muffin mold, add the compost and bake for 25 minutes until golden brown and detached from the mold. In a saucepan, melt another Tbsp of butter with the brown sugar. Add the chopped apricots and cinnamon. Cook to glaze for a few minutes and pour over the warm puddings. Decorate with dark melted chocolate and icing sugar.