Riprendersi da un viaggio pugliese, se pure breve, è sempre impresa ardua. Al mio ritorno Londra sembrava essersi trasformata nelle Barbados. Sole, caldo, altro sole e altro caldo. Io Londra non la sopporto così, soprattutto appena tornata dalle vacanze e a maggior ragione che devo lavorare rinchiusa tra quattro mura. Ma le mie preghiere sono state accolte, se pure per poco, e la pioggia è scesa copiosa, nuovamente, negli ultimi due giorni. Insomma, se avessi voluto trasferirmi in un posto caldo sarei andata alle Hawaii, ma da Londra io mi aspetto la pioggia! Fine frustrazione da lavoro estivo.
Grazie a tutti per i commenti nel post precedente, ho ben compreso che la Puglia vi piace un bel po' e che soprattutto vi piace mangiare! Persino questo filetto di pesce ripieno in confronto fa una misera figura, ma tant'è. Siamo tornati al solito cod inglese, quantomeno riempito con qualcosa di gustoso. Che poi quando il cod è fresco è anche molto buono. Ecco, anche se in ritardo, buon mese di Luglio!

Ingredienti


filetti di pesce a piacere, tipo merluzzo, branzino, baccalà
300gr di spinaci freschi
1 cipolla piccola
qualche foglia di menta
qualche foglia di coriandolo
1 fettina di scamorza o altro formaggio a piacere
1 spicchio d'aglio
1 limone a fettine
olio
sale, pepe

Eliminate le spine dal filetto e se è lungo tagliatelo in due parti uguali in modo da poterle sovrapporle. In una padella soffriggete lo spicchio d'aglio schiacciato e la cipolla tagliata finemente, infine gli spinaci freschi e le erbette fresche. Saltate per qualche istante aggiustando di sale e pepe e togliete dal fuoco. Foderate una teglia da forno con carta da forno. Adagiate metà del filetto sul fondo poi versate il composto di spinaci ed erbette, coprite con una fetta di scamorza o altro formaggio a piacere, chiudete con l'altra parte di filetto. Tagliate un limone a fettine sottili e adagiatele sul filetto. Infornate a 180 C per circa 25 minuti. Servite subito.

Sognando:
so
gna
re un
filo bianco
indica pettegolezzi e maldicenze; sognare un
filo nero
indica intenzioni aggressive; sognare un
filo colorato
indica preoccupazioni inevitabili; sognare un
filo telefonico
indica necessità di prudenza nell'azione; sognare un
filo elettrico
indica confusione fra sogno e realtà.

Parolando:
Il nome
cipolla
deriva dal diminuitivo latino
caepulla
di caepa o cèpa, derivato da
caput
,
testa
(greco: kephalè).

Archiviando:
clicca qui
per scaricare questa ricetta in formato .pdf
English please
Filled Fish Fillets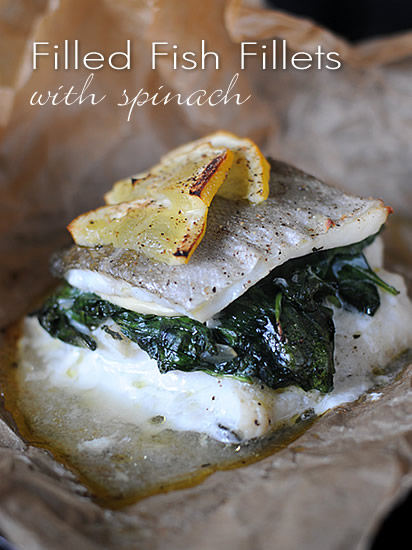 Ingredients


fillets of fish like cod, seabass or other
300gr fresh spinach

1 small onion
few leaves of fresh mint
few leaves of fresh coriander
1 slice of cheese like scarmorza or any other that melt fine in the oven
1 garlic clove

slices of 1 lemon

olive oil

salt, pepper

Clean your fillet discarding any bones and cut them into 2 equal parts so you can put them on top of each other. In a small pan, gently fry the garlic clove with the chopped onion, then add the spinach and the fresh herbs. Toss for a few second, adjust with salt and pepper and set aside. Cover a oven proof dish with some parchment paper. Put one fish fillet at the bottom, cover with the spinaches, top with a slice of cheese, finally put the other fish fillet on top. Slice one lemon and cover the fillet with a few slices. Bake at 180 C for about 25 minutes. Serve hot.