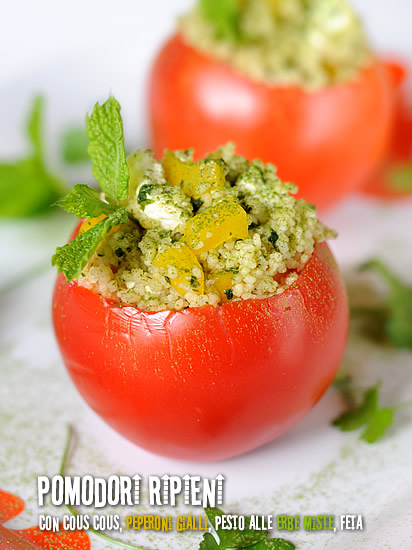 Quel che resta di una estate londinese è racchiusa tutta in questi pomodori. L'albero che intravedo attraverso la mia finestra ha già qualche foglia gialla, e dubito che sia per il troppo caldo. Solo due giorni fa c'erano ventisette gradi e mentre passeggiavo in Hyde Park neanche ci si credeva di essere a Londra. Fantastic!
Nel frattempo mi sono divertita a riempire pomodori con quello che avevo a portata di mano nel frigo, e dato che non avevo voglia di mettere le mani al forno nè ai fornelli, ne ho fatto una versione fredda, fattibile ad alte temperature in cui sicuramente molti di voi si troveranno.
E quella polvere verde che cos'è? No, non è il
matcha
che ormai impazza ovunque. E' una robetta che ho trovato in un negozietto nei dintorni di casa, ha lo stesso colore verde brillante del matcha, è saporita, non è amara, ci si può fare quasi le stesse cose, è ottima per le decorazioni e chissà che altro.
Indovinate?
Ingredienti


pomodori medi non troppo maturi
cous cous
1 pizzico di cannella

peperone giallo
formaggio feta


Ingredienti per il pesto


menta, coriandolo, prezzemolo
capperi
olio di oliva
sale e pepe


Preparete il pesto tritando le erbe miste insieme ai capperi dissalati, aggiungendo olio di oliva, sale e pepe. Versate il cous cous in una scodella, aggiungete 1 cucchiaio di olio, un pizzico di cannella, 1 pizzico di sale e mescolate bene, poi aggiungete acqua bollente e coprite con un coperchio per 5 minuti. Tagliate un peperone giallo a tocchetti piccoli ed aggiungeteli al cous cous insieme alla feta e al pesto. Svuotate i pomodori e riempiteli con il cous cous, decorando con erbette a piacere.


Sognando:
so
gna
re
pomodori acerbi
indica proposte subdole; sognare
pomodori maturi
indica risultati incoraggianti; sognare
pomodori freschi
indica ottima salute; sognare di
mangiare pomodori
indica ottimismo ed entusiasmo; sognare di
comprare pomodori
indica resistenza alla fatica.

Parolando:
Il termine
cous cous
dall'arabo [AL]KUSKUS significa "mescolanza di carne e di farina ridotta in polpetta e fritta". In origine il cous cous veniva preparato con farina di semola di grano duro, cioè con la farina granulosa che si otteneva utilizzando macine primitive. Oggi con questo nome si produce anche con altre farine quali orzo, miglio, sorgo, riso e mais. Il processo tipico di cottura a vapore, su di una pentola speciale, ottenuto dall'ebollizione di brodo, potrebbe avere avuto origine nelle zone occidentali dell'africa (Niger, Mali, Mauritania, Ghana e Burkina Faso) e da lì essersi diffuso poi in tutto il mondo con nomi diversi come, ad esempio, il Maftul palestinese, il Cashcà carlofortino o il dominicano Cuscusce.

Archiviando:
clicca qui
per scaricare questa ricetta in formato .pdf
English please
Stuffed tomatoes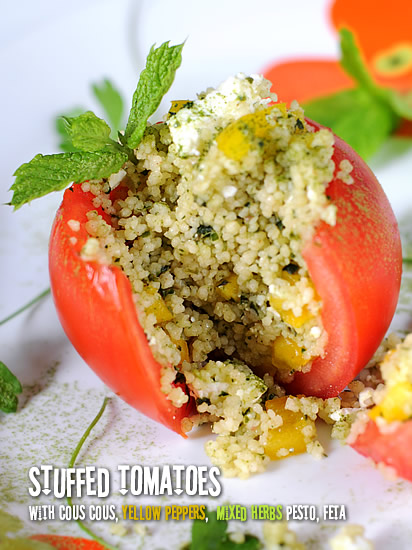 Ingredients


medium size tomatoes

cous cous
1 pinch cinnamon

1 yellow pepper
feta cheese


Ingredients for the mixed herbs pesto


mint, coriander, parsley
capers
olive oil
salt, pepper


For the pesto, blend all the herbs together with the capers, olive oil, salt and pepper. Put the cous cous in a bowl, add 1 Tbsp of olive oil, 1 pinch of cinnamon, 1 pinch of salt, add enough hot boiling water to cover the cous cous and leave to stand covered with a lid for 5 minutes. Chop the yellow pepper and the feta and add it to the cous cous along with the mixed herbs pesto. Carefully empty the tomatoes and fill them with the cous cous. Decorate with mint leaves.