Oddio da dove inizio? Sparisco per una settimana e torno con dei panini a lievitazione naturale. Com'è sta cosa? Tutto nasce qualche settimana fa, in Puglia. Durante questo viaggietto riesco a portare a casa un pezzo di lievito madre, che mia madre, appunto, aveva in frigo. Lievito che a sua volta era stato trasportato a casa da mia sorella, che a sua volta lo ha confezionato con le sue manine sante, circa 7 mesi fa. Un lievito quindi relativamente ggggiovane! Di lievitazione naturale io non ne so praticamente niente. Mi sono lasciata contagiare dai risultati ma ho impiegato circa 3 settimane per capire come rinfrescarlo, altre 2 per capire come si usa, 4 giorni per capire le dosi (mammamia i numeri ed io siamo proprio su un altro pianeta!) e circa 2 kg di farina fino ad ora andati in malora, per gli esperimenti poco desiderati. Questo è l'esperimento che fino ad oggi è riuscito più decentemente e si è meritato il primo post sul nuovo capitolo sulla lievitazione naturale. Il risultato non mi soddisfa al cento per cento, anche se l'imbottitura straordinaria con salame e provolone, resusciterebbe qualsiasi cosa. La
mia maestra
mi saprà dire esattamente se i paninozzi hanno un aspetto decente e se sono conformi o somigliano vagamente a quelli di una lievitazione naturale. Essendo ignorante in materia, appunto, accetto ben volentieri suggerimenti per poter migliorare la tecnica e le ricette. Quando avrò più tempo ed
avrò ottenuto risultati più entusiasmanti, proverò a postare foto e passaggi del lievito e dei rinfreschi. Per questi panini ho usato una farina chiamata da queste parti "Strong White", perchè la farina Americana, o manitoba, non ho ancora capito come si chiama qui, nonostante abbia cercato in lungo ed in largo. Se qualcuno potesse illuminarmi in merito, gliene sarò grata.
A proposito dunque di lievito naturale, di pasta madre e di pazienza, vi segnalo il contest più complicato e intraprendente dell'anno.
Metamorfosi Naturale
: si tratta di realizzare la ricetta di un panettone, o di un pandoro, rielaborando le ricette tradizionali per rendenderle accessibili ad almeno una categoria di
intolleranti a certi ingredienti
.
Per saperne di più
cliccate direttamente qui
per leggere tutte le istruzioni. In premio ricchi premi e cotillon
!
Ingredienti

200gr di lievito madre rinfrescato la sera prima

400gr di farina "0"
200ml di acqua tiepida

1 cucchiaino di sale

Sciogliete la pasta madre con un po' di acqua tipieda. Aggiungete la farina e cominciate ad impastare continuando ad aggiungere tutta l'acqua necessaria. Alla fine aggiungete il sale ed impastate fino a quando non avrete ottenuto una palla liscia ed elastica. Mettetla in una scodella capiente, coprite con un panno pulito ed una copertina. Lasciate lievitare per 3 ore. Riprendete la pasta, lavoratela nuovamente e formate i panini. Metteteli su una teglia da forno, coprite con un panno pulito e mettete a lievitare in un luogo lontano dalle correnti per altre 2 ore. Riscaldate il forno a 200 C ed infornate per 20 minuti, poi riducete la temperatura a 180 C e cuocete per altri 10 minuti. Fate raffreddare coprendo i panini con un panno in modo che l'umidità resti all'interno del pane e fuori resti croccante.


Sognando:
so
gnare di
fare un panettone
indica avvedutezza negli affari; sognare di
tagliare un panettone
indica prudenza eccessiva; sognare di
mangiare un panettone
indica occasione da sfruttare; sognare di
regalare un panettone
indica situazione economica precaria; sognare di
comprare un panettone
indica piccolo insuccesso.

Parolando:
Il termine lievito ci giunge forse dal latino levitus, levato / alzato o forse dalla radice del verbo levare, levis con significato di lieve in quanto rende leggero il pane. Sono stati catalogati più di mille specie di lieviti; il più comunemente usato è il Saccharomyces cerevisiae, che è "addomesticato" da migliaia di anni per la produzione di vino, pane e birra.

Archiviando:
clicca qui
per scaricare questa ricetta in formato .pdf
English please
Panini made with natural yeast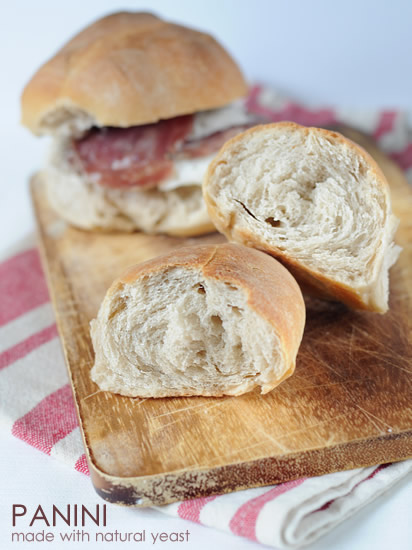 Ingredients

200gr natural yeast (sourdough starter)

400gr strong white flour

200ml warm water

1 tsp salt

Melt the natural yeast with a bit of water with a spoon. Add flour and start kneading finishing off all the water. Add the salt and knead until a soft and elastic dough is formed. Put the dough into a bowl, cover with a clean cloth and leave to raise for 3 hours. Shape the dough as desireded then leave to raise on a baking try for another 2 hours. Bake at 200 C for 20 minutes, then lower the temperature to 180 C and leave to cook for another 10 minutes. Remove from the oven, cover with a clean cloth and let cool completely before eating, so that the humidiy remains inside the bread but it is still crunchy on the outside.