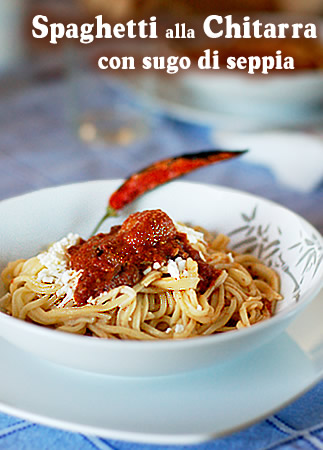 Il pranzo domenicale a casa mia é sempre stato necessariamente rosso. Che siano orecchiette, tagliatelle, fettuccine o spaghetti, non fa niente, basta che sia rosso.
Prima d'ora li avevo mangiati soltanto confezionati e onestamente non avevo neanche mai visto una vera e propria chitarra, non quella per suonare, ma quella per fare gli spaghetti (alcuni li chiamano maccheroni) alla chitarra. Tradizionalmente abruzzesi, ma si fanno anche in Molise e probabilmente anche altrove.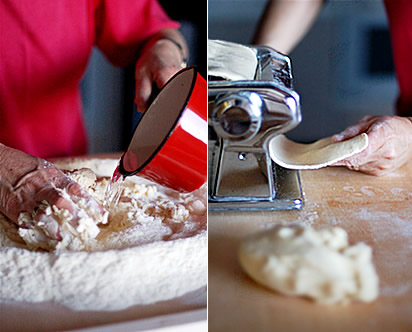 La chitarra non é altro che un bellissimo e geniale telaio di legno sul quale sono tese corde di metallo distanziate ugualmente tra loro di alcuni millimetri.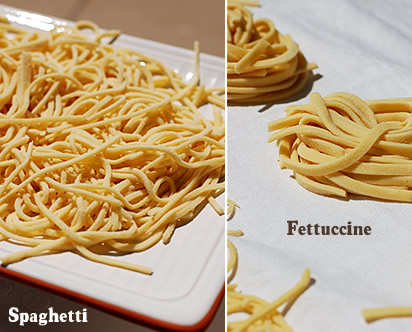 Da un lato la distanza é piú larga, dall'altra piú sottile. Dalla parte piú larga si fanno le fettuccine, dall'altra gli spaghetti che hanno la particolaritá di avere la sezione quadrata, piuttosto che rotondeggiante.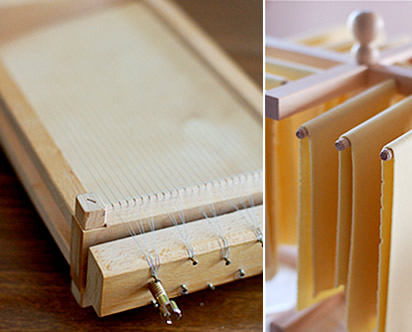 La chitarra ha delle chiavi con le quali si possono tendere le corde esattamente come una vera chitarra perché con il tempo tendono ad allentarsi. Dopo aver steso la pasta con il mattarello, si passano i polpastrelli sulle corde e si suona la chitarra per farli staccare da queste.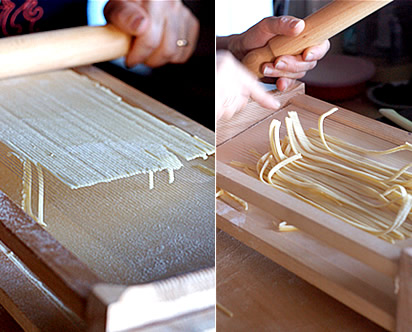 Questo movimento produce un suono simile a quello di una vera chitarra, ed é da qui che ne deriva il nome stesso. E' uno strumento magico ed il tempo impiegato per fare la pasta, vale davvero la pena il tempo impiegato per farla a mano. C'é chi usa mettere le uova nell'impasto, ma se si usa farina di grano duro, gli spaghetti restano ugualmente "tesi", mentre se si usa farina bianca é consigliabile aggiungere 1 uovo per ogni 100gr di farina per evitare l'effetto colla durante la cottura.
Noi li abbiamo abbinati ad un sugo di seppia, tanto per restare in tema marino. Le abbiamo inoltre condite con la ricotta dura ed il peperoncino, accostamento invece tipico Pugliese.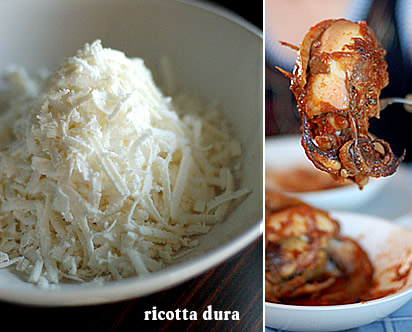 Oltre a mangiare il pesce crudo in Puglia, abbiniamo la ricotta dura, e quindi il formaggio, soltanto alle seppie, tant'é che il ripieno di queste giá contiene formaggio di per se. Inoltre alla fine guarniamo il tutto con peperoncino piccante bruciacchiato sulla fiamma del gas. Puó sembrare un accostamento azzardato ma per noi é proprio la morte sua. Con lo stesso sugo in Puglia, ci condiamo
i troccoli,
un'altra specie di spaghetti spessi, che si fanno con il mattarello rigato. Un lavoro di squadra riuscito benissimo, grazie alla mamma e alla zia Cenzina!
Ingredienti per la pasta: 1kg farina di grano duro, acqua
Per fare la pasta impastate farina ed acqua fredda fino ad ottenere un composto omogeneo e privo di grumi. Tagliate poi la pasta e passatela alla macchinetta per stendervi la sfoglia. Cominciate da un numero piú largo e terminate stendendo la sfoglia finale con il numero 4. Fate asciugare un po' la sfoglia ma non tanto altrimenti poi sará difficile tagliare alla chitarra. Stendete le sfoglie sulla chitarra e premete con il mattarello fino a che non si saranno tagliate. Rovesciate gli spaghetti su un canovaccio pulito o sullo stesso tavoliere infarinato e fate asciugare ancora. Cuocete in acqua bollente per 3 minuti da quando l'acqua ricomincerá a bollire. Condite con sugo a piacere.


Sognando:
sognare si
suonare una chitarra
indica incostanza e leggerezza; sognare di
comprare una chitarra
indica compromessi da scartare; sognare una
chitarra rotta
indica desideri impossibili; sognare una
chitarra scordata
indica vantaggi passeggeri; sognare una
chitarra vecchia
indica progetti ambiziosi; sognare di
sentire suonare una chitarra
indica inganni scoperti.

Haiku:
Vibran le corde - sotto mani mai stanche - bianche farfalle (Frank)
---
English please:
Spaghetti alla chitarra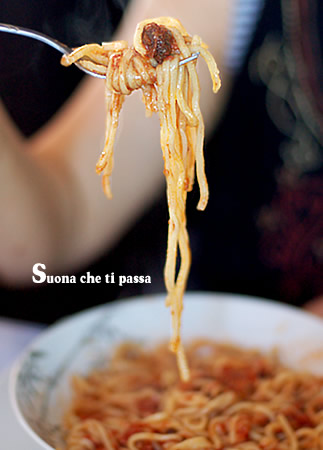 Spaghetti alla chitarra are a traditional pasta shape made especially in the Abruzzo region, in Italy. In order to make them, you need a special tool called chitarra, litterally meaning "guitar". It is called so because of the sound it produces when you cut and detach the past over it. You press the sheet of pasta dough through spaced wires and obtain pasta that's about the same size as thick spaghetti but square in cross section. On the other side of the tool you can make another pasta shape that is similar to tagliatelle but it's called fettuccine as they are a bit thinner. Cook the pasta in boiling water and mix with ragú (mince meat sauce) or like I have done, cuttlefish sauce or simply tomatoes and basil sauce. It's up to you.

Ingredients: 1kg durum weath flour, cold water


To make the pasta simply mix flour and cold water togheter. Cut the dough into bits and work them into sheets using a pasta machine at number 4. Cut them through the chitarra using a rolling pin and let them dry before cooking them in boiling water for about 3 minutes starting counting from the water starts boling again.