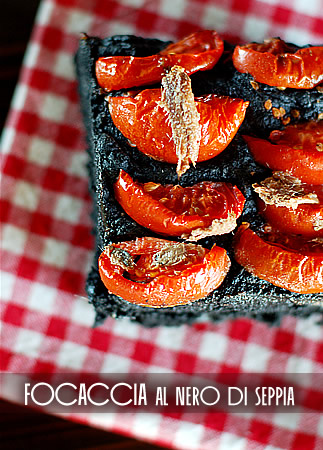 Carbone? No. Nero di seppia. Lo so, ultimamente non faccio altro che mangiare seppie, ma questi sacchetti di nero li vogliamo buttare via? L'idea iniziale era quella di fare il pane, ma poi ho dirottato l'idea verso una focaccia da guarnire in maniera piú colorata, per esempio con il rosso dei pomodori che fa pandan e qualche acciuga. E' venuta un po' alta per via della teglia che ho usato, allora per aggiustare il malfatto ho tagliato in due la focaccia e la metá di sotto l'ho utilizzata come companatico. Il nero di seppia in fondo non dá granché di sapore alla focaccia, ma il colore quello si, nero come la pece.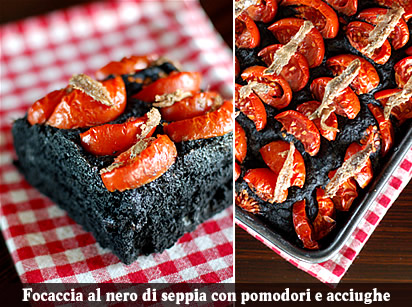 Per impastare bisogna stare molto attenti perché il nero si attacca ovunque specialmente alle superfici porose come potrebbero essere quelle di un tavoliere o di un mattarello. Io ho impastato il tutto in un contenitore di vetro, si fa un po' piú di fatica peró alla fine non si imbratta tutto. Un'idea da ricordare per Halloween!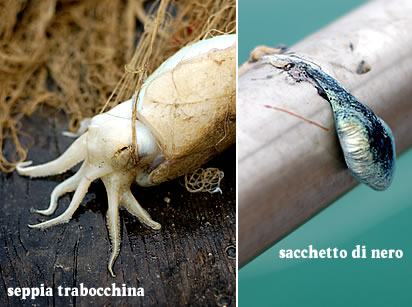 Ingredienti: 350gr di farina bianca, 15gr di lievito di birra fresco, 1 cucchiaio di nero di seppia, 1 patata (150gr circa), 1 cucchiaino di sale, 1 cucchiaino di zucchero, acqua tiepida quanto basta

Sbucciate la patata e cuocetela in acqua bollente. Impastate la farina con la patata schiacciata, lo zucchero, il sale, il nero di seppia ed il lievito sciolto in mezzo bicchiere di acqua tiepida. Lavorate il composto aggiungendo tanta acqua quanto basta per ottenere una pasta morbida e senza grumi. Mettete a lievitare la pasta per circa 45 minuti o fino a quando non avrá raddoppiato il suo volume. Stendetela in una teglia oleata, guarnite a piacere, oleate ed infornate a
200 C
per circa
30 minuti
.

Sognando:
sognare
seppie vive
indica buon senso critico; sognare
seppie fresche
indica atteggiamenti contraddittori; sognare
seppie cotte
indica pregiudizi convenzionali; sognare di
mangiare seppie
indica serenitá interiore; sognare di
comprare seppie
indica originalitá e indipendenza; sognare di
vendere seppie
indica incontri felici; sognare un
osso di seppia
indica legami fortunati.

Haiku:
Nuvole nere - per la terra riarsa - liquido sogno (Frank)
---
English please:
Black Squid Ink Focaccia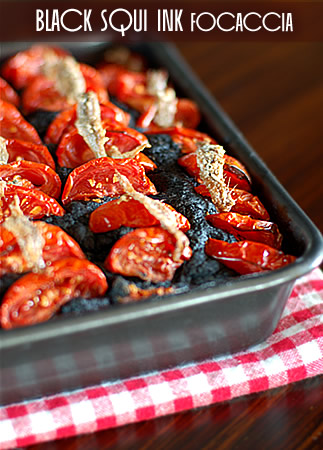 Ingredients: 350gr white flour, 15gr fresh yeast, 1 Tbsp black squid ink, 1 potato (150gr), 1 tsp salt, 1 tsp sugar, warm water

Peel the potato and cook in boiling water. Mix the flour with the mashed potato, sugar, salt, black ink and fresh yeast melted in half glass of warm water. Work the dough with more warm water until you get a soft dough with no lumps. Put the dough in a warm place and let it rise for about 45 minutes, until it has doubled the size. Lightly oil a oven pan, lay the dough and garnish as you wish, drizzle with more olive oil and cook at
200 C
for about
30 minutes
.